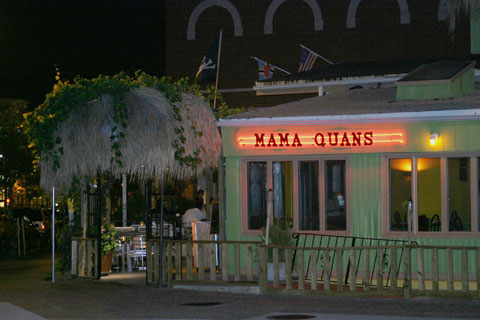 Located in Arlington, the Luna Grill and Diner stands firm under its motto "Not your usual diner!" This was certainly evident upon my visit. Without even having a bite of anything at all, it already struck me as exceptional. The décor is original and innovative. It is always nice when a restaurant immediately feels welcoming. I was as impressed with the food as I was with the decoration. The walls display the solar system, while one side depicts the sun, another, the moon and yet another, planets. It's enjoyable, creative artwork creates an inviting and casual atmosphere open to the whole family. Everything is so vividly colorful and refreshing. The people are just as lively; perhaps the aura of the restaurant itself is contagious. A bright yellow sun's ray stretches throughout the walls of the restaurant while the Luna, or moon, is displayed prominently right over the bar. Whether you're out with a date or sharing a meal with the whole family, the Luna Grill and Diner is a perfect, casual eatery for everyone.
The service did not disappoint either. Perhaps that is an understatement; the service was impeccable. We were greeted by servers with huge smiles and the restaurant was filled with constant laughing and chattering. I even learned that about ten years ago, Arlington County granted the Luna Grill a Hospitality Superstar award. Talk about impressive. Also impressive are the prices. Nothing exceeds $15 and there are only a few entrees that exceed $10.
The breakfast menu includes the Ranchero Breakfast Burrito ($7.95), an entrée that attracted my eye merely because of its originality. On weekends and on most holidays, the Luna Grill also serves brunch.
I chose the Grilled Rachel Sandwich ($7.95) for obvious reasons. It arrived with a generous pile of smoked turkey, covered with melted Swiss cheese, topped with sauerkraut and dressed with a tasty 1000 island sandwiched on fresh wheat bread. There are some vegetarian options, such as the Veggie Burger ($6.95) for the animal friendly or health conscious.
Now, for the fun part, for all those of you who aren't watching your weight, Luna Grill and Diner is most commonly known for its classic French fries ($2.50). The Washingtonian honored the Luna grill with the designation of "the best French fries." Once again, the Luna Grill and Diner never cease to impress.
The pasta options covered all the basics, including the Jambalaya Pasta ($13.95) which is made up of jumbo shrimp, Italian sausage, chicken, tomatoes tossed with Penne pasta and the California Veggie Pasta ($11.95) made up of artichoke hearts, sun dried tomatoes, black olives, red peppers and mushrooms mixed with Penne pasta. Need an incentive to try these? I tried the Blackened Sea Scallops ($14.95). It was a blend of chopped tomatoes, asparagus and angel hair pasta dipped in olive oil. On Mondays and Tuesdays, after 5 p.m., all pastas are half price. They also offer specials, including a Taco Salad ($9.95) on Fridays and good old classic Country Fried Chicken ($8.95) on Tuesdays.
The desserts are universal favorites, such as a Cheesecake of the Day ( $4.95) offered along with Apple Pie ($3.95) and Peach Cobbler ( $4.95) just to name a few. Their catering service is apparently as excellent as their table service, so be sure to contact the Luna Grill and Diner if you're in need of an impressive lunch or dinner and can't cook for yourself. Luna will do it for you. Who could leave unhappy? The ingenious décor and the tasty food are sure to satisfy.
Luna Grill & Diner


SHIRLINGTON
4024 28th Street South
Arlington, VA 22206
703-379-7173
Mon. – Thu. 8 a.m. – 10:30 p.m.
Fri.: 8 a.m. – Midnight
Sat.:10 a.m. – Midnight
Sun.:10 a.m. – 10 p.m.
DUPONT CIRCLE
1301 Connecticut Ave. N.W.
Washington, DC 20009
202.835.2280
Fax: 202.835.2281