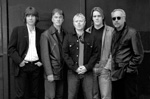 The boys of No Second Troy are searching for the sweet spot. They are striving to stay on that fine line of originality and accessibility. It's a precarious perch to be sure. Stray too far into developing a distinct identity and they risk spurning supporters unwilling to devote time towards discerning the six different octaves of (obscure instrument) or decipher which Homerian poem produced the lyrics in the second verse. On the other hand, derive too much from the tried-and-true mainstream and they lose the ability to delineate themselves from countless other young bands that inhabit the pop-rock middle ground.

Simply put: It's the difference between being one of the plethora of bands that "remind of/smack of/sound like Coldplay" and being Coldplay. With the easily digestible, as well as eminently enjoyable, tracks that occupy their debut LP, Narcotic, No Second Troy have proven they are quite capable of standing on their own merits.
Soaring choruses of synths and singed strings fill the full-length effort by the D.C. based fivesome, as with fifth track "Burned." Second track "The Gardens After Lockout" lifts off with a dreamy piano and drums verse and makes Mach One with a chorus and bridge that shove the accelerator to the floor. In all, the finished product is so polished that the reflection it casts is of a band you'd expect to find on the Billboard Top 100, rather than playing the corner bars of Washington, D.C.
Part of that polish can be attributed to noted producer Ted Comerford, with whom No Second Troy recorded the album. Having worked previously with recently-signed Army of Me, as well as Press Pass fave Honor By August, Comerford's magic touch shines through again on Narcotic. For No Second Troy, however, the producer's contributions didn't stop with the album. Comerford put in a good word for the band with one of his college connections working at ESPN and recently both "The Gardens After Lockout" and "Brighten Up" were featured on the Worldwide Leader in Sports.
"This seems to be where music is going and how it's distributed," says John Woolf, the bassist for No Second Troy. "The Yeah, Yeah, Yeah's benefited from EA Sports. It's the same thing on 'Grey's Anatomy.' People will always find music and if it's good they'll listen to it."
The music of Woolf and his bandmates — frontman Jeff Wharen, guitarist Tom McCarthy, drummer Vijay Shanker and keyboardist Mike Beach — is that, even if it's doesn't exactly run counter to the current of the mainstream.
"People equate the mainstream with selling out," Wharen says. "We've always written songs that we like and enjoy. That's who we are."
It's with that mantra that No Second Troy is digging its roots into D.C., where the band will play 9:30 Club with Juniper Lane this Saturday, Aug. 18. The band has been surprised at the rapid inroads it has made since Narcotic's release, especially given their admittedly awful start together.
"In the beginning we were just terrible. We really sucked ass," says Wharen, who linked up with the band after both placed ads in the City Paper. Now, with a little bit of refinement, the group has shaped up and is unapologetic about smoothing out the wrinkles.
"People have always wanted indie bands to be dragged out of the woodwork as fully-formed geniuses because there's something noble about that," Woolf says. "But there's an equal element of artifice in what's asked of 'authentic' indie rock."
Now comfortable in their own clothes, the band is prepping a four-track demo EP to show off to labels. They're also readying for a fall tour that will stretch from Florida to Boston. And if they can continue to catch on, well, as far as the band is concerned, that would be pretty sweet.
• Tickets to the Saturday, Aug. 18 show are $12 and available online at www.nosecondtroy.com.