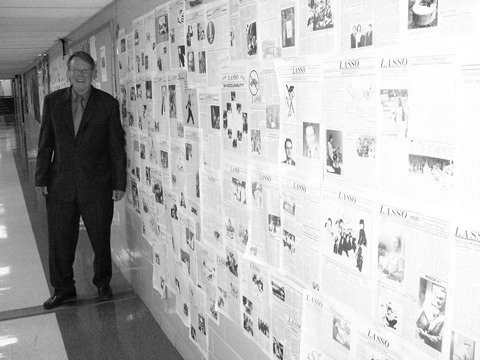 As the "big names" of Hollywood actor Ben Affleck and U.S. Senator and presidential hopeful Hillary Clinton headlined graduation ceremonies at neighboring high schools, there was no bigger name in the history of George Mason High School in Falls Church than the man who spoke its commencement last Thursday. English instructor, department head, school newspaper and senior class advisor and dean Michael Hoover culminated a remarkable 37-year classroom teaching career at the school by delivering his second commencement address in 12 years to 160 seniors who were graduated at the DAR Constitution Hall in Washington, D.C.
Affleck addressed graduates at Falls Church High School earlier in the month, the invited guest of a senior he'd befriended years before, and Clinton spoke at ceremonies for graduates at McLean High School.
But while George Mason High has had its own history of notable commencement speakers, including U.S. Secretary of State Madeleine Albright, there was none who received a stronger, lengthier standing ovation in the 55-year history of the school than Hoover did at the conclusion of his remarks last Thursday. Beginning in the fall of 1970, Hoover has taught longer than anyone ever has at the school.
Hoover heads a formidable list of veteran teachers in the Falls Church City School System who are "hanging them up" this month after many years in the system. Combined, Hoover (37 years), Carol Monses (34 years), Mary Werner (33 years), Cay Wiant (23 years), Barbara Mitchell (23 years), Eileen Backofen (23 years), Grace Rissetto (22 years), Martha Preston (22 years), Linda Johnsen (20 years), Carolyn Prevatt (17 years) Rochelle Friedman (15 years), Norma Pfaff (12 years) and David Applegate (11 years) total to 292 years of service to the Falls Church educational system who are now leaving. But Hoover's is by far the longest classroom service at the high school level.
Because of his personal teaching style and tireless involvement, Hoover had become almost synonymous with George Mason High School since arriving freshly graduated from the University of Virginia in 1970.
"It is difficult to imagine George Mason without Mr. Hoover," wrote Juliana Pearson of Mason's Class of 2002 in one of a number of tributes by former students published in the on-line student newspaper, The Lasso.
Following Hoover's remarks last Thursday, George Mason Principal Bob Snee announced the formation of a new "Hoover Prize for Outstanding Writing" to be awarded annually at the school.
In written remarks, Snee said of Hoover's leadership of the school newspaper that "his students' work has been consistently courageous, thorough and always responsible journalism."
In his graduation keynote, Hoover told a story of his own youth when a memorable teacher, Sister Dominique Mary, pulled him aside after he'd given an oral report in front of a class. She'd earlier motivated him to work very arduously on the report. She bent over, looked into his face, and asked if he'd ever thought of becoming a teacher. He said "no," but she responded, "Well, you should, because you'd make a good one."
He said while that didn't convince him right away, it eventually influenced the course of his entire life. He called on all graduates of the Class of 2007 to become "intrinsic teachers."
Jennifer Weise of the Class of '95, wrote in The Lasso Online, "At our class's graduation ceremony in 1995, we were fortunate enough to have Mr. Hoover deliver the main address. I will always remember that day. Mr. Hoover gave a humorous and poignant speech and mentioned things that he would remember about many students in the Class of '95. A wave of surprise hit me when I heard my name included. That was such a 'Mr. Hoover' thing to do, for it made us feel special and honored."
Hoover did the same thing for members of the Class of '07 in his address last Thursday.
Calling Hoover "one of the most uncritical people I've ever met, as well as one of the most helpful and motivating," Class of '07's Margaret Lipman, editor of The Lasso Online, wrote, "Having been at school in Falls Church for 12 years, I've heard my fair share of grumbling about how unfair teachers are and how they can't understand their students. Yet I cannot imagine anyone saying this about Mr. Hoover. He is fair, he does understand his students, and he is usually more enthusiastic about their work and their talents than they are."
Kathy Pottle Brannon of the Class of '77 wrote, "Mr. Hoover had an eye for those usually fringe-dwelling, inward-looking kids who would make good writers, all sorts of writers: poets, journalists, novelists."
Lauren Meserve of the Class of '89 wrote, "My memories are as clear as if it were yesterday. I can see Mr. Hoover walking down the hall, tie loosened, hair in disarray, carrying a large stack of papers, manila folders, books, newspapers, etc., usually with a cup of caffeine precariously balanced on top. I can see him folded into one of those classroom chairs with the small desk attached, legs crossed, scuffed brown loafer bobbing off a toe, urging a student to take a thought one step further. I can see him in one of those tired moments of frustration when the glasses came off, he rubbed his eyes, and took a deep inhale (this happened most often in the print shop when we missed a Lasso deadline."
For a decade, Hoover wrote a column frequently for the Falls Church News-Press entitled, "Ground Zero," stemming from one he wrote in the newspaper's very first edition in March 1991 that drew a lot of ire from the community.
After the events of September 11, 2001, when the term "ground zero" became synonymous with the destroyed World Trade Center buildings, he struggled to find a new name for the column, taking suggestions, and came up with "Against the Wind," the title of a song by Bob Seger.
Writing in Hoover's honor in The Lasso Online, Christian O'Hara, Class of '90, provided some historical context for his choice of that name. "One memory really stands out in my mind," O'Hara wrote. "We were in print shop one Saturday morning my senior year and Mr. Hoover and I got to talking about music. We were discussing great lyrics when we both said that our favorite line in any song was 'I wish I didn't know more now what I didn't know then,' from 'Against the Wind' by Bob Seger. I remember how he smiled and told me how fortunate I was to realize the meaning of that line at the ripe old age of 18."