It was just a year ago, on June 13, 2006, that Falls Church resident James Webb bucked the Virginia Democratic establishment to win the party's primary and the chance to be elected a U.S. Senator later in the year. It turned out, as everyone knows, that not only did Webb pull off a stunning upset to become a U.S. Senator in November, but that his victory gave Democrats their current one-vote majority in the Senate and the opportunity to steer the nation in a different direction.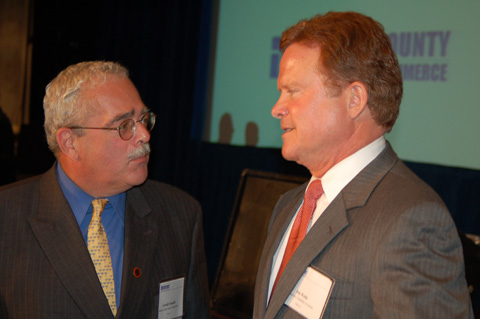 As if to commemorate the anniversary of last June's fateful primary upset, Webb attended a party event on the fringe of Falls Church last week. Speaking before 50 supporters of State Senate candidate Janet Oleszek, he singled out another Falls Church resident, former U.S. Congressman and State Senator Leslie Byrne, for her seminal role in convincing him throw his hat in the ring.
Byrne, Webb said, was the first person with political clout to urge him to run against former Fairfax County party chair Harris Miller. She made a critical difference, offering his campaign a vital element of credibility, he said.
The comments suggest an almost unbelievably important role that Falls Church, as it turned out, played in turning national and global developments over the past year. The connection between Webb, a long-time resident of the Lake Barcroft area of Falls Church, and Bryne, an equally-seasoned resident of the Sleepy Hollow section, changed world history.
Add in the fact that the Falls Church News-Press was one of only two newspapers in all of Virginia to endorse Webb in the primary, if you like.
State Democratic Party regulars, according to reports, did not expect to defeat incumbent U.S. Senator George Allen, who at the time was viewing his re-election campaign as a mere technicality on his way to more important things, such as running for president of the U.S. in 2008.
The party regulars were happy that one of their own, Miller, was willing to bear their standard against Allen. It would be better than in 2002, when the party failed to field anyone at all to run against popular incumbent Republican Senator John Warner. At the same time Miller offered enough of his own resources to finance a decent campaign, thus not demanding that money be siphoned off from other campaigns.
Miller had "paid his dues," so to speak, as a party loyalist and hard worker, and he was right on the issues. The fact that Webb, with his distinguished military background and bi-partisan service, had the potential to stack up as a stronger candidate against Allen didn't dissuade the regulars.
He was a former Republican, even serving as Secretary of the Navy for a spell in the Reagan administration, who was an outspoken critic of the war in Iraq and Bush's administration, overall. But the party regulars remained skeptical, and convinced that Miller would be a better candidate, albeit in an almost-certainly losing cause, against Allen.
Webb's strong anti-Iraq war posture, even though he was a private citizen and novelist who'd never run for public office before, energized growing circles of anti-war activists in the region, led by Falls Church's Lee Diamond and others, who quickly caught onto the idea of his mounting a run and backed it passionately. Their "get out the vote" activism, utilizing in the Internet in a primary with a tiny statewide turnout, was decisive.
Still, winning the support of Byrne was key, especially in persuading Webb to run in the first place. A state delegate whose district office was in the City of Falls Church's downtown, after re-districting based on the 1990 census created a new, 11th congressional district, she ran for the U.S. Congress in 1992 and became the first woman ever elected to Congress from Virginia.
Upended in a re-election bid by Tom Davis in 1994, she went on to serve in the Office of Consumer Affairs in the Clinton administration and in 2000 ran for the Virginia State Senate and won.
In 2005, she prevailed in a four-way race to win the statewide Democratic nomination for lieutenant governor, failing by the slimmest of margins to win the general election that year. She remains a potent force in the state Democratic party, even if often seen as a maverick, which was why her early encouragement of Webb to run gave his candidacy a crucial component of credibility.
Webb's comments here last week made the importance of her contribution to his efforts, and their stunning consequences now, very clear.
In a different event earlier this month, at the Arlington Democrats' annual Jefferson-Jackson Dinner, another leading Democrat of national prominence credited Falls Church with a role in his success.
Howard Dean, now chairman of the National Democratic Party, commented to a reporter that he recalled well that the first huge rally of his meteoric candidacy for the 2004 presidential nomination occurred at Cherry Hill Park in Falls Church in August 2003. "That was the start of our 'Sleepless Summer Tour,'" he quipped. "I remember that day well."
Dean's Virginia campaign headquarters was located on Park Avenue in the City of Falls Church and his national finance chairman was Falls Church businessman Don Beyer, Jr.. U.S. Rep. Jim Moran, whose 8th District includes Falls Church, told the News-Press as early as the fall of 2002 to "key your eye on (the then virtually unheard of) Howard Dean."
While Dean didn't win the Democratic presidential nomination, he landed on his feet to become the party's national chair and spearhead of its campaign policy to treat all 50 states as equally important to the party's national aspirations.