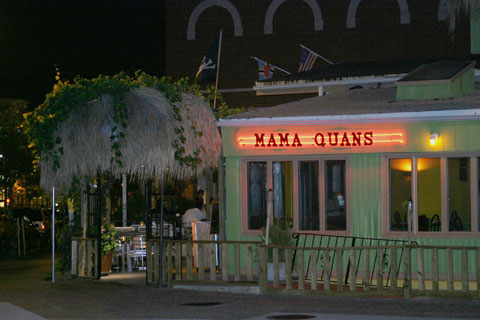 To merely call it a southwestern restaurant would be to sell it short. Silverado, located on Columbia Pike in Annandale, Va. and a part of the Great American Restaurant chain, offers some of the best-tasting food, as well as one of the friendliest dining experiences, in the Washington metro area.
The décor of the place and uniforms of the servers stay consistent with the southwest theme. The lights and murals are custom-designed by southwestern artists, and authentic spurs line the walls. The staff wears jeans and white button-down shirts. The menu, however, possesses a versatility that extends far beyond what is considered the norm for southwestern fare.
For starters, the Chop House and Traditional Caesar Salads ($5 each) are good choices, with the Chop House Salad's fresh romaine, corn, tomato and basil blending together nicely with its buttermilk herb dressing. The restaurant offers a nightly soup special ($4), with Saturday's Corn and Crab Chowder being the best of the bunch. If you'd like something a little bit more substantive for an appetizer, the Tex Mex Eggrolls ($8) are an excellent choice. These crispy tortillas wrapped around chicken, black beans, corn and cheese pack a mildly spicy kick that is complemented perfectly by the cool avocado dipping sauce with which they are served.
Silverado offers a wide range of delicious main course options. On the lighter side, the Monterey Chicken Salad with Spiced Pecans ($11) is one of several delicious big salads on the menu. It features romaine, fresh corn, tortilla chips, tomatoes, cranberries, avocado and is topped with lightly fried chicken tenders and tossed in a buttermilk herb dressing. It is one of the restaurant's finest dinner options, but is perfect for lunch as well.
The claim of "World's Greatest Fajitas" may seem rather bold at first, but upon tasting them, these fajitas (ranging from $13-$16) are certainly in the running. Served sizzling with sautéed onions, homemade tortillas and guacamole that puts Chipotle's to shame, these fajitas (you can get them with chicken, steak, portobello mushrooms or a combination) are as good as you'll find at any Mexican restaurant.
If you're looking for something fancier, Silverado offers a wide variety of steaks and seafood. One can't go wrong with the Sautéed Jumbo Lump Crab Cakes (market price), which go very well with the delicious Great American fries.
One has not fully experienced Silverado until he or she has reached the dessert course. While there are other desserts on the menu, there is really only one choice — the Warm Flourless Chocolate Waffle. Served with chocolate sauce, vanilla ice cream, whipped cream and a chocolate star, this delightfully rich chocolate dessert somehow maintains its light texture, and never crosses the too-rich-to-eat threshold that so many similar desserts seem to do. Bottom line: it's as good a dessert as you'll find anywhere.
Silverado features a very friendly, lively bar that is located at the center of the restaurant. The bar's atmosphere is laid-back, and while it is almost always busy, it never gets crowded to the point of being uncomfortable.
One of the best elements of the Silverado dining experience is their team service system. While each table has its own primary server, any waiter or waitress can step in to fill a request at any moment. The result is a friendly, attentive staff that keeps their customers very satisfied.
Perfect for lunch or dinner (they also offer Sunday brunch beginning at 10:30 a.m.), Silverado offers a relaxed dining experience and top-of-the-line food. It is a good date spot, as well as a great choice for families, yet another testament to the restaurant's immense versatility.
Silverado
7052 Columbia Pike, Annandale
703-354-4560
www.greatamericanrestaurants.com
Sun.: 10:30 a.m. – 10 p.m.
Mon.: 11 a.m. – 10 p.m.
Tue. – Thurs.: 11 a.m. – 11 p.m.
Fri. – Sat.: 11 a.m. – Midnight
Bar closes one hour after dining room.