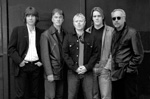 "Hold on one second, man. I've got a cop behind me and I'm not supposed to be using a cell phone," Dan Nigro says on the other end of the line.
That's when the mini-adventure of conducting a phone interview while driving in spite of New York City's "hands-free" law began. The As Tall As Lions frontman turned his ride away from the first cop, only to have a second one pull out behind him. In trying to shake the second cop, Nigro pulled into a parking lot … for the local police precinct.
It should have been easy, yet it became something of a challenge. It's a story that the talented Long Island-based rockers have become familiar with in their young career.
Shortly after throwing up some demos on the internet, labels flocked to their banner, eager to sign a group that featured melodies likened to Coldplay and vocals compared to Jeff Buckley. The band dove straight into recording Lafcadio, their debut LP on Triple Crown Records. But when creative differences led to arguments and the rough life on the road led to lineup changes, the fast track to success took a slight detour.
With their second album, this one self-titled, Nigro and mates Saen Fitzgerald, Cliff Sarcona, along with newly-added bassist Julio Tavarez, changed things up a little bit.
"We spent a lot of time writing, just understanding each other as musicians and songwriters," Nigro said. "And having Julio, who is a long-time friend of mine, come into the band, things just started to vibe."
As Tall As Lions started to open things up a little bit, adding instruments to their studio setup and exploring options they'd been reluctant to utilize before. Nigro has said in the past that with their earlier work the band felt like they were "shoved in a box."
"But that was more our own box that we shoved ourselves into," Nigro says. "We had false perceptions of what's cool and what's not. Really, we can do whatever we want to do."
It's that free-ranging vision that makes As Tall As Lions so much fun to listen to now. The box has been opened, and their second album features a chorus of children, muted trumpets as well as Nigro's signature flirtatious falsetto. From the noir-ish opener "Stab City" to the radio-ready "Love, Love, Love (Love, Love)," the album flaunts a sizzling sensation that's been known to make pulses quicken and blood run hot.
"I'd say that on a weekly basis someone will tell us that this record is their love-making record," Nigro says. To date, the instant heat of the albums' tracks has only been acted on in private, but Nigro wouldn't mind seeing his fans get down in the middle of a live set.
"That would be pretty great. I would like very much for that to happen."
The group's fans will have a chance to see As Tall As Lions open their tour, their first as a headliner, this Sunday, June 10 at Rock & Roll Hotel. D.C. natives Army of Me open the show.
• Tickets for Sunday's show are $10 in advance, $12 at the venue. Doors open 8 p.m. For more information on As Tall As Lions, visit www.astallaslions.com or www.myspace.com/astallaslions.