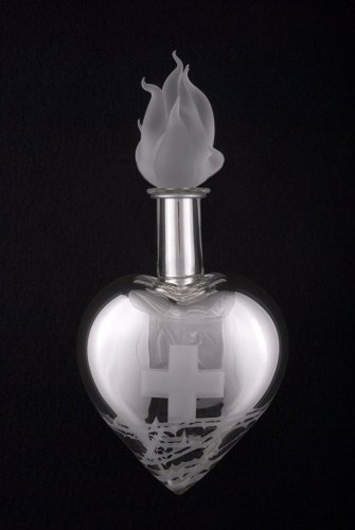 "Game Theory" by John Fasano is one of 15 recent RISD graduates on display at KNEW Gallery in Georgetown through June 24.
'Eating the Sands of Time: Recent RISD Graduates'
Through June 24 at KNEW Gallery, 1639 Wisconsin Ave. NW , Washington DC. Gallery hours: Tuesday through Saturday 11 a.m. to 6 p.m. (202) 338-4588, or see knewgallery.com.
Eating the Sands of time features the work of 15 recent Rhode Island School of Design (RISD) graduates. RISD is one of the most highly respected art and design schools in the country. Just as Corcoran students can take academic classes at GW, RISD students can take classes at Brown, so it's not exactly the place for witless slackers.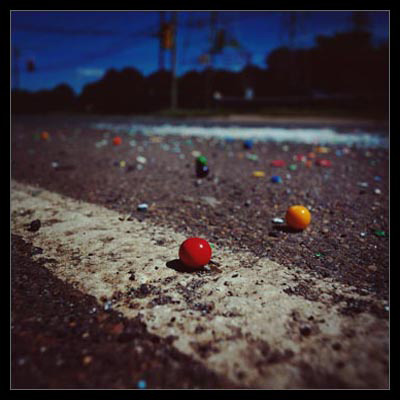 The grouping shown here at KNEW Gallery is a diverse lot, which for a student show is good. Too much similarity and you begin to think the school isn't encouraging students to find their own path.
"Game Theory" by John Fasano is one of the more Gene Davis type images around town at the moment (BTW; the Peter Fox show is now upstairs at KNEW). It's a tight well done stripe piece with an overlay of red paint forming something that resembles an old printers 'hot type' stamp for the letter E. Apparently addressing the union of old school journalism with this rubricated E, and the newer flasher razzle dazzle of modern electronic media. There is a struggle between the two for the attention of our eye, just as there is in everyday life. For all the hoopla about web based information sources, we still rely on print media for solid objective journalism, leaving the web to fill out the picture with more entertaining tid bits.
'Long Live the King' by Jonathan Edwards is a wonderfully quizzically surrealistic tableau. Here we find two women more or less facing each other, and the lower portion of a nude male figure seated above. This is one of those pieces that makes you work a bit, but all the elements are there for you to figure it out.
On the left we have a woman holding a rifle loosely pointed at the thighs of the woman on the right, that is if she had any legs. The left hand figure is clearly sexualized in mesh go-go boots, thong, and see through dress, however she is blinded by the royal purple drapery cascading off the throne above. She may in effect be 'blinded by love' but I'm guessing she's shamed by illicit lust. The right hand female dressed in fur coat, driving gloves, and designer sunglasses is clearly not hurting for cash. While quite attractive, she's been de-sexualized with the seeming absence of everything below the waist. She vaguely looks in the direction of the left hand figure, without looking directly at her, all the while making a similarly half hearted attempt to reach for the seemingly Freudian gun.
So what is the 'King' up to while all this plays out below him? He sits on high, secure in his throne, nude save his laughing blue cowboy boots. We don't see his head or face, nor do we need to, his thinking apparatus is present and accounted for.
It's unclear if the 'wife' or 'mistress' will win the fight for the affections of the 'king', neither seems all that enthused about putting up much of a fight. One shamed and unable to show her face, the other in effect neutered. Whole women made half by the presence of the other. If this cowboy were to turn around in his throne he'd see the scorched earth landscape behind him. This saddle jockey thinking he needed a stable to satisfy his needs, is going to be left with half a pony to ride when all is said and done. He hasn't done the math yet, still entertained by the fireworks between wife and mistress, but his future lays in that scorched wasteland behind him.
Ricky Allman's 'Your Smallest Sins Are My Greatest Accomplishments' is yet another moral driven piece, though far more opaque as to what he's trying to say with it. Here we find a city rendered in pencil with drafting board precision, and randomly colored in with paints. The city is densely packed yet only occupies the center area of the picture. At the edge of town we see a loosely painted stream that seems to be a sort of waste gate for the sewage of the city. A church figures prominently in the picture, but commands no power to speak of. No people are present, no sign of life. It's a man made barren wasteland.
Jonas Criscoe has a couple of pieces themed around the 'cookie cutter' nature of modern life. The one on display, a house window with line drawings of other houses outside, and a barcode on the window frame, has a Levittown soulless suburbia feel to it. In a box in the back room is another of his pieces about work life in cubical-ville. Both works with razor sharp incisors.
One of my favorite pieces of all here is a lone sculpture from Corcoran student Annie Peters. Peters in the fifth and final year towards her teaching degree. 'Seeding Seedling' is a wonderfully playful yet insightful form. The bulbous shapes are, after a little observation, clearly two pairs of breasts, and two pregnant bellies with hinges on them. The rest seems to be a sort of deflated blow-up doll of sorts, with possibly an inflation straw on top. It's not even slightly sexual. It's clearly maternal, addressing the way women are themselves deflated in the production and nurturing of their children. The ceramic piece, colored in festive dayglo green, has a positive feel to it. Fecund states are hardly dour 'poor me' stuff, but there is a real world spin to it. For everything you get you have to give something up. If you're going to get a baby, you're going to have to give up a lot, and this piece seems to articulate that fact in a pleasing way.
BTW- The Corcoran College of Art and Design has 'College Preview Day' this Saturday at 11 a.m. Reservations required. Call (202) 639-1814 by Friday… extended from Thursday by my arm twisting so FCNP readers can get in there if you so desire.
Art in Falls Church City Businesses.
Lisa Neher's paintings "Lazy Days of Summer" through June at Curves, 240 W. Broad St. Opening reception Friday June 1, from 7-8:30 p.m. (call 703-536-0141 for appointment to see the work after Friday)
Nancy Carter's pastels "Coast to Coast" at Stacy's Coffee Parlor, 709 W. Broad St. (703) 538-6266 through June. Artist reception June 10 from 5-7 p.m.
'Lions, TIgers, Bears, and more " at Falls Church Arts, 111 Park Ave. through June.
Monday through Saturday from 10 a.m. to 6 p.m. Opening reception Friday, June 1.