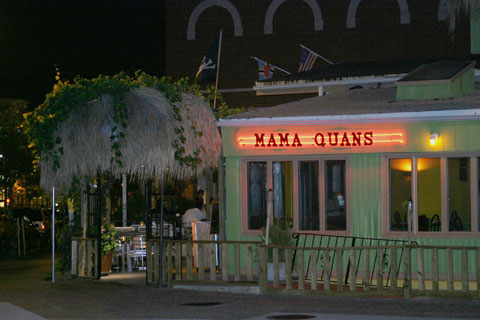 Upon walking down M Street in Georgetown, one may completely miss the oriental gem that is Mie N Yu. But in fact, this silk road-themed restaurant and bar has proven to be a staple among locals. Mie N Yu prides itself on its delicious Asian-fusion cuisine, its eclectic décor that lines each of the restaurants' four separately-themed rooms, its two bars and its floating bird cage (literally!) – the restaurant's exclusive Chef's tasting table.
The Moroccan Bazaar dining area, with tented tables and the décor to make diners feel as though they're in the midst of a lantern-lit bazaar. Upstairs is the Venetian Bar & Lounge and the large Baroque Room, containing two "love nests," or tables recessed into the wall with curtains for those, ahem, private conversations. Lastly, we saw the exotic Tibetan Lounge, originally built for V.I.P.'s with a private entrance and its own DJ booth. Mie N Yu proudly hosts many private events all over its restaurant, but for those who aim to impress, the option of renting the entire establishment exists, as well.
Out of the themed rooms, the Turkish Tent is the most intimate place to dine at Mie N Yu. Drawing back the tent curtains reveals a dimly lit room with posh ottomans and sink-into-your-seat, low-lying sofa beds. In contrast with the high-energy Hong Kong Bar with a DJ spinning house music one room over, the Turkish Tent provides a more hushed and non-smoking locale to enjoy your meal.
Looking through the menu, the variety of sources that Chef Tim Elliott draws from are enough to make jaws drop. For appetizers, I recommend the Rock Lobster ($10) or the Smoked Salmon Bruschetta ($5). The delicate and savory spices lend themselves nicely to the palatable Rock Lobster, served fluffed on the shell. The salmon in the bruschetta, highlighting the ability of Chef Elliott to transcend the cultural spectrum, is rubbed with pastrami and complimented with feta cheese, peppers and tomatoes.
Along with the wide-ranging menu, Mie N Yu has an impressively extensive and varied wine list — aptly named Wine N Yu. Pages upon pages of selections are offered to diners, but there's no need to be intimidated, thanks to the knowledgeable staff and complimentary pairings suggested on the menu. For entrées, I suggest the Red Thai Snapper ($28) or the Blueberry-Crusted Lamb Loin ($31). With the delicious snapper came one of the odder menu items: wasabi mashed potatoes. Wasabi, something I hate eating and avoid at all costs, adds a surprisingly tangy kick to a traditional dish and is worth ordering. Paired with the lamb loin was a rich, buttery wild mushroom flan.
For dessert, I recommend the Chocolate Bento Box ($13) or the Peach Croustade ($10). Essentially, a bento box is the Japanese alternative to a lunch box, with the different parts of a meal separated into compartments. In this dessert, the box is made out of chocolate and the desserts placed into the box include the odd combination of curry chocolate mousse, chocolate wontons, and fresh berries glazed with sweet soy and white balsamic. I was skeptical to see how traditional South Asian and Chinese dinner fare could be reinvented into enticing desserts. You'll have to try this dish to be surprised by the ingenuity of Chef Elliott for yourself.
Mie N Yu also happens to be one of Georgetown's more posh night spots, and by around 9:30 p.m., the Hong Kong Bar had a DJ spinning music, which was, fortunately, hard to discern for diners preferring the seclusion of the Turkish Tent. There's no cover, but proper attire is required, so dress accordingly if you'd like to slip on over to the bar for a night cap.
Mie N Yu
3125 M St. NW, D.C.
202-333-6122
Lunch: Wednesday-Saturday 11:30 a.m.-4 p.m.
Dinner: Sunday-Thursday 4 p.m.-11 p.m.; Friday & Saturday 4 p.m.-12 a.m.
Brunch: Sunday 11 a.m.-4 p.m.
Bar/Lounge: Sunday-Thursday serving until 2 a.m.; Friday & Saturday serving until 3 a.m.; Late Night Lounge: Saturday serving until 3 a.m.