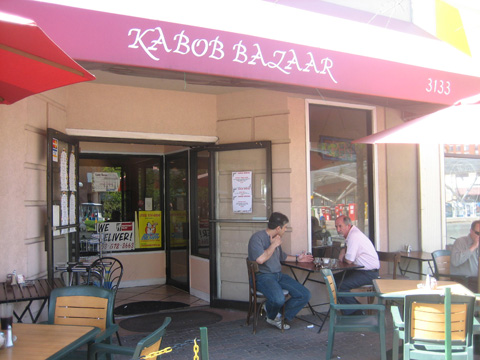 With D.C.'s alarmingly hot weather ahead, an outdoor shaded eatery should be on one's list of summer spots. Kabob Bazaar in Clarendon is perfect for a filling meal, a snack or perhaps a cup of chilled tea.

Large red umbrellas shade the sun's harsh afternoon rays, and table cloth-draped tables on the long stretch of sidewalk across the street from the Clarendon Metro stop makes Kabob Bazaar hard to miss. Owned and operated by Persians, the food is authentic and live music is offered on Thursday and Friday nights.
Most dishes offered at Kabob Bazaar are comprised of a combination of rice with lamb, chicken or fish. It is then seasoned with garlic, onions, vegetables, nuts and herbs to provide a taste to please every part of the pallete. That melds with spices such as saffron, diced limes and cinnamon for a uniquely Persian taste.
If Dr. Atkins has you averse to all of the rice, Kabob Bazaar offers low-carb solutions such as grilled chicken or fish, accompanied by a fresh salad. It also offers rotisserie chicken in quarter and half-sized portions.
You will have to make tough choices while looking through the vast menu. Good luck picking between the swordfish kabob or the salmon kabob in the seafood section. The barg kabob (marinated strips of filet mignon) for $10.95 versus the Kubideh kabob (two skewers of ground sirloin mixed with grated onion and house seasoning for $7.45) presents a dificult decision as well.
Other menu options include six choices under the "combination" section of the menu. Chenjeh Soltani ($10.95) is a combination of ground sirloin skewers and marinated prime beef, while Super Soltani ($13.45) is one skewer of lamb and one skewer of grilled chicken. Vegetarians should not pass on this Persian eatery on account of the large selection of meaty meals — there are many dishes offered to take the place of a chicken breast or rack of lamb. Kash-o-Bademjan ($4.50) is sautéed eggplant dressed in fried onion, garlic and mint served with fresh pita bread. Falafel ($4.25) is a combination of chopped Fava beans, parsley, onion and garlic, natural sesame seed and flavored with natural spices made into patties and deep fried served with Tahini sauce. All meals come with freshly baked bread from their tandoor clay-oven and basmati rice.
If the outdoor seating becomes too windy for you to enjoy your lunch, take a seat indoors and admire the lovely decorations. Green marble columns and paintings illuminate the simple dining area. A long bar, where people come to sit and talk with the workers while drinking a cool beverage, is in the back of the restaurant.
Sweet hot tea in tiny cups is the "anytime" beverage, and many customers can be seen drinking small cups of it throughout the day. The national beverage of Iran is sweet tea, often sipped though a sugar cube. It starts the day, is enjoyed during breaks from work and often accompanies many social engagements. For those looking to loosen their collars with a cocktail, the restaurant serves Heineken, Becks, Corona and Amstel Light in addition to a selection of chardonnays, white zinfandels, cabernets and shirazes.
Kabob Bazaar
3133 Wilson Blvd., Arlington Virginia 22201
Across the Street from Clarendon Metro
Business Hours:
Monday- Thursday 11:00 a.m. – 10:00 p.m.
Friday – Saturday 11:00 a.m. – 11: 00 p.m.
Sunday 12:00 Noon – 10:00 p.m.
703-522-8999
www.kabobbazaar.com