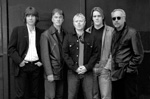 For Joshua Radin, it was becoming a cycle. A job would start as a passion, then slowly erode until it became solely a source of profit.
It started with his painting career. After majoring in oil painting at Northwestern University, he began teaching art to fifth through seventh graders in inner city Chicago. Then he moved to an art gallery instead, hoping to pick up tips on how to make a living selling his paintings. It was around this time that Radin noticed a change.
"I got jaded," Radin says. "I kept thinking about making something to sell."
The pattern held with his screenwriting career in New York City. But when Radin began writing songs three years ago, he was determined not to repeat it.
"There was no way I was compromising on this one," Radin says. "Music had always been my hidden passion and I wanted everything to be honest. Of course right as I say that, my career takes off."
Indeed the climb has been a swift one for Radin, who took the stage for the first time ever at a New York open mic night in 2004. There he performed "Winter," a song he had written specifically for the occasion, and one that would serve to launch his young career with a little help from some famous friends. When fellow songsmith and Northwestern grad Cary Brothers heard "Winter," he urged Radin to record it. He did so, then passed it on to another Northwestern pal — actor and producer Zach Braff. Shortly thereafter, the song appeared on Braff's show "Scrubs" and the clamor for Radin's music began.
That presented another problem: Radin's supply of songs was well short of the steadily increasing demand. So, he set to writing in his apartment, negotiating the nagging of his rabbit-eared neighbor who didn't appreciate his nighttime crafting sessions. In trying to not trouble his neighbor, Radin continued to develop the diminutive sound now found throughout his catalog. With the soft timbre of acoustic guitars and Radin's own hushed voice, he constructed whispers of songs — songs that ensnared listeners with their security blanket melodies and, above all, honest lyrics.
While the frankness found in Radin's songs drew him closer to an ever-growing fan base, it pushed him further away from his girlfriend of the time.
"I could never get my emotions out except in song," Radin says of the deteriorating relationship. "When I would play the songs for her, she started to get the hint that things weren't right."
With lyrics like those in "Closer" ("I wish it was over / we seem to never end / only get closer / to the point where I can take no more"), you don't exactly have to be Sherlock Holmes to see the writing on the wall.
"It was for the best," Radin says of the eventual breakup. "We weren't right together."
That fact didn't make the period any less painful for Radin, who, naturally, drew on those feelings when scripting his debut EP, First Between Third and Fourth, and eventually his full length release, We Were Here. The latter was eventually picked up by Columbia Records.
"Unlucky in love and very fortunate in art," Radin summarizes. "My life was in shambles, but I got a record deal out of it."
Radin has since moved to L.A., where he immediately made waves after relocating. Prior to the move, Radin asked Brothers to try to get him a gig at the Hotel Café, a venue that Brothers often played. When Radin's first show rolled around, he sold it out.
It's that appeal that Columbia is hoping to capitalize on with the record deal. A deal by which Radin admits he feels slightly pressured.
"There are people in A&R who stuck their necks out to sign me and if I suck, they could get fired," Radin says. "I try not to think about their families and their kids depending on them."
Still, Radin is determined not to compromise. He says he will continue to rely on the same philosophy that earned him a four-star rating for We Were Here in Rolling Stone and a pair of songs on the "Last Kiss" soundtrack. And the cornerstone of that philosophy will remain his honesty.
"I tried to write a song not about me once. It was terrible," Radin says, before wryly adding, "I was like 'ugh … this isn't me.'"
Of course, since moving to L.A., there has been another instance when his adherence to honesty has proven costly, though it likely weighs on him far less heavily — a regular poker game at actor Michael Weston's house.
"Like I said before," Radin says with a laugh, "I'm not very good at lying."