CLAY CAFE STUDIO'S 6th Annual Family Fundraiser to benefit the Falls Church Homeless Shelter was a huge success. Family, friends, community leaders and business owners joined together in an evening of camaraderie and painting pottery for the two-hour event on Dec. 6. Clay Cafe is donating all of their profits from the event, a sum of $2,000. That marks a 30-percent increase over last year's event. Shown here are Mark Werblood, Mayor Robin Gardner, Helene Safford, Ron Brouseau and Wyatt Shields, posing at the event. Generous donations were noted from Dr. Steve Rogers of Falls Church Animal Hospital, Bob Young of the Young Group, refreshments from ZPizza and Kendalls Bakery and support from the Greater Falls Church Chamber of Commerce. (Photo: Courtesy Helene Safford)

Winter Signups for Boys/Girls of Summer
McLean Little League baseball and softball will hold registration on three different dates in the coming month of January for the Spring 2007 season. All sign-ups will be held at The Clubhouse (1836 Westmoreland St., McLean). The first registration session is slated for Jan. 6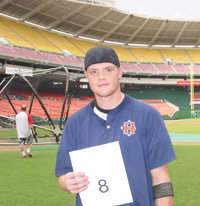 from 8 a.m. – 2 p.m. The next will be Jan. 11 from 5:30 – 8 p.m. and the last on Jan. 20 from 8 a.m. – 2 p.m. Parents or guardians of new players must present a birth certificate, proof of residency. All registrants must live within the boundaries of the McLean Little League. For more information and forms, visit www.mcleanll.com or contact Mia DeWitt at miadewitt@mcleanll.com.
Give Your Time on Your Schedule
If you would like to involve yourself in a volunteer charity program, but are dealing with a restricted schedule, you may be interested in a program called Volunteers for Change coordinated by Volunteer Fairfax. The program features a flexible calendar of "fund weekend and weekday evening projects to fit your schedule." The program will have upcoming orientation sessions Jan. 7 (2 – 3 p.m.), Jan. 11 (6:30 – 7:30 p.m.), Feb. 4 (2 – 3 p.m.) and Feb. 7 (6:30 – 7:30 p.m.). After the orientation session, volunteers can choose from more than 45 monthly community service projects throughout Northern Virginia. For more information or register for a session, call 703-246-3460 x 2,2 or e-mail adoyle@volunteerfairfax.org.
'Be a Santa' is a Wrap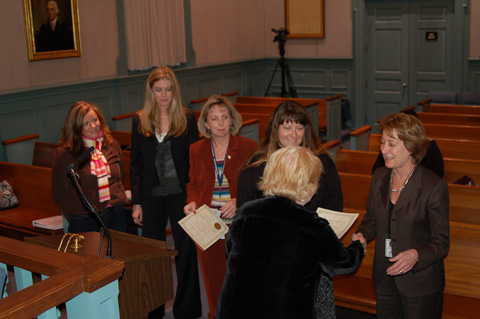 Annandale firefighters and dozens of volunteers wrapped nearly 1,000 gifts for "isolated and forgotten" seniors as part of the Be a Santa to a Senior program. Since mid-November area shoppers have purchased gifts for the seniors at participating area retailers. The paper is homemade, decorated by local elementary and middle schoolers.
Classical Guitar Contest Announced
The International Conservancy of Music has announced the creation of the John and Susie Beatty Music Scholarship Competition for Classical Guitar, to be held March 9 – 11 and hosted by the George Washington University Music Department. The competition is open to students in the greater Washington metropolitan area and consists of three divisions from 18 to 12 and under. The Conservancy will award 15 scholarships, totaling $5,000.
Applications and full contest rules are available online at www.marlowguitar.org.
Fairfax, Reston Interfaith Open Hypothermia Shelter
In partnership with Fairfax County, Reston Interfaith has announced that it will operate a seasonal hypothermia shelter this winter in addition to its year-round operation of the Embry Rucker Community Shelter. The new shelter will be available to homeless individuals from January 1 – March 31 in the North County Human Services building in Reston. Those interesting in volunteering or otherwise aiding the shelter can call 571-323-9565.
F.C.'s Dr. Spinella Given Directorship
Parent Project Muscular Dystrophy announced the hiring of Dr. Giovanna M. Spinella of Falls Church as its medical director.
"Dr. Spinella's appointment comes at a critical time," PPMD's Founder and Executive Director Pat Furlong said in a release. "There has been a growth in the expertise and experience of doctors at clinical centers for boys with DMD, and a growth in the potential for discovery of new compounds and treatments."
Dr. Spinella is a pediatric neurologist with 16 years of experience at the National Institutes of Health. She is currently a consultant for the Office of Rare Diseases at the NIH and spent four years as the science program director for this office. Until this year she also served as staff neurologist at Walter Reed Army Medical Center.
Sister City Drive Urges Holiday Charity
The Kokolopori-Falls Church Sister City Partnership wants to thank the citizens of Falls Church for their outpouring of generosity for the schools in Kokolopori in the Democratic Republic of Congo. They have received 39 donations totaling $1,303 to date, however that leaves them 61 donations short of their Dec. 31 goal of 100 to qualify for the $5,000 challenge grant. Most children in Kokolopori lack even basic school supplies like pens, notebooks and textbooks. For those interested in donating, visit www.SupportSisterCities.org, click on "Choose a Project" and then "Meet Basic Educational Needs in Kokolopori." You can also give by check (instructions are on the website), but checks must be received by Dec. 31 to qualify for the challenge.
* Please note that deadlines for submissions to both News and Notes and the Calendar of Events will be accelerated due to the holiday schedule. Submissions for the Dec. 28 issue must be received by Dec. 22. Submissions for the Jan. 4 issue must be received by Dec. 29.