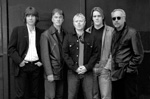 It's just the process.
So says radio personality El Jefe of his tumultuous stint in the business. Never mind that turbulence has forced him and his co-hosts, J-Dubs and Shaffee, to relocate markets twice in the past two years and now find themselves back in the District.
The three hosts of the Hideout, who got their start in D.C. on WJFK 106.7 FM in the Spring of 2003, are shopping their show this week back on WJFK after a less-than-two-year stint in Orlando at Real Radio 104.1. The test shows (aired 8 – 10 p.m.) wrap on Friday and only Miss Cleo knows what happens from there, but regardless of the uncertain future and the tribulations of the present (the gang drove through the night on Saturday to get into D.C. by Sunday afternoon), El Jefe is sticking with it. That's just the way it is.
"We tested the show for the very first time on the same day that the U.S. went to war with Iraq. Actually it's been going about the same way," El Jefe recalls. "A lot of ups, a lot of downs, but we're staying the course."
When the 2004 format change at WHFS sent popular talk shows Loveline and The Junkies back to WJFK, El Jefe's Hideout found itself shuffled to weekends. The Hideout gang's desire for a 7-11 p.m. time slot took them down to 104.1 in Orlando before a host of budget cuts by Clear Channel put them on the chopping block this fall.
"Absolutely I'd like some job security, but at the same time, it's entertainment," El Jefe says. "Look at [NBC's] 'Studio 60 [on the Sunset Stip].' It's a great product, but because of all the big salaries, the network isn't sure if it's worth it."
El Jefe has had a lot of time to familiarize himself with the unstable world of entertainment, particularly radio, getting his start at his college station at Texas Tech before moving on to local Texas stations, working the boards for Texas Rangers games or broadcasting gospel music on Sundays. Eventually he met up with J-Dubs and Shaffee, both from Michigan, and they formed their own radio talker, The Hideout.
TV shows like "Studio 60" are among the many topics mined for discussion by El Jefe and his co-hosts every day, a process more extensive than one might assume. On Tuesday, for example, El Jefe rose at 6:30 a.m. to look for potential material in the papers and online at sites like the Drudge Report, Fark and AllAccess.com.
"We look for stories that we can get the most jokes out of," El Jefe says. "We generally stay away from politics and we don't do much T&A because that's just been played out."
Instead, he says he and his co-hosts try to model their humor after that found on TV hits like "The Office," "The Daily Show" and "The Colbert Report."
"Really good shows are set apart with comedy. Funny trumps all," El Jefe says, referring to more renowned (and stable) shows like Don and Mike and Ron & Fez. "You want to create an atmosphere where listeners feel like they're in on a something that others aren't and they can't feel like they can miss a show because they'll miss too much."
For example, no one would have wanted to miss an interview down in Orlando with "Saved By the Bell's" Dustin Diamond, who slurringly called into the show (from Pirate Fest in Tampa) to promote his upcoming comedy gig there. Eventually he (along with his representation and "pop star" Fabian) launched into a profanity-laced tirade in response to an Orlando-based comedian saying he was stealing shows from less renowned acts who needed the money more.
"We had to dump out expletives four times," El Jefe says. "He got p—ed off and threatened to drop all of his improv dates across the country. We were talking to agents and lawyers all night long after the show."
For those that did miss the segment, however, you can find a YouTube clip of it on hideoutradio.com, along with audio streams from a number of other past shows from D.C. and Orlando.
As for future shows, time will tell. After the test run wraps on Friday it could be months before all of the proper executives make a decision on The Hideout's future.
"Hopefully, after Friday, the bidding war starts," El Jefe says. "If not we move on to the next target. But right after this week we basically just hurry up and wait."
So goes the process.