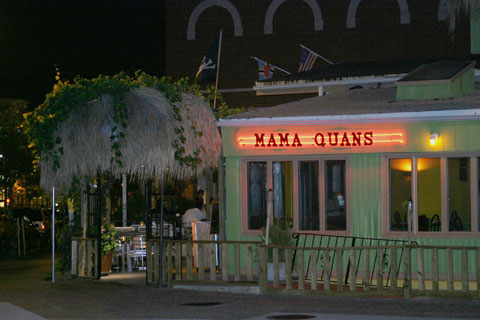 Looking for a small, quiet place to unwind and enjoy great food? This is your restaurant.
Or perhaps you prefer a louder, more hands-on approach to dining paired with dancing, stand-up comedy and other live entertainment? This is your restaurant, too.
Part-art gallery, part-restaurant, part-entertainment venue The Clarendon Grill in Arlington is all fun, no matter how you define the word. Located directly off the Clarendon Metro stop (you can literally see the neon light up sign at the top of the escalator), the restaurant boasts some of the area's finest modern cuisine and is a place that truly has something for everyone.
In the warmer months, the outdoor bar and recently renovated patio, which sits 75, is a popular spot to relax and sip a Magic Hat # 9 or Stella Artois (just two of the 16 drafts on tap), while people watching on the busy Highland Street strip.
Of course, now that customers have migrated inside, they're faced with even tougher choices than what to drink. Situated on the right side of the restaurant lies the art-gallery, where the works of local artists adorn the walls and several smaller tables are situated adjacent to the dance floor/entertainment area. The left side boasts several lower-key tables tucked away in the corners and ideal for those content to enjoy the entertainment from a distance.
Nestled in the middle is the large main bar, decorated in an ultra-laid back style reminiscent of a construction site. Bricklayers scaffolding is bolted to the ceiling, with various construction items and tools embedded into the bar. The restaurants columns are cemented with around 6,000 multicolored bits of 2 x 4 boards, showing the Grill's dedication to even the tiniest of details.
It's the same attention to detail that will have your taste buds thanking you regardless of which dish you chose off of the Grill's extensive menu. The vibrant homemade salsa and chips is a great warm-up off the starter's menu, and for an extra buck you can even pair it with some mouthwatering guacamole. Those feeling more adventurous should reach for the CG Nachos, chili or chicken piled high atop a bed of melted cheese, sour cream, onions and tomatoes, or the Pesto Cheese Ravioli smothered in a creamy homemade sauce.
One of the most popular items, "The Bomb" ($7.99), is a sandwich lover's heaven, a 10 oz. chicken breast served on ciabatta bread with provolone, ancho pepper aoli and house created tomato-cucumber coleslaw.
Most of the sandwiches and salad items are priced reasonably under $10 and come with your choice of fries, potato salad, fruit salad, onion rings or mixed greens tossed in balsamic vinaigrette.
The entrees are a bit steeper, but well worth the splurge. The Grille's "Spicy Grilled Chicken Rotini" ($12.99) tossed with tomatoes, sautéed spinach, and shitake mushrooms and seasoned with garlic, herbs and asiago cheese is a flavorful dish, as is the mouthwatering "Smoked Salmon" ($13.99), served atop a bed of mashed potatoes, with a corn and dill cream sauce.
During the week, Happy Hour specials start at $1.50 beers and crowds munch on toasted pecans while enjoying the live entertainment or open mic that frequents the Grill 3-4 nights a week. Every Monday customers can join in the fun of salsa dancing or try to cash in on their poker skills on Sundays when the Grill hosts free Texas Hold-Em Tournaments.
For those who can't get there the Grill has long offered a takeout option and also has recently partnered with Doctor Delivery to bring their dishes to your door. (See www.drdelivery.com or call 703-524-0800.)
But homebodies take heed: there's no substitute for the casual yet lively atmosphere the Grill provides, a restaurant as diverse as the city it's nestled in.
The Clarendon Grill
Mon-Fri 11am – 2am
Sat. 10:30 a.m. – 2 a.m., Sun. 10:30 a.m. – 9 p.m.
1101 N. Highland St., Arlington, Va.
(703) 524-7455