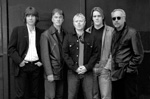 With hype and promotion well underway for Kenin's upcoming CD release party, Devin McGaughey's thoughts on the new album are a little surprising.
"Oh man, it was a mess from start to finish," he sighs.
It turns out he's talking more about the process than the album itself. In fact, the "mess" might have been a blessing for one of the D.C. area's most regarded bands.
Heading into the studio the band (which also includes Sean Gaiser, Mark Erickson and Tommy Bullough) had been practicing a list of 15-20 songs that spanned the entirety of their seven years together. Then, just days before heading into the studio, guitarist Erickson wrote eight songs that McGaughey says were far better than the 15-20 already on the list for the album, titled In Place(s).
"We didn't want to go back and practice and assign parts for these new ones," McGaughey says. "But we knew we had to."
When the dust settled, McGaughey says the band ended up picking finalists from a menu of about 50 songs.
"[In Place(s)] represents about seven years of recording and a whole bunch of emotional crap in between," McGaughey says. "It might not be as cohesive as some of our past albums, but that's what we were going for."
The finished product certainly is varied, from the full-on rock track "Hello, Hello" ("This is the most rock we've ever been," McGaughey says.) to the TV-soundtrack-friendly ballad "Lock Yourself." The unifying factor between the tracks is that both are quite enjoyable, with the heart-broken romantic chorus of "Lock Yourself" lingering long after the track has ended.
Memorable songs of this sort are what put Kenin on the D.C. music scene map in the first place, earning them the distinction as the No. 3 band in the District according to the Washington Post's 2005 Best Bets — just one notch behind the reemerging OAR.
"We're actually friends with them [OAR]," McGaughey says. "To be even ranked in a similar tier with those guys … I'm not sure we deserved it, but it's cool to be there."
McGaughey and Gaiser came to D.C. from Durham, N.C., and while Durham might lay claim to one of the top schools in the country in Duke University, Gaiser and McGaughey's alma mater, it has not earned a reputation as a musical hotbed.
"It was horrible," McGaughey recalls. "It's a miracle anything [with Kenin] got started there. I think Sean was the only musician I ever met down at Duke."
Taking their name from a "high school/childhood joke thing" between Gaiser and a former band member, Kenin has built a contingent of devoted District followers and has started a label with another Duke grad living in New York with four to five other bands. McGaughey describes it as a musical collaborative.
Perhaps it was the lack of a musical community in Durham, but McGaughey and the rest of the group are very much concerned with fostering a sense of community around their band, touring extensively (they've played more than 500 shows) at venues ranging from the "little crappy bars" in North Carolina to 9:30 Club.
"That's [a sense of community] one of our strong points," McGaughey says of the band's relationships with its fans. "It's like we're really good, old friends."
Friends both old and new will have a chance to convene with Kenin in the intimate confines of Iota Club and Café this Friday, Dec. 1. Admission is $10.
• For more on Kenin, visit www.myspace.com/kenin.