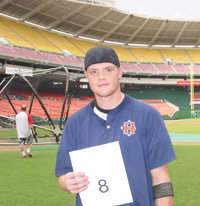 BEN LASSO SIGNS NCAA LETTER OF INTENT WITH COKER COLLEGE
Benjamin Lasso has signed a NCAA Letter of Intent with Coker College in Hartsville, South Carolina. Ben will receive Academic and Athletic Scholarships from Coker and play golf for Coach John Handrigan's Coker Cobras. Coach Handrigan led his Cobras to the 2006 Carolinas-Virginia Athletics Conference Championship, along with winning the Atlantic Regional and making the program's first appearance as a team at the NCAA Division II National Championship. "Ben has all the key aspects that I look for in a player. He is solid academically, he has a highly skilled golf games, and most importantly he has a very hard work ethic with the desire to constantly improve. Ben will be a great asset to Coker College both academically and athletically," Hadrigan said. Lasso , a Falls Church resident, is a former student at George Mason High School. This summer he won the Tidewater Junior Amateur and the Falls Road Golf Club Middle Atlantic PGA (MAPGA) Junior Tournament, finished Fourth in the Westfields MAPGA unior Championship, and finished Eighth in the MAPGA Player of the Year Standings among 200 players. His handicap is currently below one.
Mason Alum Continues Academic Success
Congratulations to Falls Church resident and University of Virginia student Kaitlin Bottock, who was awarded Intermediate Honors in October. Bottock, a 2004 graduate of George Mason High School is pursing a double major in Political and Social Thought and Economics in the College of Arts and Sciences. In order to receive Intermediate Honors, students must be in their third year and have excelled academically during their first two years at the University.
Crooning for A Cause
The State Theatre will be hosting the Santa Jam 10 benefit concert next Thursday, December 7, starting at 8 p.m. The event, which will benefit Northern Virginia Shelters for Homeless Women and Children and Victims of Domestic Violence, features performances from The Nighthawks, Tom Principato, Tommy Lepson, Mary Ann Redmond, Radio Mosaic, Linwood Taylor, Mary Shaver and Abbey Road Tribute. Admission is a minimum $10 donation and unwrapped toys are also welcome. For more information visit www.santajam.org.
Drive Remembers FC Officers
The Falls Church Sheriff's Office will be holding a Toy Collection in memoriam of Officers Vickey Armel and Mike Garbarino, who were killed in the line of duty in Fairfax last year. Anyone wishing to help donate, may bring a new, unwrapped toy to the Sherriff's Office, from now until December 15. The toys will go to the children of the deceased officers: an eight year old boy and six, 11 and 14 year old girls. The office is located at 300 Park Avenue, Suite 201 in Falls Church, and is open Monday through Friday from 8 a.m. to 4 p.m. For more information please call 703-248-5111.

Wedding Bells
Falls Church residents Mr. and Mrs. Ross C. Kory announce the engagement of their son, Matthew, to Stephanie J. Woodward. Matthew is a graduate of J.E.B Stuart High School, and earned a Bachelor of Arts degree in English and History from Washington College in Chestertown, Md. Currently he is working toward a master's degree in City Planning from the University of Pennsylvania. The couple currently resides in Philadelphia, and plan for a June 2007 wedding.
Lighting the (United) Way
United Way of the National Capitol Area (UWNCA) will launch its first annual Holiday Tree of Giving Program during a tree lighting ceremony on December 5. Washington Honorary co-chair Redskins linebacker Marcus Washington will be joined by other UWNCA and community leaders to encourage community involvement, and help launch the holiday drive. The ceremony will take place at 1:30 p.m. at the Greater Washington Board of Trade on 1725 I St. NW, in DC.
Holiday Shopping for Kids
Cherry Hill Farmhouse will host a children's holiday shopping event this Saturday, December 2 from 10 a.m. to 2 p.m. All gifts are under $5 and volunteers will be there to help children wrap these inexpensive holiday gifts for friends and family. The Farmhouse is located at 312 Park Avenue in Falls Church; those interested in volunteering or obtaining more information can call 703- 238-5171.
Bah Humbug!
Just in time for the holidays, VpStart Crow Productions will present Charles Dickens' classic, A Christmas Carol, at the Cramer Center located at 9008 Center St. in Old Town Manassas, Va. The production, which will run from December 1-17, is slated for 8 p.m. on Fridays and Saturdays and 2 p.m. on Sundays. Tickets are $20 for adults and $15 for students, seniors, and City of Manassas and Prince William County employees, and can be ordered from ticket.com or by calling (800) 955-5566.
Smiles and Skates at Sculpture Rink
The National Gallery of Art will host a Community Day at its Sculpture Garden Ice Rink on Sunday December 3, from 11 a.m. to 2 p.m. Players from the Washington Capitols, Joe Reekie from Comcast SportsNet and the mascot "Slapshot" will be on hand for this fun-filled day of ice skating and hockey demonstrations. For more information about this event, please visit http://www.nga.gov/press/2006/ice-comm.shtm.
NoVa Theatre's No Scrooge
NoVa Woodbrige Theatre Group (NWTG) will present Paula Vogel's acclaimed play The Baltimore Waltz this weekend only, with all proceeds donated to Broadway Cares/Equity Fights AIDS. The performances on December 1 & 2 will begin at 8 p.m. with Sunday's show starting at 2 p.m. Tickets are $10 general admission and $8 for students, seniors and faculty/staff of NVCC. For more information or to purchase tickets please visit www.nvcc.edu or www.broadwaycares.org.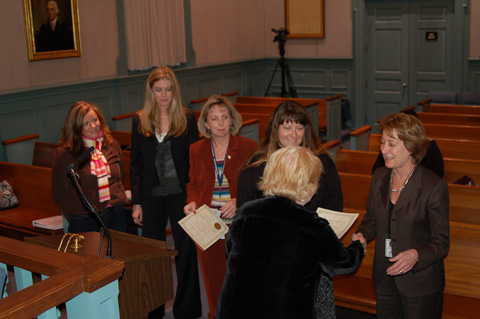 Nativity Comes Alive
"Sights and Sounds of Christmas" an interactive multi-media program using art slides of the nativity, vocal and instrumental music, narration and dance will be presented at 7 p.m. on Sunday December 3. The free program will be held at Dulin United Methodist Church, located at 513 E Broad St. For more info, call 703-532-8060.
Holiday Service Geared at Youngsters
St. Luke's Methodist Church, located on 7628 Leesburg Pike in Falls Church, will host a Live Nativity on Christmas Eve. Starting from 4-6 p.m., children can visit with animals and see what the first Christmas might have been like, before a brief family service at 5 p.m. designed specifically for kids and featuring cake and gift bags. Also, a candlelight service will be held at 8 p.m. For more information please call the church at 703-893-9220.
Holiday Flick For Low-Budgets
Does the holiday have you strapped for cash already? See the holiday classic movie, "It's A Wonderful Life" on the big screen for free on Friday December 17 at 7:30 p.m. The event, put on by St. Luke's Methodist Church, will take place at 7628 Leesburg Pike in Falls Church and will feature free popcorn and soda. All ages are welcome and no reservations are required. For more information, please call 703-893-9220.
Workshop Encourages Creativity in The Arts
Creative Cauldron will host A "Community Cauldron" Night at 111 Park Avenue in Falls Church on Saturday, December 9 from 7-9 p.m. This workshop will include improv theatre, music, poetry and spoken word and will be led by veteran theatre artists Oran Sandel and Matt Conner. Local performers, poets, writers and singers who wish to share their talents can register online at www.creativecauldron.org.