You want to know what "drawing power" is? Consider this story: After taking ownership of Scoop Beauregard's, a tiny ice cream a coffee parlor nestled in Arlington's Westover Plaza, new owners Kris and Michelle Rowley wanted to freshen up their new shop. As the couple started repainting the walls, they hung a "Sorry, We're Closed" sign on the front door. Over the ensuing few days, passersby would read the closed sign, then come in anyway.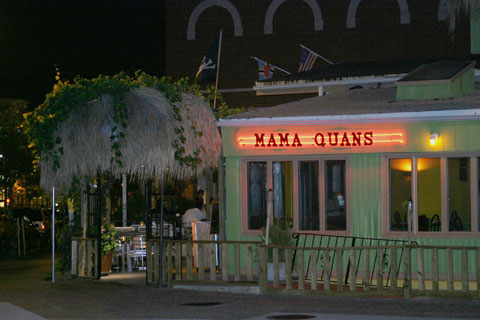 "I had to stop painting to ring people up at the register," Michelle recalls.
Since taking over at the beginning of October, the Rowley's have made some other changes as well, replacing a series of blackboard menus ("There was exploded malt all over them," Michelle says.) with lively, framed bills of fare. But for all of the changes, the appeal of the community-friendly food stop has remained. Now the Rowleys are hoping to add to that appeal with a grand reopening celebration this Friday and Saturday. To that end, Scoop Beauregard's will offer a variety of ice cream and coffee specials, with balloons and games for the kids.
"We want to get to know the neighborhood," Michelle says. "We'll be here all weekend."
The Rowleys have already made a positive impression on a number of the locals, offering a discount to students and teachers at Swanson Middle School, a few short blocks away.
In addition to their customer base, local flavor abounds at Scoop Beauregard's. The mainstay (and namesake) of their culinary arsenal is a wide variety of flavors made by Great Falls Ice Cream. Even in the fall, creamy flavors like Raspberry Chip, Café Au Lait, and seasonal specialty Pumpkin Pie have proven to be a hit.
"We've gone through three tubs of Pumpkin Pie already," Rowley says.
At the moment, Scoop Beauregard's offers 32 different flavors of ice cream, though Michelle believes they'll up that number to 36 come summertime.
If the cooler temperatures have you craving a warmer treat, or if you just need a little fuel for a Friday full of sale searching, Scoop Beauregards serves a bevy of coffees brewed by Alexandria-based Swings Coffee. A seasonal offering of Pumpkin Spice is a nice variant to the house blend and Hazelnut, while the Java & Mocha provides an exotic twist as well. Other flavors, like Dutch Cinnamon Apple and an Eggnog Blend await customers in the coming days. The Rowleys recently put all of their employees through a barista boot camp of sorts, so you will find all of your favorite five-adjective "Starbucks" orders here as well. If you like what you taste, you can bring a bag of fresh grounds home for the holidays too.
An array of pastries aims to please as well, with Uptown Bakery (Hyattsville, Md.) providing the shop with bagels, donuts, Danishes and rolls. And every Saturday, Scoop Beauregard's brings in fresh bread from Alexandria's Great Harvest Bread Company.
The only thing more impressive than the quality of the local food is the price. A large coffee is only $1.65, and that same price will fetch you anything in the pastry case. All but a few members of the drinks menu pass the $3 threshold and the vast possibilities of the deluxe shake (any flavor of ice cream with whipped cream and one topping) make it a steal at $5.
A massive three-scoop cone will only set you back $3.35, and a four-scoop "Sampler" is only $.65 more. If you fall in love with a flavor, you can have them hand pack it into a pint for $6.50 or a quart for $9 to make the good times last a little longer.
So after you hit up the stores this Friday and Saturday, reward yourself with a stop at Scoop Beauregard's on the way home. Of course, you could swing by on the way to the mall … but with all of the sensational offerings, you might not want to leave.