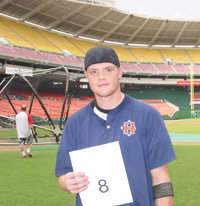 Members of the U11 PAC Strikers, a select soccer team from Falls Church, pose after their second place finish in last weekend's tournament. The Hunt Valley Classic tournament, held in Warrenton, Va., featured 250 teams. Though they lost in the finals of the Elite bracket, the Strikers supplied a good deal of late-game drama. Claire Trevisan scored with 15 seconds to play to tie the game and send the match to overtime. However, the Strikers could not prevail in the extra frame. The team consists of: Kelly Baucom, Erika Eckrod, Maggie Farnsworth, Kiersten Gillis, Ashley Jean, Grace McGuire, Kelly Mills, Rebecca Moot, Sarah Nicholson, Emily Schnider, Ashley Sienicki, Kelli Osgood and Claire Trevisan.

A Super Supper
Just because you won't ever be a Super Bowl Champion doesn't mean you can't dine with one. A dinner with Redskins Legend Dexter Manley is being auctioned on EBay from now through Thanksgiving (November 23), to raise funds for the National Prostate Cancer Coalition (NPCC). The winner can bring up to three friends to join him or her in this once-in-a-lifetime dinner with the two-time Super Bowl Champion and Pro Bowler Manley. To learn more about the auction and NPCC's advocacy efforts visit www.FightProstateCancer.org.
Area Runners Move on To National Contest
Congratulations to the McLean Youth Track Club who recently competed in the USA Track and Field Regional cross country meet in North Carolina where it made its strongest showing ever, the 11-12 girls team placing first and the 9-10 boys team placing third. Both age group teams as well as several individuals, including Falls Church residents Eva and Julia Estrada, qualified for the National Junior Olympic meet to be held December 9 in Spokane, Wash. Eva and Julia are the daughters of Falls Church residents Louie and Lisa Estrada.
Spreading the Holiday Cheer
Hosting a party over the holidays but blank on ideas? Local authors Kristina Rose and Deandra Brooks, will provide holiday entertaining time saving tips in the December issue of Cosmo Weekend Living from their book, "The Recovering Sorority Girls' Guide to a Year's Worth of Perfect Parties." After graduating from American University both women felt the need to rejuvenate the parties and gatherings they attended, thus developing their own unique home entertaining philosophy and co-authoring the book, which was published in 2005. Rose currently resides in Annapolis while Brooks lives in northern Virginia. For more information on purchasing the book please visit, www.recoveringsororitygirls.com.
Nationals New Prices Wallet-Friendly
The Washington Nationals recently announced ticket priced for the 2007 season, which include some significant price reductions from last season. Over 13,000 seats will be $10 or less while single-game tickets have been reduced as much as 55%. The Nationals will also offer partial season ticket plans (41 and 20 games) in areas of the lower seating bowl that were not available in 2005 or 2006. Fans interested in purchasing tickets for the first time in 2007 can do so at www.nationals.com.
Holiday Shopping For A Cause
The Claude Moore Colonial Farm will hold its GateHouse Holiday Open House on Tuesday, November 28 at the Farm on 6310 Georgetown Pike in McLean, Va. Guests can enjoy cider and other traditional treats while browsing in the colonial history museums GateHouse. All proceeds from the 18th century reproductions gifts, which include food, jewelry, books and more, will benefit the Farm's education programs and support the only privately owned National Park in the U.S. The event, which takes places from 5-8 p.m., is free with complimentary parking. For more information or directions, please visit www.1771.org/directions.htm.
Weichert Honors October Employees
The Weichert, Realtors Arlington Office recently had several sales associated honored for their achievement throughout the month of October. Branch manager Barbara Stone announced top-ranking Chairman of the Board Premiere Club David Lloyd as the top producer, leading the office in dollar volume, revenue units, listings and listings sold. Fellow Premiere Club member Ron Cathell earned the honor of top seller for the month.
Hall Welcomes New Class
The George Mason High School Athletic Hall of Fame welcomed seven new members with an induction ceremony on November 4. Those inducted were the 1954 boys' track and field team, Ted Yeary (cross country/track), Joan Clinton (basketball/softball), Nick Earman (basketball/baseball) Jenny Boozell (tennis/volleyball), Carols Rodriguez (tennis) and Coach Al Krueger (tennis/volleyball/wrestling). Jim Davis (football/wrestling) was also a member of the induction class but due to a scheduling conflict will defer his involvement until next year's induction ceremonies.
Holiday Baskets Help Fill Those In Need
Reston Interfaith would like to thank all of those in the community for making this year's annual food basket donation drive such a success! This year, 125 donors donated 1450 baskets of food; each basket included non-perishable ingredients for a holiday dinner for a family of four, as well as a $20 gift card to an area grocery store to purchase other perishable holiday food. Baskets were provided to 623 households throughout the community.