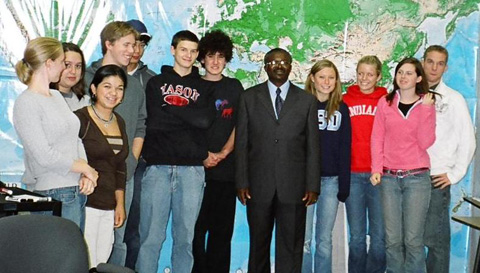 John Katunga, a native of the Democratic Republic of Congo (DRC), spoke with two classes at George Mason High School this past week. This was Mr.Katunga's first visit to an American high school, and Mrs. Harrington's International Relations class and Mrs. Hawkesworth Modern World Civilizations class were treated to an hour lecture on African history and contemporary issues. He also discussed the DRC's run-off elections scheduled for the end of this month, and the ongoing plunder of his country's natural resources, particularly timber, gem stones, and other minerals, by the West. Falls Church City entered into a "Sister-City" partnership with Kokolopori, DRC earlier this year. Mr. Katunga is an OSI Policy Scholar with the Africa program at the Woodrow Wilson International Center for Scholars, and the recipient of the Center's Distinguished African Scholar Award. He was formerly acting executive director of the Nairobi Peace Initiative, a pan-African peace resource organization with a long history of addressing peace and reconciliation issues in Africa. Mr. Katunga has been in the Washington area for several months, and returns to the DRC next week.

Local student flies high
Congratulations to Senior Ronald Sypolt III for being promoted to the top leadership ranks of the Air Force Junior ROTC detachment at Randolph-Macon Academy. Ron was awarded the position of restriction Officer-in-Charge (OIC), with the rank of cadet first lieutenant. Ron is the son of Andi Bennett of Falls Church and Ronald Sypolt, Jr. of Upper Marlboro, Md. To be eligible for the Academy' cadet officer and non-commissioned officer ranks, students must be in strong academic standing and possess great leadership abilities.
Legal thriller comes to Virginia
Most famous for her part in the O.J. Simpson case, acclaimed attorney Natasha Roit will be participating in a book signing event on Saturday, Oct. 14. from 3-5 p.m. at Barnes & Noble at 3651 Jefferson Davis Highway in Alexandria, Va. Ms. Roit will be reading from her new legal thriller The Oregon Project, which hit stores last month. For more information on this event please contact Molly O'Gorman at 703-299-9473.
Luncheon for Troops A Victory
Nearly 100 Forever Young Individuals, (FYI) turned out at the "Support Our Troops Luncheon" held October 2. The event generated support for the U.S. Armed Forces overseas. Notes, cards, and gifts were shipped to our soldiers in Iraq. For more information on Forever Young's organization please contact www.ForeverYoungTV.org or call 703-655-4205.
Picnic To Bring A (melting) Pot of Fun
It's that time again- the annual International Family Picnic, hosted by the Falls Church City Public Schools' ESOL and Foreign Language Departments and George Mason HS International Club, will be held on Sunday, October 15. Held in the Cherry Hill Pavilion from 3-6 p.m. the picnic will feature games, piñatas and fun for all. The schools will provide free pizza and beverages, but each family is asked to add to the international theme and bring a dish from their native country to pass around. For more information please contact, Kate Seche at 703-248-5616, or email her sechek@fccps.org.
Chief Justice to speak at NAMI dinner
The National Alliance on Mental Illness (NAMI), Northern Virginia's Annual Award Dinner will be held on Monday Oct. 23 at 6:30 p.m. at Bobby Van's Grill, 1201 NY Ave., DC. The Chief Justice of the Virginia Supreme Court will speak on mental health law reform. For tickets or more information please call 703-525-0686.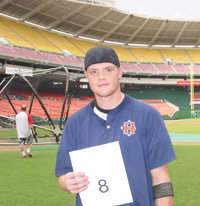 No Tricks, Plenty of Treats
The Claude Moore Colonial Farm will hold an Autumn 18th Century Market Fair on Oct. 21 & 22 at 6310 Georgetown Pike, McLean, Va. The festive fair will feature entertainers and colonial militia in period character and costume, live animals, food and dancing as well as children's activities. Tickets are $5 for adults and $2.50 for children. Visit www.1771.org or call 703-442-7557 for more information.
Show Seeks Area Spooks
Is your house haunted? "If Walls Could Talk" HGTV's weekly series on Sundays, is coming to the Virginia area to film homes with intriguing pasts and unusual stories. Now in production on its 8th season, the series kicks off with new homeowners who make surprising historical discoveries about their homes as they explore and restore them. The series has aired over 200 half-hour episodes since its launch in 1998. Homeowners who would like to be considered for the program should contact Jenna Friedrich at 303-712-3146 or email jfriederich@highnoonentertainment.com.
The Next 'Karate Kids'
Congratulations to Falls Church students Michelle Massie, and Michael Camper-Barry, both of George Mason High School, who were awarded black belts on Monday October 2. Both students have been practicing the martial art form Tango Soo Do (similar to Tae Kwon Do) at the Falls Church Community Center for approximately eight years. The black belt test lasted more than two hours and consisted of blocks, kicks, punches, sparring and a demonstration of practical techniques. The pair's instructors, Bill Kennedy and Richard Hathaway, are both teachers of Stratford Karate, the area's premiere martial arts program.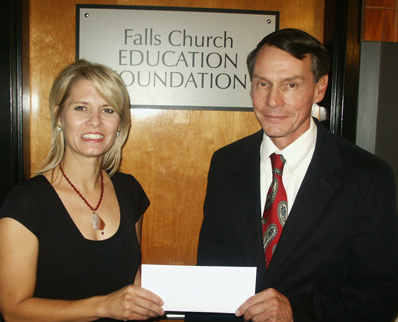 Death to revisit the Carlyle House
An exhibit on the mourning practices of 18th century Virginia will take place at the Carlyle House in Alexandria and will run through November 5. In addition, on Saturday October 28 there will be a historic reenactment of Colonel John Carlyle's 1780 funeral. John Carlyle was a prominent resident of Alexandria and one of the city's original trustees. The event will feature costumed re-enactors as well as jewelry and décor from the time period. Reservations are required for the funeral procession portion of the reenactment. For more information please call (703) 683 3451.
Park Move to Kick-off Harvest Festival
On Saturday, October 21 a ribbon cutting ceremony will celebrate the transfer of Aldie Mill from the Virginia Outdoors Foundation to the Northern Virginia Regional Park Authority, as well as kick off the annual Aldie Harvest Festival. The festival is scheduled 10 a.m. – 5 p.m. and will feature traditional crafts, music, food, antiques, collectibles and children's activities throughout the village along with a dose of Civil War history. Both these events will take place at Aldie Mill Historic Park, 39401 John Mosby Highway, Aldie, Va. For more information please contact Mark Riddell at (703) 359-4603, or MRiddell@NVRPA.org.
Nats Rookie on Board For Fight Against MS
Washington Nationals third baseman Ryan Zimmerman has announced plans to begin a charitable foundation to support families with multiple sclerosis (MS). The ziMS Foundation will host local events in Ryan's hometown of Virginia Beach, Va. and in DC to raise funds. Ryan's mother, Cheryl was diagnosed with MS in 1995. In addition to the foundation Ryan will be an active participant in the National MS Society and the DC chapter. On November 17 the ziMS foundation will host its first event, a golf tournament in Virginia Beach, to benefit the Hamptons Roads Chapter of the National Multiple Sclerosis Society. For more information on getting involved or for sponsorship opportunities please contact 1-866-721-ziMS (9467) or email ziMSfoundation@msn.com.
Volunteers Needed to "Make a Difference"
Volunteers are still needed in Falls Church to help area organizations for this year's VolunteerFest, held on October 28. VolunteerFest, held in conjunction with national "Make a Difference Day", features hundreds of volunteers helping 45 area nonprofits complete 57 projects county-wide. Last year, Volunteer Fairfax generated 44,000 volunteer hours, a $750,000 value in volunteer time to nonprofits, through the 10,000 volunteer opportunities at the Center. For a listing of volunteer projects in other areas of Fairfax County, visit www.volunteerfairfax.org, for questions please contact Erin Whyte at (703) 246-3460 or ewhyte@volunteerfairfax.org.
Scholarship to Aid Mustang Students in Higher Ed
The Falls Church Education Foundation (FCEF) recently received a $100,000 check from former Falls Church resident Chris Wollenberg, a trustee of the Wollenberg Foundation in Menlo Park, Cal., as part of a two year pledge to endow a student scholarship. The endowed fund, the J. Roger and Patricia A. Wollenberg Memorial Scholarship, provides an annual, renewable scholarship for a George Mason High School Student to attend a higher education institution in the State of Virginia. For more information on FCEF and to view a full listing of FCEF scholarship funds and other gifts, please visit their website at www.fcedf.org.
School Bazaar to Feature Food and Fun
Saint James School Bazaar will be next weekend, October 25-28 at St James on 830 Broad St. in Falls Church. The bazaar will feature a huge white elephant sale, games and prizes, books and toy shops and the Little Italy café. For more information please contact Judy Meehan at (703) 625-9088.
Charity seeks Mentors
The Children's Center of Virginia is recruiting volunteers for various positions at their advocacy center in Fairfax, Va. The volunteer mentors provide a positive role model in an effort to help at-risk children stay in school and out of trouble. A one year commitment meeting with the child twice monthly is expected. Volunteer tutors in the areas of reading, vocabulary, math, science, history and completing homework and projects are also needed. Training is provided quarterly, for more information please contact Cheryl Ray at (703) 208-1549 or cray@childhelp.org.