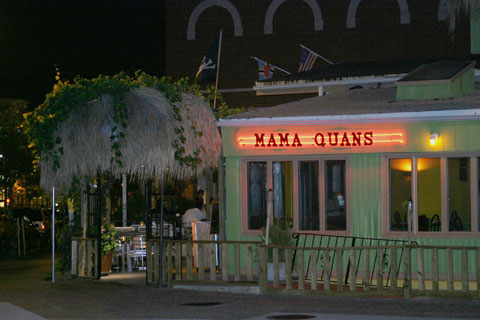 Adjacent to the busy traffic of Broad Street, the serene music, authentic decorum, and bona fide Thai food makes any passer-by forget that they are in the center of a bustling city.

This is exactly the kind of atmosphere one can find at Sweet Rice, the Thai restaurant located on Broad Street, which opened its doors just last Tuesday. By merely strolling by the restaurant, it appears to be your typical joint in Falls Church, nothing out of the ordinary. This judgment however, would be false. As you walk into the restaurant, you are greeted by the friendly hostess, always with a smile on her face. Owner/manager Punnee of Sweet Rice is about as gracious as restaurant entrepreneurs come, offering tips as to what will especially make your taste-buds jump.
Seats are available in booths or window-side. In either case, the tables have their own unique feature that sets it apart from other restaurants in the area. Had a hard day? Plop down in the booths and cuddle up with one of the comfortable, vibrantly colored pillows. Prefer to watch the cars and people go by? Sit down by the window and enjoy the pleasant smell of one of Rice's many scented candles. The restaurant boasts plastic lamps that never get hot, made in Thailand. On top of this, all of the tables, pillows, and candles are imported from its home country. The music playing over the speakers gives you a comfortable environment in which to kick back and enjoy some food. With the truly fabulous environment, it almost makes the customer forget that they came into the place to get some food!
Sweet Rice boasts one of the largest Thai menus around, featuring 63 reasonably priced options, ranging anywhere from the vegetarian soup to the marinated New York steak. The menu features a soup and salad section, as well as a healthy choice column which is equally as appetizing. Some favorites on the menu include the incredibly well crafted and delicious Pad Thai, which is made of Thai noodles sautéed with mixed vegetables, crushed peanuts, and your choice of meats. In the mood for something a little more American but still with that Thai kick? No problem. The restaurant offers grilled steaks marinated with spicy tamarind sauce, fried calamari with a spicy lemon sauce, and a house salad with a traditional curried peanut dressing. The special on hand was a surprisingly sweet roasted duck served in a broth, which, in keeping in tone with the rest of the restaurant, was a treat to both the eyes and tongue.
Sweet Rice can proudly say it is the only restaurant in the Washington D.C. area to compliment its menu with black sweet rice, whereas other places choose to serve white sweet rice. The seemingly pìna-colada tasting dish, served over freshly sliced mango, is the perfect compliment to any meal and is offered at a reasonable price.
As if the great meals were not enough, every menu item is beyond affordable. A full meal for a family of four can be purchased around $18, making it one of the "sweetest" deals in the area.
The generous portions provided at Sweet Rice is available for carry out and sit-in. For our couch potatoes out there, or if you just want to enjoy the food in the comfort of your own home, Sweet Rice offers delivery free of charge. Currently, the restaurant is open for lunch and dinner segments Monday thru Thursdays, as well as full service on the weekends. Opening up soon will be their full service bar, equipped with American and Thai beers. The owner mentioned that happy-hour specials will be available as well.
In what can only be described as arguably the most authentic Thai restaurant in the area, Sweet Rice kept with Thai tradition to service appetizing food and to provide an atmosphere like no other.
Sweet Rice Thai Cuisine
1113 West Broad St., Falls Church
703-241-8582
11:30 a.m. – 3:30 p.m. and 5 p.m.-10 p.m. Mon-Thur, 11:30 a.m. – 11 p.m. Fri, Noon-11 p.m. Sat, Noon- 10 p.m. Sun.