It's been a little over a year since the inception of Press Pass. We paused this week to check up on some of the bands profiled over the past year and give you of few of their "choice cuts" to download.

Pontiak
The thunderous trio from Rappahannock are primed to drop their first album on new label Fireproof Records, Valley of Cats, Sept. 5, and just finished promoting it at the MidWest Music Summit in Indianapolis.
The CD captures Pontiak's signature live sound well, though you'd need some sort of nuclear missile to fully encase their kind of power.
To support their latest effort the bearded brothers are hitting the road for a national tour with stops in NY, Denver, Vegas and San Francisco. "I have lost all control of time and responsibility," says bassist Jennings Carney in response to planning the crazed schedule. "But we are really looking forward to it."
Your next chance to see them comes Sept. 29 in D.C. with a "surprise" venue to be announced. Let's just hope the walls can withstand their sound.
Rip It: "Crows on the Move." Cats' opening cut sounds like Tom Waits sipping on moonshine and fronting a bayoued-up Arctic Monkeys.
Honor By August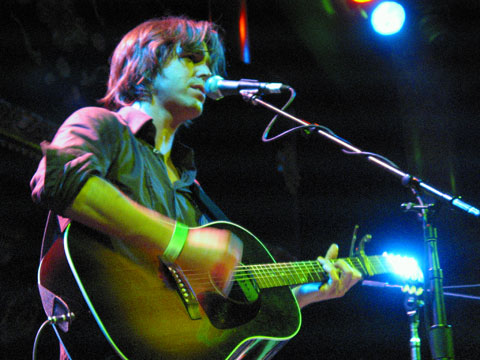 When we last spoke with the local pop rockers they were fresh off opening for Bon Jovi at Verizon Center and were primed to drop their full-length album, Drowning Out the Television. Since then, that album became the top-selling album at online music merchant Awarestore.com and the band has begun graduating to the stage of 9:30 Club in addition to packing them in venues like IOTA.
The momentum has generated some heat from labels, particularly surrounding a pair of new tunes — the hard-edged "Good Enough" and "Body.Mind.Heart.Soul."
"Both of them are personal favorites of ours," says guitarist Evan Field. "'Good Enough' in particular is something we're excited about because it's a little heavier than material we've recorded before and really reflects the energy of the live show."
HBA recently recorded both tracks with producer Ted Comerford and Matt Boswell at Lowwat Recording in Raleigh, N.C. and plans to release them on a revamped version of Drowning Out the Television later this fall.
"The album has been out for almost a year and we wanted to give our fans something at this point for their patience and continued support," Field says. "We're also re-mastering the album and may remix some of the tracks, and the CD will have all new artwork. Version 2.0!"
HBA plays IOTA Aug. 31st before hitting the road for a large-scale East Coast tour this fall, spanning from Boston to Atlanta. They'll be joined at the IOTA show by special guest John Athayde.
Rip It: "The Quiet Sky." Until "Good Enough" drops, this power pop ballad will tide you over just fine. This tune is destined for the radio if/when HBA breaks out.
Ashton Allen
We stumbled upon Ashton Allen when he was performing solo, opening for a CD release show at IOTA last August. Since then, his song "Prodigal Son" has appeared on ABC's "What About Brian?", his debut album Dewdrops became a Top 25 CD at non-commercial Triple A radio, and his new single "Pretty Pink Rose" just hit the radio airwaves.
Last August he told "Press Pass" he turned to writing his own music as a way to alleviate his depression. Thus, it was nice to hear him disclose the following in a recent follow up interview: "This past year and a half has been huge for me. I look forward to getting up in the morning," Allen says. "The songs on the first album [Dewdrops] were meant to be hopeful. I think this next album will be even more so."
Almost a year to the day from his last area gig, Allen returns, playing Jammin' Java Sept. 1. This time he'll be supported by a full band and promises to unveil a few new songs as well. His modesty, however, remains unchanged.
"I've got 200 shows under my belt now and I'm finally not terrified to perform by myself," Allen says. "Now I'm fronting this band of guys who are all more talented than me."
Rip It: "Something to Say." Could be the best song we've heard all year … even outside of the artists we've covered.
Nikki Barr
Grrrl power lives on with the feisty Maryland rocker. In a way, she's simultaneously become big at home while performing abroad, making a name for herself performing for U.S. troops overseas. Billboard Magazine recently featured her and her band as an example of an unsigned artist using the armed forces circuit as a profitable touring base.
Her latest single, "Go," is No. 1-selling track for an unsigned artist on the UK's SkyRadio Chart 0155.
Currently she's back stateside proving that not all female musicians have to sport acoustic guitars or front a dance troop. She'll play Cantina Marina on Aug. 25 and then play Jammin' Java Sept. 2 with another "Press Pass" fave — The Influence.
Rip It: "Go." Look, like a bajillion Brits think this angsty rager is the best thing since cricket, who are we to argue?
The Influence
Speak of the devils … The Influence is one of the most original bands we've looked at over the past year, using a pair of DADGAD acoustics to drive their largely indescribable sound (acoustic Incubus is the best we got). Based in Virginia Beach, the band shared the stage with Hootie and the Blowfish in Connecticut and played a sold out show with Los Lonely Boys in Norfolk.
They're still unsigned, but they'll be appearing on an Aware Records compilation, as well as that of the Dewey Beach Conference, where they'll be performing in September.
Locally, check them out Sept. 2 at Jammin' Java.
Rip It: "Windows." Creepy track that sticks in your head like peanut butter on Velcro, lined with duct tape, making it hard to avoid singing the "I'll kill him if you want me to" chorus in public.
Jackie Greene
He's just a youngin' but his talent has dazzled many a blues veteran, including the legendary B.B. King.
On different songs Green reminds you of different artists, the one commonality is all of those artists happen to be legends. He'll channel Dylan, the Stones, maybe even a little Dire Straits. The blues star-in-the-making could be one of the most musically talented names you have yet to hear — though that could soon change.
He just recently came through Wolf Trap with B.B. King (again), shared the stage with David Gray in Montana, supported Susan Tedeschi (again) in Utah and shined on "Late Night with Conan O'Brien." Currently he's out west, touring in support of recent release American Myth.
He won't be back around these parts for a little while, but when he does, we'll keep you posted.
Rip It: "Sweet Somewhere Bound." This all-country ballad will make you misty in your whiskey.