Falls Church resident Betty Allan will soon join a select group.
When she celebrates her 100th birthday on June 19, she will become one of an estimated 90,000 people in the United States of 337,000,000 who are centenarians.
Her family of three children, their spouses and grandchildren in Falls Church, as well as from several states and Canada, will join Allan to celebrate her milestone at her home at Goodwin House.
The age-old question, "what's the secret to your longevity?" is a refrain Allan often hears, and after a pause, she answers politely: "whole milk." She doesn't drink it now, though.
Her curiosity about the world, her love of travel, family and volunteerism are important elements of her long life.
She's a former Falls Church School Board member who was active in the Village Preservation and Improvement Society and she's a 50-year member of the League of Women Voters. During World War II, she was one of 10,000 "code girls," the title of a 2017 bestselling book about the women who deciphered Japanese codes for the U.S. and helped win the war.
Born in New York state, Allan's college credentials, which included a speciality in math, made her attractive to the U.S. Army Signal Corps, which hired her in 1944 to come to work in Washington.
In a 2007 email to a researcher, she described conditions where she started working for the government, beginning with an all-night train ride from New York to Washington which, due to crowded conditions, forced her to sit on a suitcase.
She wore "a dark blue suit with white lace at the neck, matched by a little lace hat and snowy white gloves…." Upon arrival at Union Station, she and other recruits were greeted by a member of the Women's Army Corps who ushered them into the open back of a small Army truck for transport to an unknown destination in the Virginia countryside. "It was a terribly hot July day," she wrote.
While the truck driver stopped to make deliveries along the way, "we wilted in the sun." Finally, upon arrival at Arlington Hall, they unloaded, filled out forms and had their photographs taken for a "sad badge" she wore for six years.
Allan said her job was "exacting under sometimes stressful conditions, but it was also an exciting time" working in "low barracks-like non-air conditioned buildings on three shifts," a trifle different from today's working environments.
In 1950, she broke from code-breaking and cashed in her retirement to travel to Europe for six months, but her talents and experiences were too valuable for the U.S. government to give up. The Central Intelligence Agency came calling, wanting her to work as a covert editor and researcher in Japan.
While waiting for security clearance, Allan served a stint as a hostess at the old Raleigh Hotel in D.C.
In Japan, "I kept track of Soviet Union personnel through reports and newspapers," she said in an interview with the Falls Church News-Press. One of the persons she covered was a Soviet defector, Yuri Rastvorov, whom Allan accompanied to Okinawa. Later, he went to work for the U.S. government.
Defectors were not all she met in Japan. There was also an Army intelligence officer, Dick Allan. The couple hit it off, becoming engaged and traveling for months around the world, enduring a break-up, then reconciliation, then marriage in 1955 and a move to Falls Church the next year to a home which is still in the family.
"We thought Falls Church was an attractive place, and I wanted a contemporary house with lots of windows which the agent called a 'left-handed house' since it wasn't the usual standard Colonial," Allan said.
Dick Allan died in 2015, a few days before the couple's 60th wedding anniversary. "I still miss him," his widow said.
Moving to a happier subject, the cheerful and charming Allan says all she wants for her birthday are chocolates. "They keep me in chocolate," she smiled as her son-in-law, Bob Burnett, sitting in on the interview, rushed over to her bureau and whipped open a drawer.
There in neat order lay delicacies from Belgium, Spain and other places, gifts from her family's worldwide travels, an interest they inherited from Allan and her husband. (The Allans racked up 55 trips with ElderHostel, now Road Scholar.)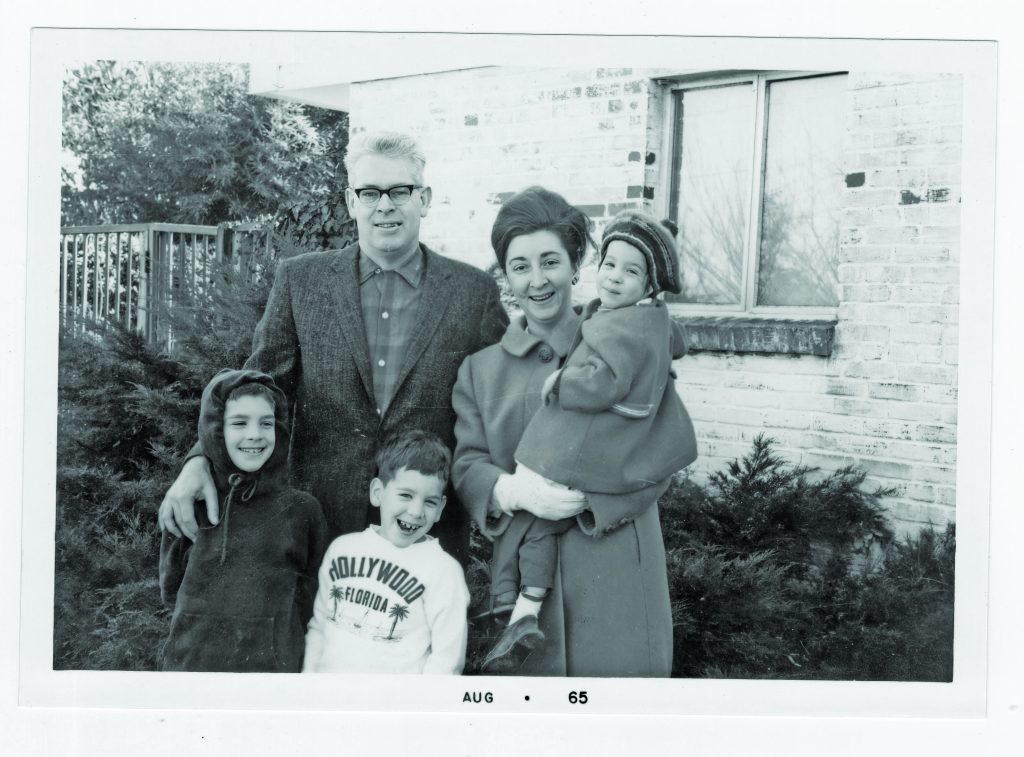 Allan exercises daily (having won a gold medal for line dancing in the Senior Olympics!), has never smoked but used to drink wine and, to laughter, "maybe some other things."
"I loved a good martini and when the kids came home from school, they might be poking themselves. They were good kids in school, but I would fix myself a martini until my daughter (Susan) told me one day she could smell gin on me" and Allan stopped her mid-afternoon drinking.
The countless hours she has spent volunteering have kept her interested in what goes on around her, including co-founding the "Green Team," an environmentally-friendly group devoted to recycling and working against climate change at Goodwin House, where the Allans moved in 2004.
A longtime activist in many other groups, Allan still volunteers for the Democratic Party, calling voters who may need rides to the polls.
On her tray in her apartment sat the day's Washington Post which Burnett says she reads every day, keeping up with news from other sources, too. Her hearing and sight are acute, and she follows ballerinas and actors she used to see in person on stage. Burnett pulls up their performances on his phone for Allan to see and enjoy again.
Until around age 85, she ushered for Arena Stage. She laughed, reflecting on her memories there.
"That is, until they realized they were ushering me!"
The best advice Allan has for anyone is to get involved.
"I mean, life would be pretty dull, if you didn't," Allan said.
With her positive attitude and good nature, no one will be surprised if she joins the semi-supercentenarians (ages 105-109) and later, the supercentenarians (ages 110 and up).
It's time to take Allan's advice and hit the road, go eat chocolate, drink milk and maybe, have a martini or two. And, yes, call voters.