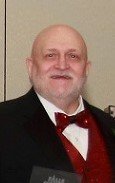 Long-time City of Falls Church resident, business owner, Chamber of Commerce and civic activist Gary LaPorta died suddenly at his home in the City this weekend, the News-Press has learned. City of Falls Church Police were called to his apartment in the 301 W. Broad building for a welfare check at the request of his daughter, who lives near Roanoke, this morning, and found him deceased, according to reports.
LaPorta was in recovery from a heart attack six weeks ago. A employee of the Commissioner of the Revenue office at City Hall, he was given a "clean bill of health" following surgery and a recovery period in an area hospital following that incident and had returned to work. In the meantime, LaPorta was elected president of the City's Citizens for a Better City (CBC) organization last month.
He previously ran a local business, Miniatures from the Attic, was a two-term president of the Falls Church Chamber of Commerce and an activist in support of a range of local causes.