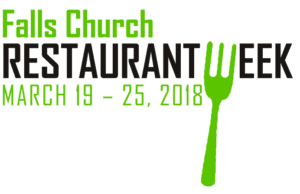 The News-Press announced this week the dates for its sixth annual celebration of The Little City area's culinary scene, Falls Church Restaurant Week. The latest installment of the City's tastiest seven-day event will take place March 19-25.
During the week, participating restaurants will offer up specials exclusive to F.C. Restaurant Week for lunch and/or dinner. The News-Press will publish a special Food and Dining issue featuring all F.C. Restaurant Week specials plus more stories on the Falls Church-area dining scene on March 15.
The initial group of this year's participating restaurants includes Argia's, Art's Tavern, The Black Squirrel, Cafe Kindred, Clare & Don's Beach Shack, Dogwood Tavern, Fava Pot, Hot N Juicy Crawfish, Idylwood Grill, La Cote d'Or, Liberty Barbecue, Mad Fox Brewing Company, Panjshir, Present Restaurant, Taco Bamba and Takumi.
More restaurants will be added to the list of participants in the days leading up to Falls Church Restaurant Week with a full list available at fcrestaurantweek.com.