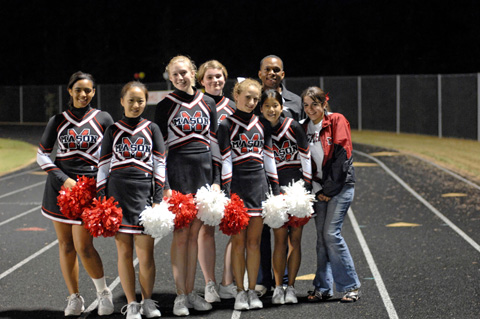 With the first ring of the school bell mere days away, Mustangs young and old are donning their red and black and gearing up for another fall season of cheering on the home team. Athletes have been hard at work all summer long with practices and conditioning to make sure they are in fighting form. The fall sports teams have graduated many all-star players since last season, and new faces – both freshmen newcomers and new coaches joining some teams – leave blank pages for the season's tale to be written, but there is no question that these athletes and coaches are enthusiastic about what they feel is a promising fall sports season for George Mason High School.
FOOTBALL
With a new head coach this season, the football team will see many changes.
Tony Green has taken over for Tom Horn, who is the director of athletics at Mason and had coached the team for the past 15 years.
"I think the coaching change really brought us to our senses," said quarterback Grant Hagler. "We have a clean slate and a chance to reinvent ourselves in front of a new coach."
In practice, Hagler said, the team has been working hard to install a completely new offense, and the quarterback has high hopes for the coming season despite some tough losses in recent years.
"We realized that we have to work much harder if we want to get better and ultimately improve upon our 2-18 record over the past two years" Hagler said. "I'm optimistic that our efforts will pay off and that Mason supporters will respond to the new approach. We have some tough teams on the schedule, but I think we have a good chance for a winning season."
The football team will open its season at home tomorrow, taking on J.E.B. Stuart High School.
CROSS COUNTRY
It may be too soon to tell if this year's team will gain yet another state championship, as the graduation of star runner Julia Estrada and a coaching switch have changed things up for the team, but performance at practices and a crop of talented freshmen are promising signs.
Alisa Harvey will be coaching the team this year, taking over for longtime coach Julie Bravin. According to junior Truman Custer, the two coaches have different training styles.
"Coach Harvey likes short hard runs unlike Coach Bravin's long jogs," Custer said. "She has a different training aspect, but we are definitely being worked hard."
During practices, the team focuses on hill training, training on grass, distance training, and basic running training.
Harvey admitted to feeling the pressure to uphold the team's tradition of state championships, and added that the team had "a fabulous head coach who has worked with the team for many years. The tradition she has set makes it a little easier because she has such an outstanding, driven team."
The cross country team's first meet is scheduled for Sept. 19 at William Monroe High School.
VOLLEYBALL
Last year's volleyball team made it all the way to regionals, and the bar has been set high for this year's younger team. "I think we took a big hit graduating four of our starters, but we are an energetic team and I think we can bounce back," junior Sally Karstens said.
The team, coached by Erik Healey, has been stepping up practices, with plenty of conditioning and new plays to learn. The team is also working on game situations, which senior Johanna Roche thinks "will help people feel more confident during the actual games so they'll end up playing better."
In its first game of the season, the volleyball team will play Wakefield High School at home next Wednesday, Sept. 5.
CHEERLEADING
It's taken a few years to get to this point, but the cheerleading team is strong in numbers and is ready to not only cheer on the home team, but to compete themselves.
This year's fall cheer team has 30 players, a new JV team of 14 players, and a competition team.
"When I first started coaching cheer, five years ago, only one girl showed up for tryouts and the team ended up having only five players," Coach Beth Ann Bird said. "So the team has definitely gotten a lot bigger and has a better presence."
So far in practice, the team has been working on learning about 100 sideline cheers and establishing new stunt groups because all of their strongest bases graduated.
"We've been working really hard, and I'm excited to see how the season goes," junior Courtney King said.
The team is particularly excited about performing the fight song with their dance once every home game right before halftime, and hope the crowd will participate and help them give the football team some extra momentum to finish out the half.
"We are really excited this season to get to cheer the football team on and see students from Mason come out to support us and the team, too," junior Samantha Rolander said.
The cheerleading team will be cheering on the football team tomorrow at their first home game.
GOLF
While other teams are just starting their seasons, the golf team's season is already halfway over. The team has only two more home matches to play, with the district tournament coming up in three weeks. The rebuilding year has cost them five games this season, but the team is looking toward the promise of coming years.
"Last year's team was predominately made up of seniors, and this year we have a lot of younger kids that we are trying to develop for a stronger future," said Coach William Snyder, who added that he is designing practices to help the young team's fundamentals. "The team has spent most of their practices this year working on specifics of the game, such as chipping the ball or hitting from the sandpits."
The golf team's next home game is against William Monroe High School at Reston National Golf Course.