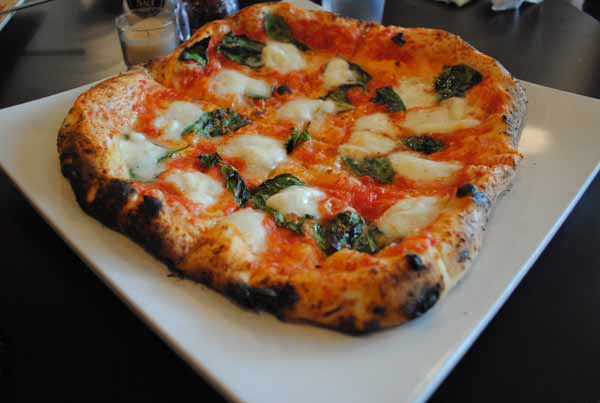 Just five years ago, Pupatella was a food cart earning acclaim for the authentic Italian eats it dished out in the Ballston area. More recently, in 2010, it put down roots with a modest storefront in the Bluemont neighborhood of Arlington, with a dining space that, while cool and fun with neon pop art-adorned walls, allowed for only a dozen or so customers to enjoy their meal in-house. Now, a fresh expansion and the promise of extended hours are proof enough that this business is growing and its reputation is spreading.
The pies this pizzeria bakes play no small role in the restaurant's continued success. Just steps inside the door, cooks donning various brightly colored fedoras wobble stretchy dough between their hands, flick fresh ingredients atop that base, and retrieve and replace pies from inside a massive red brick oven. (The oven, by the way, is Naples-made, and the wood-burning behemoth is composed of stacked bricks of volcanic ash.)
Such a display fuels curiosity and stokes the desire for that beloved Italian dish. At Pupatella, the ethos of creating pizza is one of simplicity. Few ingredients top the 12-inch pies. The tomato sauce is merely a combination of tomato and salt. But with fresh ingredients and quality dough, all melded within that oven, the result is a whole greater than the sum of its parts.
The Margherita DOC ($12) is topped with just sauce, mozzarella, basil, and olive oil. But that cheese is Neapolitan buffalo mozzarella, which melts into thick puddles across the dough. And the sauce is made with San-Marzano tomatoes, a plum tomato variety preferred for tomato sauces. And the dough, facing the flames of the wood-fired oven, takes on a serious smoky flavor and a lovely constellation of charred spots along the peaks and valleys of an imperfectly rounded crust.
Pizzas including meat toppings tend to focus solely on one savory component (no meat-lovers creations here). Classics like pepperoni and sausage, and Italian deli meats like prosciutto and salami are highlighted among such pizzas. On the Chorizo ($12), small discs of spicy chorizo sausage stand out against a backdrop of shaved red onion, roasted red pepper and mozzarella.
About 15 ingredient combinations are listed. Prices start at $8.50 with the Bimbi (a tomato sauce and mozzarella pie billed as a shareable kid's pizza). No pizza costs more than $12. Diners can make their own creations, too, from a list of toppings like organic arugula, garlic-roasted tomatoes, and wine-marinated anchovies.
While pizza is the focus of the menu, a few panini sandwiches, small plates, salads, appetizers, and desserts are also offered. The Frittura Sampler ($7) delivers a few of the fried items featured among the appetizers selection. Cracking through the hard shell of the fried risotto balls reveals in one, a blend of cheese and sausage accented by peas and in the other, roasted eggplant and cheese. A smaller fried potato croquette encases prosciutto and cheese. Mozzarella balls round out the quartet, with fissures in their fried exterior exposing bits of fresh cheese bursting forth. All surround a pool of marinara sauce, and all are a delight of stringy cheese and fried crunch. About a dozen flavors of gelato ($3.50) tempt diners with a sweet and creamy end to their authentic Italian meal.
Pupatella's pizzas are crowd-pleasers, and with more space to seat customers, and longer hours to serve them, that crowd may very well grow.
Pupatella is located at 5104 Wilson Blvd., Arlington. For more information, call 571-312-7230 or visit pupatella.com. Restaurant hours are Tuesday – Thursday: 4:30 – 10 p.m. and Friday – Saturday: 11:30 a.m. – 10 p.m.