Twelve Boy Scouts and six adult leaders from Falls Church's Troop 895 last week completed the 10-day backpacking trek at Philmont Scout Ranch in the Sangre de Cristo Mountains near Cimarron, New Mexico.
The group was one of the largest to go to Philmont in many years from Falls Church and was divided into two backpacking crews. One of the crews was joined by Scouts from Fredericksburg.
Each crew hiked more than 70 miles over rocky trails, camping nightly in the back country on terrain varying from high desert to forested river valley.
Scouts carried 40- to 50-pound backpacks with all their gear, food and water.
At outposts on the trail, the Scouts went rock climbing, rode horses, panned for gold, shot skeet, raced burros, examined ancient Native American petroglyphs and worked on trail maintenance for the ranch.
Members of Crew Two pictured on Baldy Mountain (from left to right) are Richard Ast, Brandon Castillo, Karl Ast, Connor Rodgers, Grant Goodwin, Justin Castillo, George Castillo, Matthew Hoskins, Charley Brown, Dave Goodwin and Josh Goldsmith.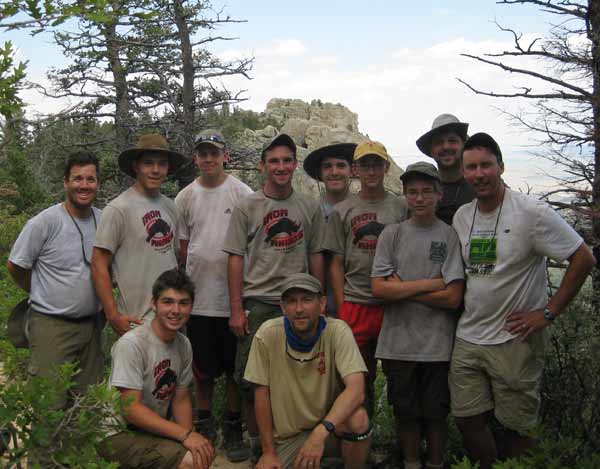 Members of Crew One pictured on Tooth of Time Ridge (from left to right) are Gordon Wisotzki, Austin Gogal, Jack Stallard, Daniel Butler, Henderson Beam, Kevin Drawbaugh, Tyler Gogal, David Drawbaugh, Ryan Sullivan, David Gogal and Owen Sullivan.