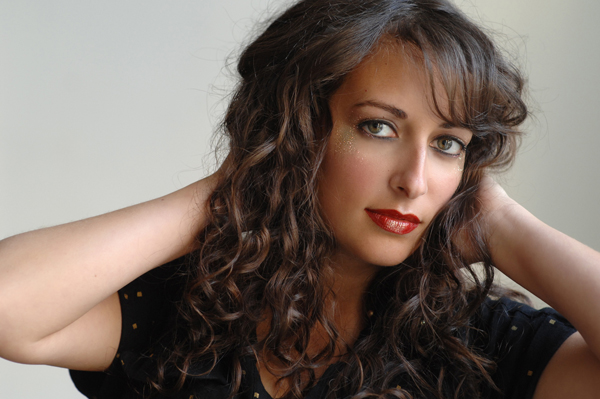 It was about 10 years ago that a young singer-songwriter trembling with nervousness took to the stage at an open mic to perform the first song she had ever written. It was only a few weeks before that Rosi Golan was spurred on by a Guitar Center commercial to buy her first guitar.
"For some reason, I ended up there and saw a guitar and probably got it for the worst reason you can buy a guitar – the color," Golan said. As luck would have it, the blue guitar was pretty good, and a neighbor was able to teach her a few chords to move her study of the instrument in the right direction.
After six weeks of writing, she finally had a song she was ready to debut.
"The second I got off stage, I knew I had to get back on," Golan said. "From that moment on, I just knew that was what I had to do, and I had to find a way to make that work for myself."
It was a risk, she said, but one that has paid off for the songstress. Her songs have been featured in ad campaigns for companies like JCPenney, and have served as the soundtrack to scenes on hit TV shows like One Tree Hill and Grey's Anatomy. These spots – along with blogged adoration from Perez Hilton of PerezHilton.Com fame – have brought her music to a wide audience.
Her debut album, 2008's The Drifter & The Gypsy, is a collection of melodic pop-folk tracks that, although Golan didn't realize at the time, seem to center on the themes of coming and going – something she says was a significant part of her life growing up.
The Israeli-born singer-songwriter moved all her life, first uprooting to move to Germany when she was five months old, then trotting the globe between France, Hungary and Israel before moving to the United States. She moved to California, but currently lives in New York City.
Golan will take the stage at Jammin' Java Sunday, nearing the end of an East Coast tour to promote her latest album. She feels her life of travel has served her well as a nationally touring musician.
"When it started, it almost felt too natural," Golan said. "It's funny because every time I come home, I say I'll be home for a while, but for me a while is like six weeks, and I've just become accustomed to that."
Travel also worked its way into her second album, Lead Balloon, released last September, as she was touring to promote The Drifter & The Gypsy while working on her sophomore effort.
"I think you can hear the places that I wrote the songs in, in the songs," Golan said, citing the "country-tinged" tracks of Nashville, and the pop-sounding songs from Los Angeles.
While balancing writing and touring poses its own challenges, Golan said there was great pressure in preparing the second album.
"I got really, incredibly lucky with the first record," Golan said, describing it as a "right place and right time" situation. She recalled "putting a ton of pressure on myself about how the second record should sound," and how "writing it was kind of scary."
It took her three years to ready her sophomore release – faster than the six years it took her to make The Drifter & The Gypsy, but not the rapid turn-around that she felt is expected of recording artists releasing their second album. She eventually got to the point where she told herself "if I keep freaking out, I'm going to end up hindering my own process," and since then has made peace with her pace.
"I work slowly, and I think I've come to terms with that," Golan said.
The result is an eclectic album which borrows from a host of genres, ranging from country to pop. The work is something that Golan says reflects the artist herself.
"I think it's like me," Golan said. "It's all over the place – which is kind of good, I don't say that in a bad way. I feel like sometimes I get bored when things stay in one direction."
• For more information about Rosi Golan, visit rosigolan.com.