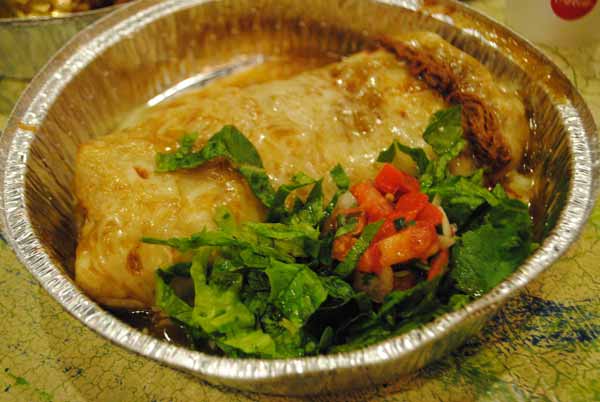 Sweet Rice might be inauspiciously located – situated in a three-storefront plaza neighboring a U-Haul in the more congested area of West Broad Street approaching I-66, with a limited and precarious parking arrangement – but the restaurant itself is a surprising respite from the hustle and bustle that surrounds it. Rich tones of red are contrasted by shiny, metallic colors in art that runs the length of the restaurant, with ornately upholstered booths edging its borders and a few small tables running down the center. The atmosphere, between the chic decor and the cozy confines, gives both an intimate and elegant impression.
The only suggestion that this might not be high dining comes upon reviewing the menu, which boasts affordable prices – entrees cost between $9 and $17, with vegetarian fare and Thai standards on the low end, and more involved house specials on the high end.
The meal begins with appetizers, which even for $5 and $6 still feature hearty portions and plenty of seafood picks, from shrimp to squid. The crispy spring rolls ($4.95), which serve cellophane noodles and mixed vegetables together in three fried shells, are a light way to start the meal (despite being deep-fried and slightly greasy). The enjoyment is bolstered by the fun of its texture when biting through the crispy, flaking wrap to equally crunchy vegetables beneath. The flavors are mild, made sweet and sour by accompanying sauce. For more savory, spicy flavors, the curry puffs ($5.95) combine curry-seasoned ground chicken, potato and onion into three small pastry pouches. In the mix, the ingredients become nearly indistinguishable from one another, joining in one soft, satisfying filling.
Entrees at Sweet Rice run the gamut from simple Thai take-out must-haves like the pad Thai ($9.95) to dishes with unique meats and complex treatments, like the house special Ped-Kapow-Krob ($16.95).
The pad Thai, a noodle dish served with bean curd, crushed peanuts, bean sprouts, scallions and egg, is fried in a sweet and tangy sauce for an overall smoky flavor. The house pad Thai comes with shrimp, but other protein elements – like chicken or tofu – can be substituted. The flavor of the dish leans more toward sweetness than the standard, but any perceived imbalance is quickly lost in the twirling of noodles and the crunch of scallions.
Amongst its nearly 50 entrees, the restaurant has isolated a few as special entrees, including the Ped-Kapow-Krob. The dish may be served with green rice (fun, but other than in color, hardly distinguishable from white rice), but that is not what makes it special. The dish is simply elevated cuisine. Pieces of roasted duck are moist under a thin, crisp breading which goes unsoftened by the sauce in which it is coated – a spicy sauce flavored heavily by the bright basil taste. Fresh vegetables round out the plate, but the duck will not be upstaged.
Diners who manage to save a bit of room for dessert when faced with the plentiful food options and equally plentiful portions are rewarded with a handful of sweet treats on the dessert menu – like the fried banana ($4.95), in which banana slices become custard-like in sweetness and consistency inside a fried wrap and are drizzled with honey to make for an even more decadent treat.
Sweet Rice is located at 1113 W. Broad St., Falls Church. For more information, call 703-241-8582 or visit sweetricethai.com. Restaurant hours are Monday – Thursday: 11:30 a.m. – 3:30 p.m.; 5 – 10 p.m.; Friday: 11:30 a.m. – 3:30 p.m.; 5 – 11 p.m.; Saturday: Noon – 11 p.m.  and Sunday: Noon – 10 p.m.