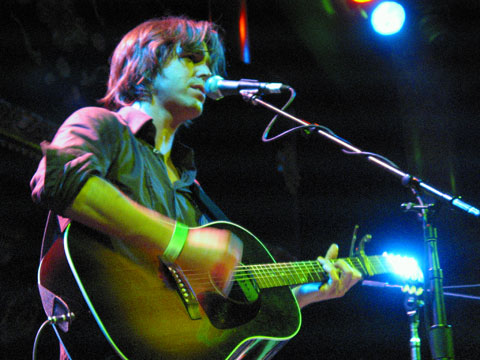 Be it with the rock outfit Practically Einstein, or as a solo artist specializing in cover songs from decades past, Brad Pugh has made his way across the Washington, D.C. area. He'll perform a solo set at Falls Church's own Dogwood Tavern Thursday at 9 p.m. and will join the rest of Practically Einstein at RiRa Irish Pub the following evening, but those two dates are the are the last for Pugh in Northern Virginia, and in fact, the Unites States, before the career musician will be leaving for Denmark at the beginning of August for a brief tour with dates throughout Copenhagen.
"I've got some great friends and some good fans in Denmark," Pugh said of returning to Europe to perform, adding that he hopes to some day bring Practically Einstein along, though it is easier to tour as a solo act. "I just enjoy playing rock and roll music, and wherever that takes me, I'm ready to roll with it."
Practically Einstein got its start a decade ago, when Pugh sought to put the band together through a newspaper ad for fellow musicians.
With band names at a premium – "So many different band names have already been taken," Pugh joked – the band has found a memorable moniker with Practically Einstein. The name was brought up when a band member told a story about someone who, while attempting to say something smart, didn't come off as so smart. The tongue-in-cheek name stuck.
"It had a sarcastic quality to it that we liked, yet there was a sense also of earnestness," Pugh said.
The original three-piece group began touring in the late 1990s, and since then has developed a fan following in the D.C. area playing what Pugh considers a hybrid of 70s garage music, 80s rock, 90s college rock and the American sounds of the last decade. He resists, however, pinning down the type of music his band creates, so as to allow for cross-genre sets.
"We just play rock and roll, and it's up to the listener to take out of it what he or she wants," Pugh said. "We definitely have our own, unique sound."
When it comes to ramping up the audience, Pugh leans toward upbeat, high-energy songs, and two Practically Einstein tracks – "Soldier Girl," a lighthearted, romantic ode to the women of the United States Armed forces for which the band recently taped (and starred in) a music video, and the slightly heavier "Hollywood Fight" – fit the bill and have become fan favorites.
The band is not currently signed to a record label, but thanks to recent technological advancements in music, the group is able to record on the cheap and get the music out to the audience via the Internet.
"We have talked to labels in the past and it just seems right when we started was the downhill journey of the music business," Pugh said. "Lovely timing, but we are content to do things our way, and it would be nice if we did have a larger network to work with, but we have autonomy."
For solo shows, Pugh dips into the Practically Einstein collection, but also plays many cover songs and sees these gigs as a fun way to test the depth of his repertoire. Pugh invites his audience members to request their favorite songs for him to play. But with the nearly innumerable tracks that artists have released in the history of rock and roll, can he really meet the challenge of every audience member?
"Usually within three," he laughs. "Within reason."
As for the future, Pugh hopes to get back to recording by the end of the summer and solidify the band's lineup, as he is the only original member in a changing cast of musicians. Though they are currently a four-piece outfit, Pugh is of the belief that when it comes to their sound, bigger is better.
"I want to go big," Pugh said, spitballing ideas about adding horns and gospel choirs to the mix. "And keep adding, keep adding, keep adding."
• For more on Practically Einstein, visit practicallyeinstein.com.