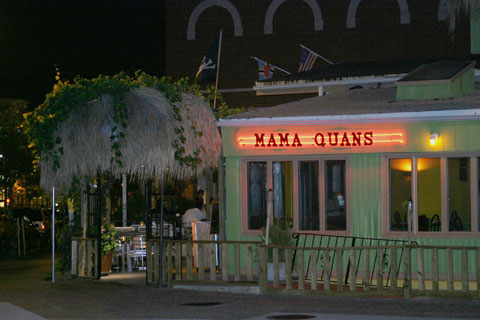 In a testament to the culinary diversity that makes up Falls Church dining, diners can choose from both a Chinese menu and a Salvadorean/Mexican menu at New Moon, or Luna Nueva, a Seven Corners-area restaurant and popular delivery option.
The restaurant has set up shop in the aging Wilson Plaza, which is marked off of Wilson Boulevard by a rusted, dated sign. The restaurant seems like a standard take-away spot – a counter to ring up customers, some chairs for waiting, and some candy machines to placate waiting children. But a frosted-windowed room off to the left – decorated in a hodge-podge of Central American art, marker-drawn posters advertising beer specials, and mismatched tables and chairs – provides a dining option that might not be for all customers, especially considering the loud music that thumps from a bar-adjacent jukebox.
Whether dining in, or opting for delivery or carry out, the menu(s) remain the same. While specializing in both Chinese and Central American food, this is not a trendy fusion spot. Patrons order from two distinct menus, one labeled for New Moon containing Chinese cuisine, and another labeled for Luna Nueva featuring Mexican and Salvadorean dishes. Each menu offers a great number of food options, and the prospect of picking from both is downright daunting. A good place to start, however, is with the appetizers – $2.20 egg rolls from New Moon and $1.80 pupusas from Luna Nueva.
The egg rolls here are made with beef – an unusual choice, which means the rolls lack the subtle zestiness of pork-made rolls – but are packed with ample amounts of the meat, which is paired with strands of cabbage, the whole package fried within a flour wrap that is crunchy enough on the outside to give some variety in texture. The pupusas, served five ways, similarly hide vegetables and meats inside a crispy fried shell. Be it cabbage, pork, beans, cheese, or a variety of those components, the pupusas are a steal sheerly for their size – less than $2 for a fried tortilla pouch double the size of a palm. The ingredients served inside the pupupas are top-notch, but the shell does not go entirely unnoticed, bringing a subtle corn and grain flavor to the mix.
Chef specials on both menus help to narrow the field for entrée choices. The restaurant's namesake chicken dish on the Chinese food menu serves pieces of breaded and fried chicken – not entirely tender, but more tender than most renditions at similar Asian restaurants – very lightly coated in a chef's special sauce, all topped with pepper and scallion and served with rice for $8.50. The delicious sauce brings some heat and savory flavors to the dish, elevating it above chicken nugget doldrums. For a spicier experience, another chef's special – a large bowl of surprisingly firm tofu pieces and flaky tilapia chunks served soup-like in a szechaun sauce for $10.95, brings a lip-burning heat that grows with each bite, infusing otherwise bland pieces of tofu with excellent flavor. Accompanying rice is very much needed to diffuse the heat of this sauce.
On the Luna Nueva menu, the chef specials are primarily large platters piled to the rim with starchy side dishes and hearty meats, like the Plato Tipico. In this dish, a sizeable piece of tender, though somewhat over-seasoned, flank steak is the focus. The meat is served alongside fried plantains, avocado, refried beans, rice, cheese, sour cream, and a scrambled egg concoction which combines vegetables with large chunks of fried potato. The $10.55 price tag on this ample, delicious dish is astounding.
While the restaurant dining experience itself is less than desirable, the food is certainly worth it, and those in the surrounding area should keep this restaurant's menus near the phone for when take-out cravings hit.
New Moon/Luna Nueva is located at 6619 Wilson Blvd., Falls Church. For more information, call 703-533-8822 or visit newmoon-restaurant.com. Restaurant hours are Monday – Thursday: 11 a.m. – 10 p.m.; Friday – Saturday: 11 a..m. – 10:30 p.m.; and Sunday: 11 a.m. – 10 p.m.