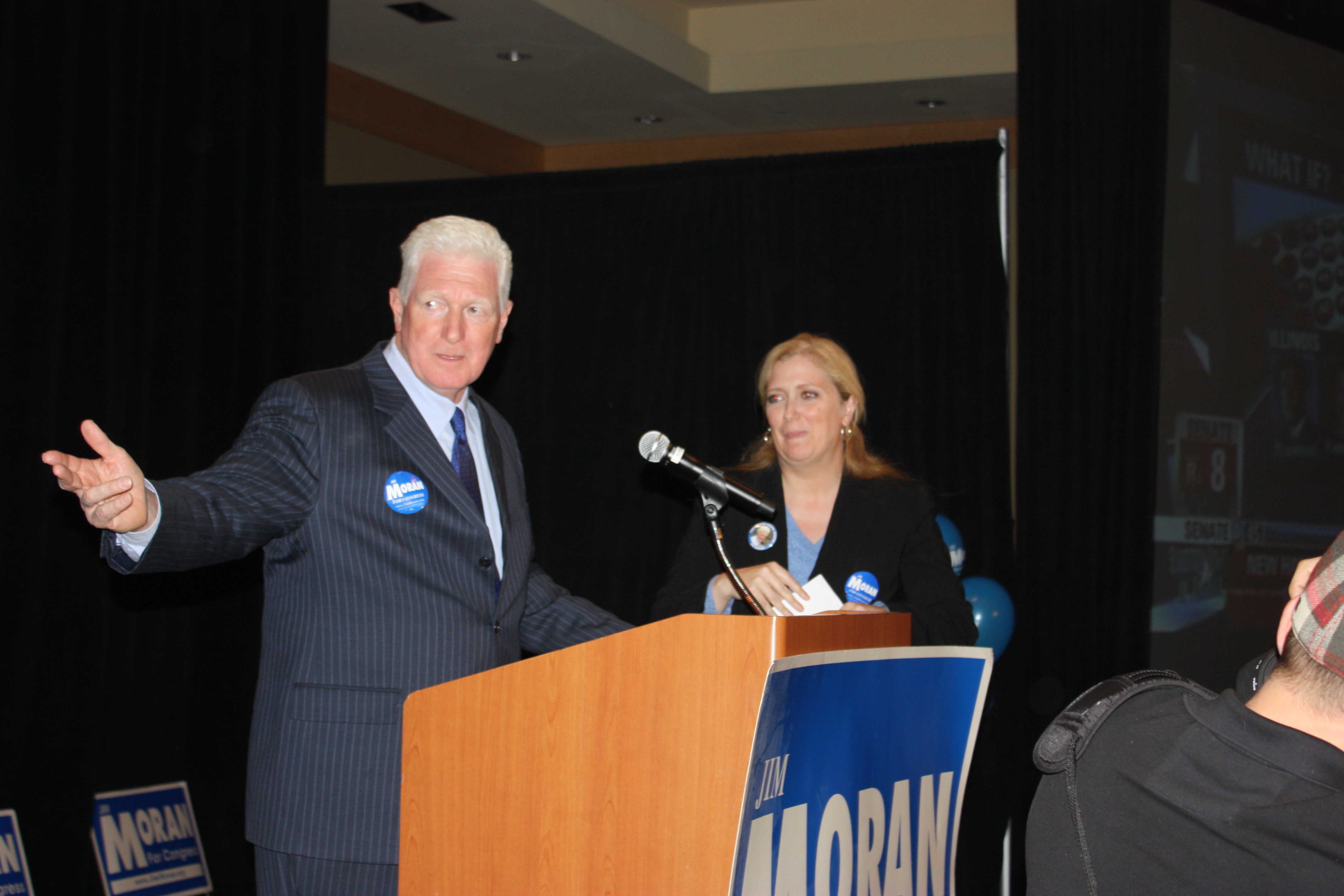 Amid sweeping gains in today's mid-term elections by Republicans nationally, and in Virginia, Democratic U.S. Rep. Jim Moran of the 8th District of Northern Virginia declared victory in his race for an 11th term before a ballroom filled with supporters in North Arlington tonight. Moran took the podium about 8:45 p.m. before many votes were counted, but his daughter and ardent campaign worker Mary shouted happily, "It looks like we really trounced this guy."
Amid sweeping gains in today's mid-term elections by Republicans nationally, and in Virginia, Democratic U.S. Rep. Jim Moran of the 8th District of Northern Virginia declared victory in his race for an 11th term before a ballroom filled with supporters in North Arlington tonight. Moran took the podium about 8:45 p.m. before many votes were counted, but his daughter and ardent campaign worker Mary shouted happily, "It looks like we really trounced this guy."
But the tone of Moran's speech was muted in the face of the Republican and Tea Party gains nationally being shown on large-screen TVs on their side of him. "This is bitterswwet," he said of his victory, "Make no mistake, the next two years will be very, very difficult." The gathering of 300 included U.S. Sen. Jim Webb and a host of local Arlington elected officials, and the room had been buzzing with the reports of the defeat of three Democrats in Southern Virginia, and even the chance that Democratic Rep. Gerry Connolly in the neighboring 11th District of Northern Virginia might lose.
"While it is clear we have won tonight," Moran told his supporters, overall "the politics of fear and divisiveness has prevailed over those of hope and unity in this mid-term election." Later, he reiterated, "We can't allow the politics of fear and narrow mindedness to prevail over those of optimism, progress and compassion, We must remain engaged."
"I am proud to be a Democrat second and an American first," he said. "This is our country, and we will see to it that it realizes its full potential."
He said in the next two years, Democrats will be "locked in a tough fight to protect Wall Street reform, health care for all Americans and a federal government advancing equal opportunity for all Americans," adding, "I have no regrets for what we've accomplished in the last two years." He noted that when President Lyndon Johnson passed civil rights legislation in the 1960s, his party lost in the short run. "But we've set the nation on a new direction, away from the brink of bankruptcy."
"The Tea Party's view," he said, "is that government can't help us. Now that they're elected, they will spend their time proving it. The American people will demand to know what the Republicans do stand for, other than taking away power from our president."
Moran said little about his Republican opponent, Patrick Murray, other than to note he voted for the first time in the 8th district just last year, and that while he ran "an aggressive campaign," it was based on "extremist and Tea Party views." He quipped, "And can someone find the dumpster with thousands of our signs? Where did they put them all? I can't imagine." There had been widespread reports from the 8th District of massive theft of Moran for Congress signs along roadways and even on private property.