L'Art Réal
New Realisms, at the Irvine Contemporary (1412 14th St. NW, Washington, D.C.). The exhibit runs  through Oct. 24 and the gallery is open Tuesday – Saturday, 11 a.m. – 6 p.m.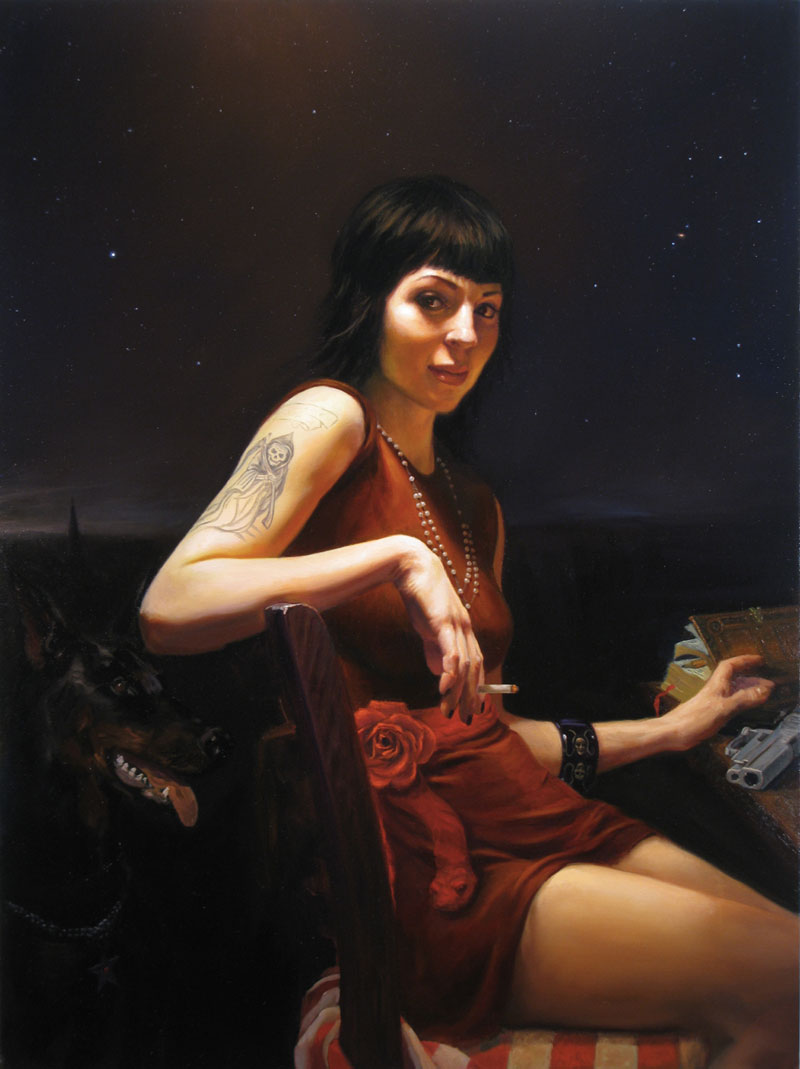 L'Art Réal
New Realisms, at the Irvine Contemporary (1412 14th St. NW, Washington, D.C.). The exhibit runs  through Oct. 24 and the gallery is open Tuesday – Saturday, 11 a.m. – 6 p.m. For more details, call 202-332-8767 or visit www.irvinecontemporary.com.
Adam Stennett has the tightest work here of the five painters involved. His photo-realistic depictions of intoxicants seem especially ironic. Favoring repeated still life images of a glass apothecary jar containing the opiate paregoric, once used as treatment for cough and diarrhea.
Stennett also paints his pet mice in assorted scenarios. Mind you, the pet aspect of this is largely lost on the viewer of his paintings.
Bruno Perillo has the most literal depictions of all, though not universally so. His pin-up work, while well done, seems to offer little past the titillation factor. It's his four-by-three-foot canvas titled "Sub Rosa" that is the most engaging. Here, we find a comely female, but this time we're inclined to keep at a safe distance until we figure her out.
Dressed in a devilish red dress, her gaze seems inviting enough. Her basic character is the question before us: Is she a good girl under the bad-girl facade, or is she sinister all the way through? The grim reaper tattoo on her near arm gives a fair amount of pause. Considerable concern also has to paid to the pistol laying on the table in front of her and pointed our way. The panting guard dog lurking in the shadows behind her doesn't exactly help either.
However, it's the red flowered belt that culminates into a slithering serpent headed in our direction that seems the most chilling. Lest one think it nothing but fashion, Perillo has aligned her gaze with the serpent's, using her limp hand as a visual connection. Back away slowly, and then run for your life. This one is serious bad news.
Edward del Rosario has a series of small oil paintings depicting what seem to be children's book illustrations gone terribly wrong. Then again, some children's stories can be pretty rough. These, however, have all the fluffy facade stripped away, solidly leaving them within the adult category.
Eric White has a series of three oil paintings here that make direct reference to photographic color negatives. One titled "Divorce" has a straight negative image, while the two "Heaven Can Wait" paintings show their portraits twice, the second time flopped. It gives the image a mirrored flavor, while making it perfectly symmetrical.
Last, but certainly not least, comes the color pastel work of Barnaby Whitfield. Whitfield typically depicts people in theatrical white face, with hyper-rosy features. You can never be exactly sure what the characters are up to per se, but the rosy features seem to have a carnal pleasure spin to them. Are they from a sexual flush, an intoxicated state, some degree of embarrassment or some combination thereof?
Whatever the case, Whitfield's people seem as if they were caught in the middle of some bit of naughty fun. The three pieces on display here are certainly no different. The center piece of Whitfield's three images is an over-the-top, homo-erotic image that's frankly hard not to chuckle at. The central figure, of five shown, seems to be a self-portrait of the artist.
Nude to the waist, with pink and purple dress below, he holds a blue four-tiered wedding cake in his lap with candles on top. A large pink bird hovers behind him, lending its wings in flight to give the figure an angelic air of purity. Surrounding him are four nude men seen only from the waist down in a sort of gay Ziegfeld Follies display that we'd best leave at that. The only thing serious about the whole image is the central figure's gaze, which is cast our way in a sober and direct fashion, that seems to ask us if all this nonsense is really necessary?
Two white-face portraits flank the above image. These two are isolated and shown sans any real contextual information.
While we assume "Tupelo" is male, the rather androgynous features could be read as male or female. It seems irrelevant here, and may in fact be a sort of universal personae to some extent. The depicted person gazes upwards with pin prick irises at what is clearly an intense bright white light. It has a mesmerized beatific air about it, as if the person has literally seen the light and is going to change their ways. The rendering here is spot on with reflected light around the nose perfectly depicted.
On the other side, "Elephant" depicts a man in white face and rosy features, with a foolish expression of clown-like glee. Whatever he was up to, he's eager to get back to more of it, and then some. His large irises indicate he's seen anything but the light of day.
If you can't make it by this Saturday, you can find a slide show of images on their Web site.