'Beer Geeks' Bill Madden & Rick Garvin Look to Open Brew Pub in Spring '10
In the German province of Bavaria, small town taverns are filled with the joyful sounds and rustic flavors of the local community.
Locals wander in after a long day of work to enjoy a relaxing meal with friends, in an open, casual and friendly environment. A group of regulars share jokes at the "Stammtisch," a prominent table reserved for the tavern faithful.
These pubs are more just the local watering hole and a place to grab a bite – they are a community center. For two admitted "beer geeks," this is a vision of paradise – one that Bill Madden and Rick Garvin want to share with Falls Church.
Madden is a celebrity amongst beer aficionados. Upon completing the acclaimed Master Brewers program at University of California-Davis, Madden began his career in the Washington D.C. and Northern Virginia area at Capital City Brewing Company. He quickly endeared himself to the knowledgeable and loyal craft beer community by building a repertoire of smooth, balanced and original beers.
Over the past 13 years, Madden has established a reputation as one of the nation's top craft brew masters, most recently at Vintage 50 Restaurant in Leesburg. His beers are not only celebrated by local "beer geeks," but are consistent medal winners at competitions such as the Great American Beer Festival – the country's largest commercial beer competition.
As with most brewers, Madden's dream was to someday own and operate a brewery. His dream will soon come to fruition in the form of the Mad Fox brewpub, scheduled to open in the spring of 2010 in Falls Church.
The initial steps for the brewpub began in 2007, when Madden and co-founder Garvin – who in addition to providing the entrepreneurial experience is a master beer judge and award winning home brewer himself – pulled together a team of local investors. While finding people willing to support brew master Madden was easy, finding a location which could not only support the 15-barrel, 465-gallon brewing system, but also provide enough floor space to house the dining room and bar area -not to mention supply parking for 350 patrons- was no small task.
"As we searched for the location there were certain things we needed to have," Garvin explained. "We actually had a stack [of criteria] we handed to the developers…because when we put in a 15 barrel tank, it needs to fit – and when we fill those tanks up, [the location] needs to be able to support it."
Fortunately for those in the area, a perfect location was found at the Spectrum on West Broad Street in the City.
"Every town needs its own brewery," says Madden. This concept of the "home town brewery" is at the very heart of the Mad Fox vision. Madden and Garvin are planning more than just another restaurant, but rather a valued member of the community – and what better way to introduce a brewery to the community than with a local beer festival.
"Imagine a beer garden set up in Cherry Hill Park," Madden says. "A comfortable community event where there is nothing inappropriate or problematic. We can bring in some of the other local restaurants and local business. Everyone can benefit."
Madden speaks from experience when discussing the community benefits a beer fest can offer. As the organizer of the Shirlington Oktoberfest and the Northern Virginia Brewfest, Madden's festivals have enjoyed enormous success. The Summer Brewfest was represented by over 60 breweries and had over 7,000 attendees.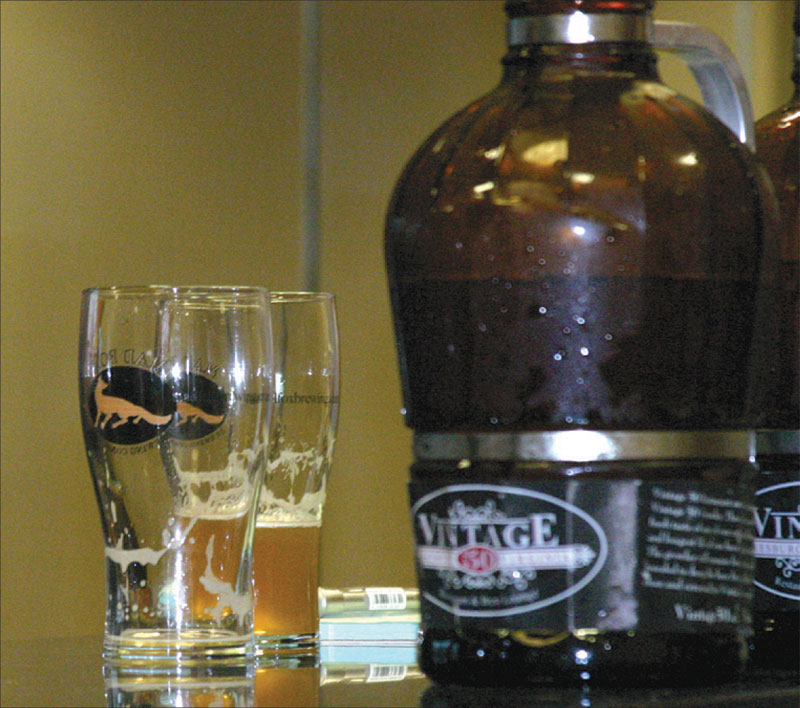 "[The point] is to have something family oriented. Even though it is a beer event, the festivals are still something you can bring your kids to. There is nothing crazy going on, there aren't any intoxicated people running around. We work very closely with the ABC, and they fully endorse us," says Madden.
The focus is always on the beer. Boasting a recipe catalog of over 30 beers, Madden has more than enough variety to fill the proposed 14 taps. The vast brewing capabilities offered at Mad Fox will provide ample space to brew a steady rotation of his crowd pleasing favorites as well as experiment with new recipes. The additional space will allow him to branch into new territories such as lagers, previously unavailable due to the large space required for the lengthy fermentation process.
"People ask why you would have 14 draft beers with four cask beers. It goes to variety and speaks to menu fatigue," Garvin explains. "We often talk about menu fatigue on the food side; people also get into beer fatigue."
Mad Fox intends to offer something for everyone with beers running the entire length of the beer spectrum. Their concept is based on constantly rotating beers throughout the four beer "tiers," or areas of the spectrum with similar styles.
The first tier is made up of the lighter beers such as the Kolsch, Bill's most popular and nationally recognized beer. Although playfully referred to as the "training wheel" beer, with its subtle flavors and perfect balance, the Kolsch is actually among the most difficult to brew.
The second tier is made up of mid-range, malty beers such as the Red Ale and the 80 Schilling, while the third tier covers the hop category with beers such as the 50 Cat and American Pale Ale. Finally there are the dark beers, which will be the most heavily rotated based on the season.
"You'll have Porter in the summer time, Oatmeal Stout in the winter, Dry Irish Stout for St. Patty's Day…then maybe we'll do a Swartz Beer or Russian Imperial Stout."
Pilsners, Belgian Ales, American Ales, Scotch Ales, Red Ales, IPA's, Stouts and Porters – the list seems endless. Some beers, like the Kolsch will be available year round, while seasonal favorites such as the Pumpkinator (a beer brewed in Fall) will rotate in and out. Mad Fox wants to be an establishment where beer can stand at center stage.
Garvin describes this beer-centric atmosphere, "You sit down, check the specials, and try to decide what you'd like to eat. Meanwhile, you already know what beer you would like. 'Oh, the 50 Cat is on tap, I'll have that.' So you sip on a 50 Cat while you look over the menu."
The overall philosophy of quality and variety will also carryover to the food.
Primarily centered on pizza, guests will be able to choose from two distinct pizza styles: a traditional New York thin crust, and a pie referred to as "grandma style" – a thicker, rectangular pizza, closely related to pizza rustica or Sicilian. In addition, the Mad Fox will offer panini, salads, steaks and seasonal chef-driven specials utilizing fresh, local products. Mad Fox will also offer take away service, whereby patrons can stop and pick up a pizza and a growler (a half-gallon jug) of Madden's fermented delight.
Every aspect is planned to the smallest detail, making Mad Fox seem less like a business and more like a science project. The glassware is carefully chosen so that each beer style is paired with the optimal drinking vessel. Ingredients are selected and imported based on their region rather than the price per unit. The recipes are always evolving, constantly being refined in order to obtain brewing perfection. Not even the time tested and award winning Kolsch is free from scrutiny.
"[Brewing] an ongoing process and I'm always trying to seek out something else, or try something new, or I'm coming up with a difference nuance or a change in one of my beers. Maybe it's not exactly where I want it – like with the Kolsch where I had somebody do some lab work after I realized it had drifted and become hoppier," Madden says.
It's easy to underestimate the work required to produce a glass of beer. A typical brewing day can last eight hours or more. For more flavor rich beers, such as the Wee Heavy (the most celebrated and award winning beer), the brewing day can last up to 16 hours.
Madden continues, "People often say, 'Oh, you're a brewer, you must just sit around and drink beer all day' Well no, actually I'm cleaning tanks, sanitizing tanks, using this chemical to do this process, using this raw material to do this. There is also mechanical engineering…heat transfer…we have some fairly dangerous equipment in an environment that can be dangerous – so you have to be aware, and you're certainly not sitting around drinking all day – no way, no how!"
The hard work and intense attention to detail is necessary in order to produce a high quality product for an increasingly well educated clientele. The craft brewing community is a close nit group, and the east coast is home to several well respected craft breweries such as Victory Brewing Company in Downington, Pa. and Clipper City Brewing in Baltimore.
"The bar is set very high," Garvin says. "The one thing we won't do is serve bad beer…but people aren't used to having bad beer around here."
"We have a cadre of excellent brewers in this area," Madden adds.
Madden and Garvin believe craft brewing is all about bringing small groups of people together under a common interest. After all, community is spelled with a small "c," not a big one, Garvin notes.
Mad Fox wants to be the hometown brewery of Falls Church. A place to gather after a long day of work. A place to catch up with friends over a fresh glass of award-winning beer. A place to take the family for an enjoyable, relaxing meal. A place for regulars to gather at the "Stammtisch," to enoy a sense of community.