F.C. Fireworks Ready to Light Up Local Skies
The City of Falls Church's annual Fourth of July Celebration at George Mason High School (7124 Leesburg Pike, Falls Church) is set for this Saturday, July 4. Live music compliments of the Merchants of Cool sets the scene at 7 p.m., followed by fireworks, hitting local skies at 9:30 p.m.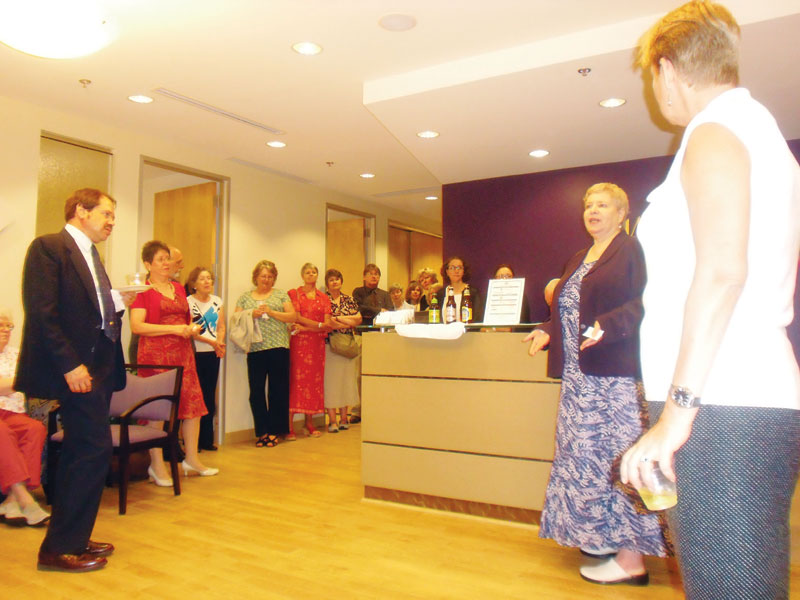 F.C. Fireworks Ready to Light Up Local Skies
The City of Falls Church's annual Fourth of July Celebration at George Mason High School (7124 Leesburg Pike, Falls Church) is set for this Saturday, July 4. Live music compliments of the Merchants of Cool sets the scene at 7 p.m., followed by fireworks, hitting local skies at 9:30 p.m.
Food and drinks will be for sale, though no smoking, pets, alcohol or personal fireworks are permitted on site. Those interested are invited to the complimentary spectator seating at the school's Moore Cadillac stadium and the Northern Virginia Graduate Center parking lot. Blankets should be toted along for field seating, as chairs will only be permitted on paved surfaces. This event is sponsored by the F.C. Recreation & Parks Division. For more information, 703-248-5178.
Live Music Comes to Clare & Don's Beach Shack
On Thursday, July 2, Clare & Don's Beach Shack (130 N. Washington St., Falls Church) will host Claw, a reggae/rock/roots band from 7 – 10 p.m. on the patio. For more information, call 703-532-9283 or visit www.clareanddons.com.
Welch Wins Catholic Scout Scholarship
Eagle Scout Daniel M. Welch of Boy Scout Troop 681, sponsored by St. James Catholic Church in Falls Church, has won a $2,000 Emmett J. Doerr Memorial Distinguished Scout Scholarship, which he will apply to his first year at the University of Notre Dame. Only five scholarships are awarded to outstanding Catholic Eagle Scouts every year nationwide.
The Doerr Scholarship is offered by the National Catholic Committee on Scouting (NCCS) in memory of Emmett J. Doerr, a Midwestern industrialist who was active in Scouting and the NCCS for many years. The award is open to Eagle Scouts who have earned the Catholic religious award, served in leadership roles in their Scouting unit and in a school or community organization, and provided service to their parish, among other requirements.
Two Area Locals to Sail Seas Alongside Trebek
Matthew Long, a Government Affairs Director, along with another local D.C. resident, Karen Juckett, are two of 25 lucky winners who will embark upon an exclusive cruise with "Jeopardy" host Alex Trebek for an exotic trip to the Galápagos Islands.
Long and Juckett are two of more than 350,000 viewers who entered the sweepstakes for a chance to sail to the exotic locale. Viewers were able to enter each day between March 30 and May 1 by watching Jeopardy and submitting the correct Final Jeopardy category online. Overall, more than 2.2 million entries were cast.
F.C. Sheriff Hosts Meet-And-Greet for K-9
Falls Church  Sheriff S. Stephen Bittle hosted a meet-and-greet for the K-9 unit german shepherd named Fany last Saturday, June 27 from 9 – 10 a.m. at the Dogma Bakery & Boutique (2445 N. Harrison St., Arlington). Owner Sheila Raebel recently concluded a fundraiser for Fany to purchase body armor for her while on duty. The fundraiser was a community effort. Dogma has contributed to the community in this way for nine years and endeavors to continue to do so for many more years.
Dogma has also stepped up to the plate and committed to provide FANY with dog food for life. Citizens interested in supporting this cause should contact Dogma Bakery & Boutique at 703-237-5070.
FIRSTfriday Returns for Month of July
Falls Church's FIRSTfriday, held the first Friday of each month, creates business and social synergy in the city of Falls Church. FIRSTfriday will resume Friday, July 3. The event attracts people to view local artwork and events, learn about the city's history, and shop and dine in downtown Falls Church. This month highlights include artists Tara Cronin and Nan Morrison. For more information and to find out the full schedule of events, visit www.firstfridayoffallschurch.com.
Falls Church VPIS Hosts Annual Reading
The Village Preservation & Improvement Society (VPIS) is hosting its annual reading with the reading of the documents that created our country on July 4 at noon. The free event will take place in the Council Chambers at Falls Church City Hall (300 Park Ave., Falls Church). For more information, visit www.vpis.org.
U.S. Debut of Irish Artist at FIRSTfriday
The "Irish Pubs" art exhibit marks the American debut of Ireland-based artist Tara Cronin and features her charcoal and pencil drawings portraying the social element of Irish pub culture. Ms. Cronin recently graduated with honors from The Limerick School of Art and Design. In Ireland, a collection of her work is currently on display at the Warren Gallery in Cork. Ms. Cronin was commissioned to produce ten pieces that were featured in the Radio Telefis Eirean (RTE) Television Series "Show House."
On Friday, July 3, there will be an opening night reception from 6 – 8 p.m. and the artist will give a brief talk about her work at 7:15 p.m. at the Park Avenue Gallery located at Art and Frame of Falls Church (111 Park Ave., Falls Church). The event is free and is part of the monthly FIRSTfriday of Falls Church series. For more information, call 703-534-4202.
'Volunteers for Change' Hold Final Orientation
This Sunday, July 5, from 2 – 3 p.m., is the last available orientation time slot for Volunteers For Change (10530 Page Ave., Fairfax). After orientation, volunteers can choose from more than 50 monthly community service projects throughout Northern Virginia. Projects include planting trees, bagging food for homeless families, tutoring adult ESL students, playing bingo with the disabled, special community-wide events throughout the year and more. Contact Annie Duffield to register for the next orientation at 703-246-3895 or e-mail aduffield@volunteerfairfax.org.
GEORGE Bus Service Changes Begin
Changes to the City of Falls Church GEORGE service will begin Monday, July 6, when Arlington County begins operating the City bus system. Due to fiscal year 2010 budget reductions, the midday 26A route will be eliminated and fares on the 26E and 26W routes will increase. There will be no route or schedule changes to the 26E and 26W.
The fare will be $1.35 cash or $1.25 with a SmarTrip card – the same fare as Arlington County's ART service – and will remain at that price until Friday, September 4. Per the City's request, Arlington will reprogram fare boxes on GEORGE (which takes six to eight weeks) and the fare will decrease to $1 on Tuesday, Sept. 8. GEORGE does not operate on weekends and holidays, so there will be no service September 5 – 7. GEORGE is Falls Church City's clean diesel bus, providing local transit service to and from the Washington Metropolitan Area Transit Authority's East and West Falls Church Metrorail stations and throughout the City. For more information about GEORGE, call 703-248-5040.
Local H.S. Student Graduates
Angel Bunker of Falls Church graduated from Commonwealth Academy on June 5. She will be attending Savannah College of Art and Design this fall.
Locals Graduate, Honored With Awards
Andrew Campanelli of Falls Church made the dean's list for the spring 2009 semester at Loyola University in New Orleans, La.
Widener University School of Law held commencement for its 35th graduating class on Saturday, May 16 on the campus lawn in Wilmington, Del. Among the graduates was Arlington native Margaret Serrano, who received her Juris Doctor, or law degree.
Also, Widener University School of Law held commencement for the 18th graduating class of its Harrisburg campus on Sunday, May 17 at The Forum, inside the Harrisburg Capitol Complex. Among the graduates were Amir Raminpour of Falls Church and Zorah Samizay of Alexandria.
Brigette Mysliwiec and Christina Girardi of Falls Church were named to the dean's list for the Spring 2009 semester at Saint Mary's College.
F.C.'s Simon Participates in Polish Program
Falls Church resident Amy Simon is one of six graduate students and Ph.D. candidates chosen by the Auschwitz Jewish Center Foundation (AJCF) to participate in the Center's Auschwitz Jewish Center Fellows Program. This powerful, three-week program held in Oświęcim (Auschwitz), Poland fosters personal growth and community activism as participants study the universal implications of the Holocaust. Simon is the Taube Foundation for Jewish Life and Culture Fellow. She has earned two masters degrees – one in Holocaust studies at University College London and the second in history from Indiana University – and is currently working towards a Ph.D. in history with a Jewish studies doctoral minor. Her dissertation will examine Holocaust victims' perceptions of perpetrators by looking at Yiddish language diaries and memoirs.