Tucked away in an unassuming strip mall in heart of Vienna, Sweet Ginger proves to be yet another case of "I never knew this place was here!"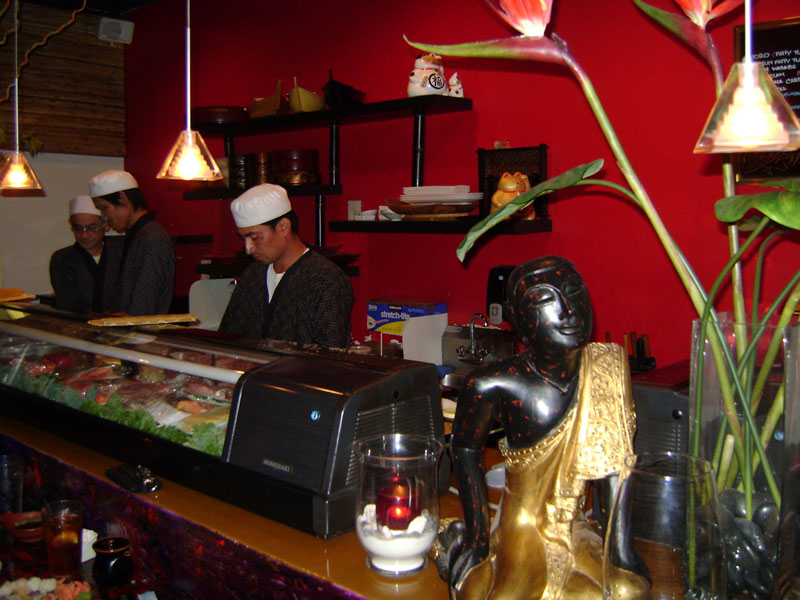 Tucked away in an unassuming strip mall in heart of Vienna, Sweet Ginger proves to be yet another case of "I never knew this place was here!" One would not expect to find such a trendy Asian bistro in the same shopping center as a Blockbuster, but Sweet Ginger proves that some great restaurants are found in pretty obscure locations.
The first thing catching the eye towards the entrance of Sweet Ginger is the striking contrast between the outside of the restaurant – generic-looking at best – and its cozy interior.
Rich red walls are complemented by dark wood and Asian-inspired artwork, with modern-décor wall sconces providing the perfect amount of mood lighting.
Though the dining area itself is rather small, tables have an appropriate distance between them for a still private feel. Tasteful partitions separate tables in the center of the restaurant, and the sushi bar in the back offers ample space for diners to enjoy more intimate meal.
The menu presents a plentiful variety of all things Asian-sushi, noodle- and rice-based dishes, teriyaki and tempura, as well as house specialties and nightly discounted deals.
Sushi enthusiasts will appreciate Sweet Ginger's impressive list of rolls, sure to please safe and adventurous appetites alike. However, following the waitress' rave about the Pacific Roll ($9.95), this patron was sold. Starting with spicy tuna, salmon, shrimp and white fish, the roll is finished with avocado, roe and, just for good measure, a tangy spicy sauce. After one (very large) bite, it flavors encountered explained the server's persistence.
Other exotic rolls offered by the sushi bar include the King Crab Lover Roll ($9.95), a mix of shrimp tempura and avocado rolled with Alaskan king tobiko, roe and honey miso sauce, and the Japanese Bagel Roll ($7.95), which combines lightly-battered fried salmon and cream cheese with roe and spicy mayo.
While navigating a menu this large is sometimes a bit daunting, helpful icons point the way to spicy and very spicy dishes (indicated by one or two fireballs, respectively) and house specialties.
A particular standout on the menu is the Sweet Ginger Pasta ($7.95 lunch, $10.95 dinner), earmarked as both a house specialty and a "very spicy" dish. Asian fettuccini pasta (which is eerily similar to its Italian counterpart) is topped with a red curry cream sauce, chicken, spinach and mushrooms, all seasoned with basil. The result is a savory, filling dish large enough to split with a friend.
For the spending-conscious, a big bang for anyone's buck is the Lunch Box Special, a great option for earlier diners. "Box A" ($8.95) comes complete with shrimp and vegetable tempura and your choice of chicken or beef teriyaki, in addition to miso soup, house salad and California Roll, which accompanies every lunch box.
Sweet Ginger restaurant offers both traditional and exotic Asian fare in a contemporary, upbeat atmosphere, making it worth the trip into Vienna, even at rush hour … and that's saying a lot.
Sweet Ginger
120 Branch Rd. SE, Vienna, VA
Lunch: Monday – Thursday, 11:30 a.m. – 3 p.m.; Friday – Sunday, Noon – 3 p.m.
Dinner: Sunday – Thursday, 5 – 10 p.m.; Friday – Saturday, 5 – 10:30 p.m.