Into the Fray …
Artomatic 2nd Floor, at 55 M St SE, Washington, D.C. (next to the Nationals Stadium).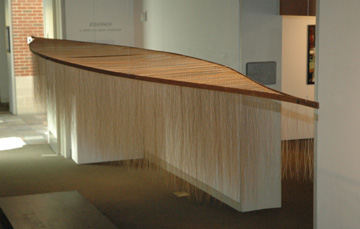 Into the Fray …
Artomatic 2nd Floor, at 55 M St SE, Washington, D.C. (next to the Nationals Stadium). The event runs through Sunday, July 5, open from Wednesday – Sunday, noon – 10 p.m., and open until 1 a.m. on Friday and Saturday. For more details, visit www.artomatic.org.
Starting our look at Artomatic on the second floor, a quick scan of the exhibitors on this floor reveals one Metro area gallery director, an elementary school art teacher, a college art professor, a staff member of the National Gallery of Art, at least one full time professional photographer and one of the top 10 art bloggers in town. Those being the ones I know at a glance.
Dale R. Hunt has a dozen small paintings of goofy alien creatures he calls "Dalemonsters," below which he's hinged four panels painted with alien creatures. The face hole cutouts beg viewers to become Dalemonsters themselves. It's not Rembrandt, but if you get into the spirit of the thing it'll probably turn out to be one of the most entertaining spots for attendees. Hunt's having a good time with it all, and invites you along for the ride.
On the deadly serious end of the spectrum you'll find the raw plywood panels of J. T. Kirkland. Using a rectilinear grid, Kirkland used hole saws to bore 345 regularly spaced depressions into plywood panels. Smaller sized bits were used toward the center. It's an interesting concept, thinking outside the box. Innovation is great, but then you have to push it to the next level by doing something interesting with it.
Far more visually entertaining is a small panel Kirkland is showing in a collaborative space with John M. Adams (last reviewed at Greater Reston Arts Center) and Matt Sargent, in an exhibit titled, "Space Between."
Adams has one of his typical horizontal line abstract paintings and a larger undulating abstract drawing. Here Kirkland plays off Adams' horizontal lines by painting horizontal stripes on this panel, and then drilling the board in a seemingly haphazard, overlapping fashion. The panel has the notion of musical scores about it, which appropriately is also part of this collaborative effort. More than any other, Kirkland's piece seems to tie it all together.
Susan La Mont offers us an interesting street corner painting of a businessman in a trench coat and hat, intent on jaywalking against the illuminated "Don't Walk" sign, complete with palm print hand. Ironically, this guy employs the exact same notion by stiff arming traffic with his palm up and fingers extended. Arrogantly, he expects the traffic to stop using the same sort of international stop signal that failed to keep him from jaywalking in the first place. Hmm… Embedded clues as to his longevity can be found in the street-level watch ad on the right side of the frame, and the architectural elements above his head forming a giant wedge impaling his apparently empty skull.
Elizabeth Floyd provides a half-dozen simple, still life paintings of fruit on blue and white cloth. Most interesting of all is the varied fabric folds and the way they carry your eye around the picture field.
Emily Green Liddle continues her series of eroticized fruit paintings. Offered as still lifes, they have quirky twists that render them as anything but your mother's still life paintings. The best of this bunch is a photo-realistic painting of a single cherry with languidly intertwining whorls of smoke coming off the tip of the cherry stem.
A seven-member collaboration called the "Document" preserved the movements of break dancers in red and black paint where they made contact with the floor. The individual panels seem a cross between the body impression paintings of Yves Klein and the abstract action paintings of Jackson Pollock. Next to those you'll find a pair of boxing dolls with tank turret heads, which seem to embody the notion of escalating levels of violence and blind aggression.
Speaking of male aggression, Margaret Dowell deals with the sexual and violent duality of male testosterone in her painting homage to local artist Joseph Barbaccia and his past Artomatic sculpture titled "Naked Aggression."
Phyllis Mayes has nearly twenty small paintings in her space. Her self deprecating self-portraits are refreshingly humorous. A series of unusual baby paintings are equally entertaining. Best of all may be a simple female torso painted in a loose, fuzzy fashion, with tight areas of sharply defined focus. It's an advanced, well-seasoned style that is anything but easy to pull off. Done well, it offers an immense range of texture, focal depth and varied points of interest.
Only eight more floors to go….