Ubiquitous Utility

Trevor Young : Non-Places, at Flashpoint Gallery (916 G St. NW, Washington D.C.).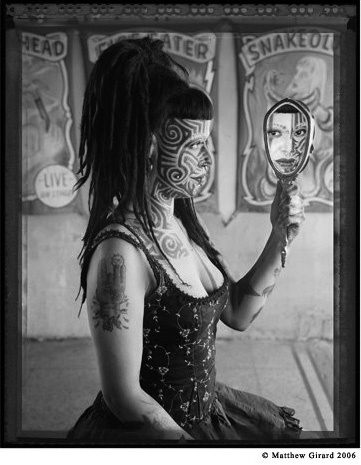 Ubiquitous Utility

Trevor Young : Non-Places, at Flashpoint Gallery (916 G St. NW, Washington D.C.). This exhibit runs through June 6, with gallery hours from noon – 6 p.m., Tuesday – Saturday. For more information, call 202-315-1310 or visit www.flashpointdc.org. Silver Spring, Md. artist Trevor Young recently completed a 50-day Yurt Foundation fellowship in Los Angeles. Long time power broker of the D.C. art scene Annie Adjchavanich calls LA home these days, and thus was able to facilitate the Yurt connection for Young. The roughly 100 oil paintings in this show are the fruits of that fellowship.
Young's work centers around a love–hate relationship with man's built environment, namely airports, highway overpass complexes and retail stores of one sort or another. "Non-places," he calls them; places we all use and pass through, but none of us really claims as our own. These are places for anyone, at any time. They may be beautiful bits of civil engineering arcing their way through the sky, but we rarely see them as anything more than utilitarian and necessary eyesores. Young wants us to see them as necessary evils that are also beautiful, and splendid feats of human accomplishment. Which, of course, they are indeed.
The epitome of this ethos surely must be the painting of an empty room, save a lone, hard chair looking out on a grid-like picture window filled with the view of a sky-borne highway overpass complex. At first blush, you think it's a nihilistic take on some sort of self-made hell. And it is to a point, but it's also a feat of man over environment, which is the view Young wants us to see. He also views all of this as a fleeting victory, for the slow yet inexorable way Mother Nature will have with them all eventually. While that part of Young's thinking is still somewhat theoretical, these paintings remain in the here and now where man still has the upper hand. All of these spaces and places are still operational.
Young's red, white and blue painting of a shopping mall anchor depicts a store called "NON." Funny as it seems, it does get back to the part of necessity in the equation. It seems to say that though we don't particularly identify with the store space, spending money there is a form of patriotism. Another of Young's places is a small, free-standing store at night. This image shows the side façade of the building, with two arrows painted in opposite directions on the tarmac beside it. It literally seems to say, "Take me anywhere but here."
From time to time, Young's work seems to reference the works of Ed Ruscha and Edward Hopper, which isn't bad company to keep.
Classic Architecture
The Art and Craft of Greene and Greene, at Renwick Gallery (1661 Pennsylvania Ave. NW, Washington D.C.). The exhibit runs through June 7, and museum hours are 10 a.m. – 5:30 p.m., seven days a week. Admission is free. For further information, call 202-633-5285 or visit americanart.si.edu/exhibitions/archive/2009/greene. As long as we're talking about the built environment of Los Angeles, we might as well talk about turn-of-the-century Pasadena architects Greene and Greene. This show is part of the centennial celebration of Greene and Greene's masterpiece known as the Gamble house, built for the David Gamble family– the Gamble part of Proctor and Gamble.
The older sections of Pasadena are peppered with wonderful examples of authentic Arts and Crafts houses. The Gamble house is the best of the best. This teak and mahogany gem might not even be possible to replicate today, much less anyone being able to afford it. The Greene brothers were heavily influence by traditional Japanese architecture, and made liberal use of its hallmark interlocking beams with heavily radiating edges. It's a soft inviting style that begs to be caressed by human hands. (Best not do that mind you, but you'll want to.) Built in a scant 10 months back in 1909, today it would take you ten months to figure out who in the world could build it. It's craftsmanship with a capital C, and then some. Think of a house built by the finest cabinet makers you could find, and you've got a general notion of what you're dealing with here.
Living there might leave you feeling a bit like one of the Keebler elves, however, as you are basically living inside a tree. Upon entering, visitors tend to be shocked by how dark all that wood makes the place. By modern standards, where plastic building materials are embossed with wood grain in an effort to ape the real thing, the Gamble house is a lurid, whole body immersion in natural materials. If you're ever within striking distance it's well worth the trip, if you're so inclined.
Which in a nutshell is the problem with all traveling architecture museum shows: With very few exceptions, you can't really show the work, because the work is firmly stuck in the ground in some other city. Fortunately, A-list architects tend to have an all-encompassing view towards their work, and don't particularly like their houses tarted up with any old furniture. So they design the furnishings as well. Those transportable bits of the architect's work are generally what we get to see in museum shows; this one is no different. Mind you, the curators have done what they could to expand the show beyond the furnishings, but you can only do so much. Visual aides aside, nobody is going to uproot so much as one splinter of the Gamble house and drag it to D.C. for you to see. You'll have make the trek to see the whole package in Pasadena.
Having said that, we have in our midst a fine look at Greene and Greene furniture. Probably more than any other architect who comes quickly to mind, the furniture of Greene and Greene directly relates to the house itself. While Stickley is well known for its rather upright oak designs, the Greene and Greene work has a much softer presence: finer grained woods, softly radiating edges and the look of the interlocking beam technology that reminds one of the wooden Chinese jigsaw puzzles children used to play with.