Like the name implies, U Street's Utopia Bar and Grill satisfies both hunger of body and mind.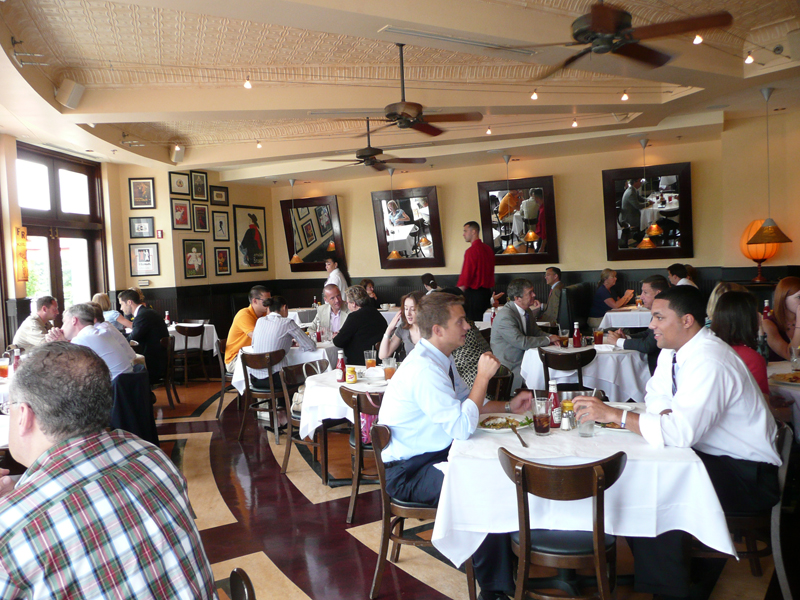 Like the name implies, U Street's Utopia Bar and Grill satisfies both hunger of body and mind.
Utopia's genius emanates from Moroccan-born restaurateur and avid artist Jamal Sahri, who established the artsy joint in 1993 as a community watering hole for the artist and the gourmand. The restaurant's space is shaped by the art Jamal has created and installed throughout the two large, intimate spaces. The ceilings are adorned with panels that mimic the scene below: lively conversations over exquisite meals and drinks.
Utopia is a cross between chic bistro and art gallery, incorporating eastern and modern styles, with a hint of bohemian flare common in the burgeoning D.C. neighborhood. The exposed brick wall and chandelier in the main dining room heighten Utopia's aesthetic appeal.
The menu boasts some strong flavors, and Utopia understands how to cater to a young brunch crowd, with bubbly, fresh mimosas and savory bloody marys for $1.25 each.
For a complete breakfast with necessary protein and carbs, take a bite of Utopia's stuffed French toast ($7.95). The dish includes a side of roasted potatoes that tasted strongly of rosemary, and was a perfect complement to two slices of battered and grilled toast. The delicate toast sandwiched two hearty slabs of cream cheese and an equally satisfying dollop of fruit preserves, topped with maple syrup. In lieu of the roasted potatoes, patrons can substitute a side of fresh fruit.
Also, you can tag on some of Utopia's delicious, fluffy herbed scrambled eggs, but the dish jumps in price to around $14.
The remainder of Utopia's brunch options cover all bases, for those who enjoy meat or fish alongside their dish. Seafood has a prominent spot on the menu, much to this author's delight. Try the decadent seafood omelette ($9.95), replete with a healthy dose of shellfish – scallops, rock shrimp and crab; it almost seems excessive, but this creation is well executed. The eggs Utopia ($8.95) is another savory option, with poached eggs atop smoked salmon and doused with a rich mornay sauce.
No brunch would be authentic without a harmless alcoholic beverage or two; how liquor insinuated itself into the morning hours escapes me, but the opportunity is welcome, especially at Utopia's prices. The $1.25 libations taste refreshingly straight from the vine and vineyard. Specks of rosemary mingle with peppercorn, celery and a coterie of other spices that make the bloody mary a divine thirst quencher.
Utopia's environment consists of more than its beautiful shell and tempting menu. If you manage a return in the evening, you'll find a whole new layer is added, with jazz and blues bouncing off the dark brick every Sunday night starting at 9:30 p.m. till close. Other nights bring new faces and performances to the restaurant. Check the Web site for a weekly schedule, as well as to find out more about the new art installations coming to this little slice of Utopia.