Falls Church local Anne Welles, a teacher by day and independent filmmaker by desire, saw her first area-based work screened at the Arlington Drafthouse and Cinema in mid-April.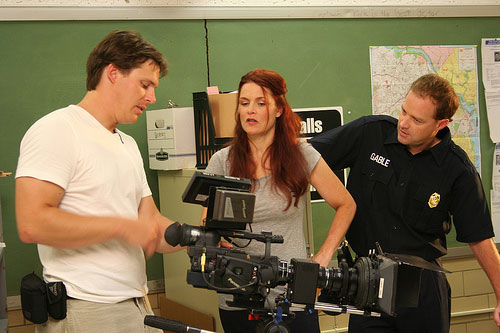 Welles, who lived in the region as a child, graduating from George Mason High in '83, returned to her Northern Virginia roots after years spent working with her art, television and film production in Los Angeles and Florida.
For her, "By God's Grace," the 10-minute short shot in Falls Church, Arlington and McLean that premiered April 13 at the Drafthouse, was only a beginning.
"The movie feels very personal," Welles, who now works at H.B. Woodlawn as an art teacher, told the News-Press.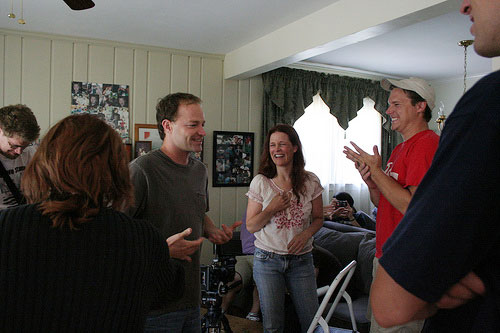 The mini-feature follows the life of a woman with a difficult past, said Welles. The woman has experienced plenty of loss and developed poor habits and relationships with others, all of which changes when she encounters a young girl who teaches her a new appreciation for life.
"But it's not my life story, Welles said. "Things I've experienced are in it, but in the film, the main character loses the little girl. It's an idea I've struggled to conceive of since becoming a parent."
Welles hoped to turn her screenplay into a feature-length film, but in order to secure interest in the film, she set out to produce a condensed sneak-peek.
"Last summer, I decided to shoot a short, which is like a trailer of sorts, and show it to investors to try to make a feature," Welles explained. The Screen Actors Guild (SAG), however, would not permit her a contract to use SAG actors if Welles developed a trailer, so "I had to make the film as a 10-minute short."
The Drafthouse premiere illustrated the complex nature of even such a brief show – a crew of 15 and a cast of about 12, with actors from as far as Los Angeles and New York and a cinematographer from North Carolina.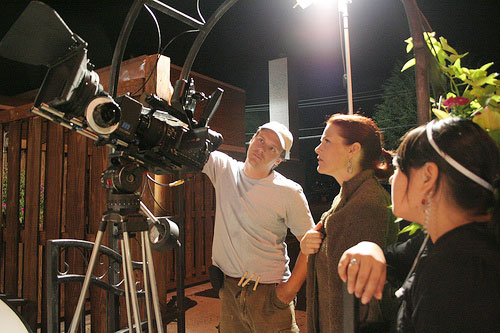 Locals also had a significant role to play in the production. In need of financial backing, Welles, who has one son at George Mason High and another at Trinity View, approached other parents.
"I gathered other Falls Church moms and made them producers of the film," Welles said. "They put in a little money to make the film, so all of them were able to have a role in its production."
Area businesses contributed, as well. "Falls Church businesses were very kind to us. We got food and support from Natalia's, Anthony's, Papa John's, the Broaddale Starbucks, Ireland's Four Provinces and Dogwood Tavern."
Part of the film and the premiere night afterparty took place in the Dogwood Tavern, which was also the scene where Falls Church local Doug Benge was able to fit in a line.
Benge was also the film's executive producer, having been the film's biggest backer. But last October Benge committed suicide, shocking the entire Falls Church community who had come to know him, as well as the cast and crew of "By God's Grace."
"We were just devastated," Welles recalled. "He was a real sweetie, and this just came out of the blue." She added, "It's heartbreaking that he didn't get to see the end result."
The end result was well received on premiere night, Welles said, but the premiere was nowhere near the end of the film's lifespan.
"I'm developing a packet, which takes plenty of time, determining the larger budget and shopping it around," she said. So far, Welles has taken the film to around 12 festivals, including ones close to home in Maryland and Washington, D.C., and as far as a couple in Los Angeles.
As far as surviving as a filmmaker in Falls Church, Welles said the experience has been "relatively easy to adjust to" and make a film.
The Arlington Career Center, where Welles had worked as a TV production teacher, provided her with several valuable connections. "There were people at the Center connected to the industry, so I put out feelers and that's how I managed to find our sound technician, the cinematographer from North Carolina and my production assistants."
For now, Welles has continued the process of marketing the short to producers and film festivals across the country. She has even considered an Internet marketing campaign, but confesses utilizing the Internet for marketing "is not the easiest thing for me. Perhaps the kids can help."
In the meantime, while prolifically looking to launch "By God's Grace," Welles has some time to contemplate future projects.
"This summer, I don't have anything written yet, but I want to do a teen drama. I have access to all of these teenagers, especially in the summertime, so I just have to come up with an idea. It won't be as big a production, but I think it'd be fun," she said.