Recently opened in 2006 by restaurateur Franco Nuschese, Sette Bello, or the "Handsome Seven of Diamonds," offers patrons authentic Italian cuisine combined with chic décor.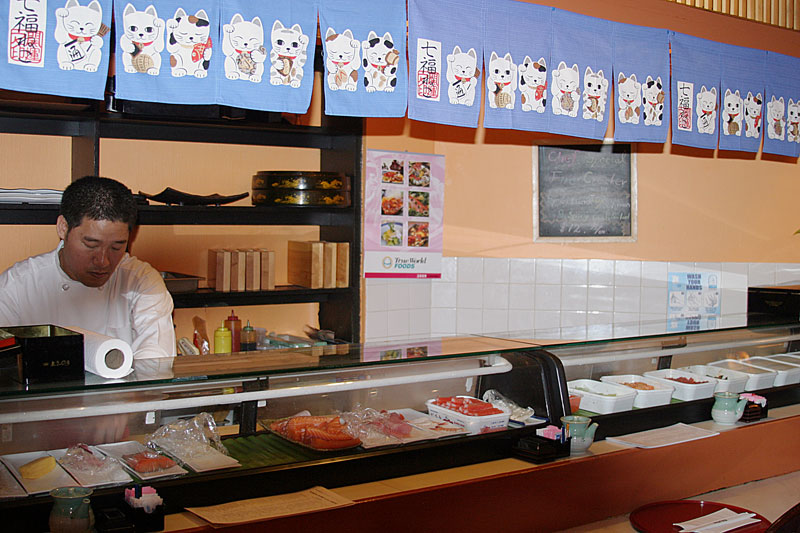 Nuschese also owns two other successful D.C. restaurants, Sette Osteria in Georgetown and the posh Café Milano near Dupont Circle.
For customers looking to enjoy a night out on the town, Sette Bello's long bar area is ideal, equipped with stylish red stools and several high-rise tables. But the restaurant provides patrons several distinct options, each creating a unique, inviting ambiance.
Sette Bello's antipasto bar, for example, invites customers to enjoy some of the kitchen's more tastefully tantalizing dishes. Italian memorabilia, such as the nation's flag, hang above the bar, and various plaques found on pillars across the bar area add to the restaurant's allure.
Terracotta orange and yellow stained-glass panels border the entrance to the dining room, separating patrons from the hustle and bustle of the bar area. Floor-to-ceiling windows create a spacious area to enjoy meals, and during the evening, candles provide customers a warm, intimate atmosphere. Patrons may enjoy their meals at tables set throughout the dining area or in three of the curved tan leather booths alongside the wall. For a more private dining experience, a wicker divider separates a few tables, giving customers their own enclosed section.
Sette Bello offers patrons a variety of authentic Italian dishes from freshly made pasta to mouthwatering pizzas. Specials of the day are also pared with a suggested wine selected by the chef.
The Asparagi Con Prosciutto ($7.50), blanched and grilled Asparagus wrapped in imported Parma prosciutto, provided a scrumptious start to our meal. The meal's tastes were as delicate as the careful thought that went into its preparation: a hallmark of the fine dining patrons expect at any of Nuschese's establishments.
Pillowy and delectable, the Ravioli Della Nonna ($14.50) is stuffed with ricotta cheese and spinach, and topped with tomato sauce and fresh basil – a small portion, yet it was immensely satisfying.
The Pollo Alla Milanese ($17), is a dieter's delight – a fillet of chicken pounded, breaded and pan fried, served with a colorful medley of cherry, yellow and red tomatoes, cucumbers and thinly-sliced red onions. Simple yet satisfying, it's the perfect dish for patrons craving something light.
With its fusion of rich flavors, the Margherita Pizza ($12.75), tomato sauce, fresh mozzarella and basil atop a flaky, crunchy crust, is a dish that certainly beckons a return visit to Sette Bello.
The Crostata Capovolta Alle Melle Con Gelato Alla Vaniglia ($6) finished the meal. The crostata is a warm, buttery upside-down apple tart with a sweet edge provided by a light drizzle of caramel sauce and a side scoop of vanilla ice cream.
The sophisticated and inviting atmosphere makes this hot spot perfect for a romantic evening for two or a night out with friends. Sette Bello is metro accessible via the Clarendon stop on the orange line.
With Sette Bello's friendly service and exceptional cuisine, it's worth the trip.
Sette Bello
3101 Wilson Blvd., Clarendon, VA
703-351-1004 • settebellorestaurant.com


Hours:


Sunday – Thursday, 11:30 a.m. – 10:30 p.m.
Friday – Saturday, 11:30 a.m. – 11:30 p.m.