The road to riches in the music industry is never easy, just look at D.C.-based band Honor By August.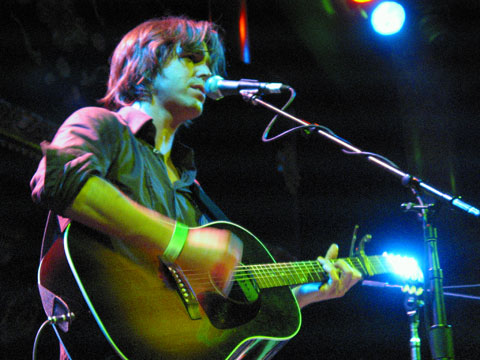 The band is perfectly suited for a long lifespan in the upper echelons of a Billboard pop music chart. Their radio-ready, label-friendly sound, their bedroom-poster-grade look and their preternaturally savvy professionalism form a tidy package. Among the District's music scene, there may not be a more polished rock act, a compliment which speaks volumes with the likes of O.A.R. and Pat McGee roaming around. And yet the fab foursome remains without a record deal.
Almost two years ago, a few labels had turned their attention to Honor By August after an augmented re-release of their debut LP generated some heat. But a year of changes, including the departure of both original bassist Joe Wenger and his replacement, John Athayde, slowed the process of creating a sequel. The buzz from The Biz faded while labels, ever conscious of their investments these days, waited for the follow-up.
But despite the delays, the men of HBA – singer/guitarist Michael Pearsall, lead guitarist Evan Field and drummer Brian Shanley – exercised the third virtue in the aforementioned tidy package: Savvy. Rather than rush and settle for imperfection, the trio tempered their haste, waiting for stability in their lineup before heading back into the studio. That patience will soon be rewarded.
HBA rings in the weekend with a pair of album release shows in New York City and back on the homefront with a headlining gig at 9:30 Club on Saturday. There, they'll roll out their new disc, Found, a 12 track effort that signals another sonic step forward for an already accomplished act.
With new bassist Chris Rafetto fully indoctrinated and brought up to speed, Found flaunts an even more refined feel than its predecessor, Drowning Out The Television. Thanks to Rafetto, the harmonies that suffered with the departure of Wenger, have returned in force, along with a new infusion of piano into the instrument mix. Those aspects offer an outstanding counterpoint on the more driven, "four on the floor" rock numbers, such as the title track "Found," where Field shows off his chops with a few Edge-like guitar riffs.
It's an interesting and natural progression in the band's sound, one made possible by HBA's comfort level with the signature flavor demonstrated in their early work.
"We trusted ourselves more on this record," Pearsall says. "While the songs are an evolution from the first record, I think people will still recognize them as Honor By August songs. It's a good representation of the way our band is now."
The adjustments stem in part from a collaborative writing process that even included newcomer Rafetto. Retreating to Mystic, Conn. to write the album, each member contributed to the crafting of Found, whereas HBA's early work was mostly scripted by Pearsall. For his part, Pearsall has taken his lyrics in a more mature direction, discussing themes of the times – the weight with which the war and economic collapse have saddled the country among them – instead of simply lingering in the pop-friendly comfort zone of relationships.
"They're universal issues, different concepts I hadn't written about before," says Pearsall. He adds that he is most pleased with the album's complete and united feel – a goal inspired after reading biographies on Bruce Springsteen and Tom Petty – as opposed to a collection of singles separated by throw-away tracks.
Fans will get to sample the songs for themselves starting this weekend at 9:30 Club, when the band will also debut its new music video for lead single "Found." Those interested in attending will want to visit the band's Myspace page, where they can snag a two-for ticket that gives them admission and the album for $20, while sidestepping additional box office fees.
Later this summer the band will regroup for a lengthier tour in an attempt to recapture the early label interest, but Pearsall says they're proceeding as independent musicians. That would be just fine with familiar fans across the Eastern Seaboard, just as long as hits like Found keep coming.
For more on Honor By August, visit www.honorbyaugust.com.