RICHMOND – Going into last Saturday's state title game, the girls basketball team from Floyd County was the heavy favorite to repeat as the Virginia's small school Group A Division 2 champions. The Buffaloes had four of their five starters back from last year's champs, and were facing the George Mason High School Mustangs of Falls Church, who they'd vanquished in last year's semifinals, and who had lost most of its stars to graduation in the meantime.
But it was not meant to be, not this time.
With 10 seconds left in the state basketball championship finals last Saturday at Richmond's Siegel Center, George Mason's Chantal Thomas made the final blow to last year's champion Floyd County with two free throws. With a final score of 53-46, the Lady Mustangs delivered Mason's first Division 2 girls basketball state title since 1998 – and for themselves, a hard-fought and long-awaited moment to revel in their success.
Mason advanced to the final showdown after defeating Lancaster High in a hotly-contested 54-52 semifinal game Friday morning.
"I'd like to thank a bunch of hardworking ladies," Mason Head Coach LaBryan Thomas told the News-Press after the game. "Going 24-6 is a good record for a small school that's faced so many larger AA and AAA schools." Mason is a Group A school.
Thomas attributed the girls' victory to pressing hard on layups and passes, rebounds and a solid defense – Mason's "1-2-2" defense that kept Floyd County's high scorers at bay.
In the first quarter, the teams seemed evenly matched, with the Buffaloes' star player, Brittany Avancini, taking advantage of Mason's slow start Saturday, pounding out nine points in the first quarter, including a jumper and two free throws.
Once in full swing, however, Mason's powerful starting line-up proved invincible. After scoring only two more field goals, Avancini failed to net any further attempts against Mason, and added only six points by free throws to Floyd County's tally. Mason withered Floyd County's successful field goal attempts to 30 percent by game's end.
Mason witnessed a power drive in the last three quarters, with Nicole Mitchell racking up 13 points and 15 rebounds, earning her recognition as Best Player for the game – adding to her already secured status as Bull Run District Player of the Year.
Mitchell's efforts, however, were part of a concerted play by the starting line-up to contain Avancini and capitalize on Mason's height advantage. The team made 43 rebounds overall, with Floyd County making slightly more than half at 28. Freshman star Bria Platenburg rocked the court with impressive speed and cooperation with Mitchell, Thomas, Lauren Kane and Kim Kenny. Platenburg was also Mason's highest scorer, with 14 points.
Thomas, a junior and Mason's third-highest scorer with nine points, displayed prowess on the court, with the game's most steals, five. Excitement in the Siegel Center stadium skyrocketed with Thomas's uncontested layup 4:10 into the fourth quarter.
While Floyd County's secondary scorers, Carmen Bolt, Brittany Bourne and Kayla Hartman staged a late rally in the quarter, netting seven points with three free throws from Avancini and Brandy Phillips, the effort came too late to whittle down Mason's comfortable double-digit lead by much.
The final series of free throws from Kenny, who closed out her Mason career with eight points and nine rebounds Saturday afternoon, and Thomas elicited a huge response from the Mason stands.
Although fewer students could make Saturday's game to repeat the impressive showing from Friday, the students erupted with cheer as the girls charged down the court at game's end.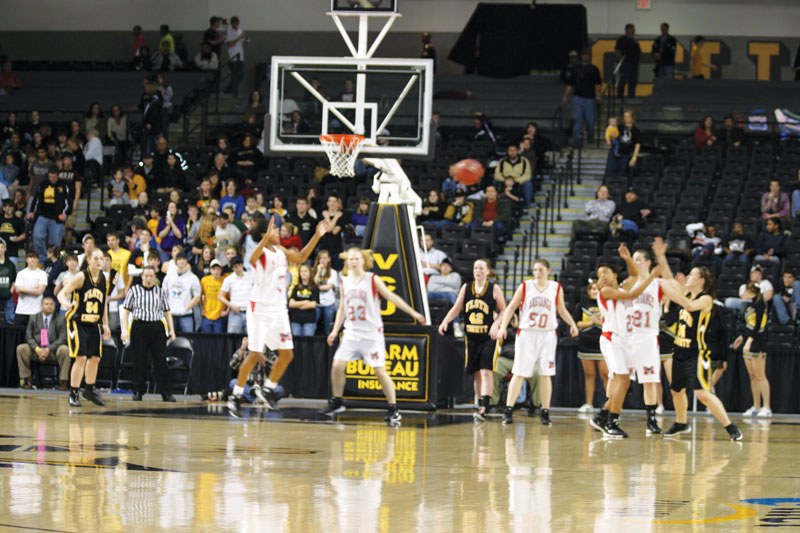 Following introductory remarks from officials of the Virginia High School League, which holds the tournament, the Mason team also received top billing for its sportsmanship.
Mitchell, a junior, shared the team's true feelings during the game. About the team's boundless energy in the last quarters, Mitchell said, "Looks can be deceiving. We had to relax our nerves because we're all about basketball. None of us have been to the finals, and we had two freshmen starters, so we had to gain composure and get through the finals."
Mitchell and Platenburg also discussed their top rival, Avancini. "We had to shut her down and do our thing," said Platenburg.
Mitchell added, "She's obviously a really good district-level player. You want to take out the best player, and Bria did that."
In the semifinal game versus the Lancaster High Lady Devils, the outcome was much closer, with two very closely matched teams. As in the finals, the Mustangs heated up in the second half.
"We struggled a little bit in the first half," said Coach Thomas. "But with a strong defense and hardworking ladies, I was overall very pleased with the game."
Mitchell, who was the game's high scorer with 14 points, with Kenny and Thomas at 12 points each, pushed Mason's tally forward. Mitchell also hit two jumpers during the game.
It was junior guard Thomas, however, with four successful free throws in the last 20 seconds of the fourth quarter that handed the lead – and the game – to Mason.
{gallery}/903/bball{/gallery}