Named by Washingtonian magazine as one of the best Indian restaurants in the D.C. area, Haandi's international fare and exceptional service makes this establishment a fine dining experience for couples and families alike.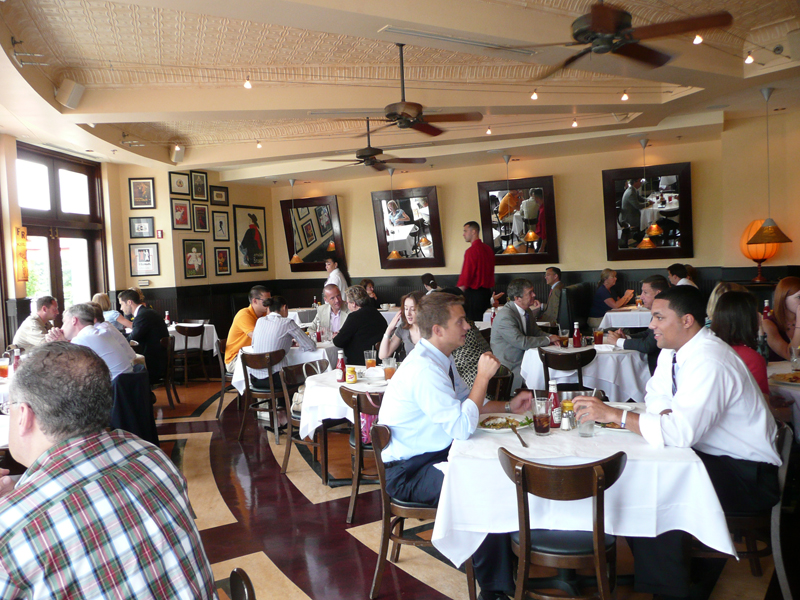 Chandelier lighting paired with a relaxing ambiance makes this hotspot perfect for a quiet night out.
Seating ranges from intimate booths to open seating at white linen-topped tables in the center of the room.
Faux windows bordered the restaurant, revealing Indian–inspired backdrops telling a story through paintings. One elaborate image of an Indian woman located near the restaurant's entrance mimicked the intricately-designed front windows.
From traditional Tandoori favorites to the seafood platters, Haandi has something for everyone. To spice up the food, just ask the waiter to add a little extra heat. Each dish, cooked to perfection, arrived in generous portions. This quality matched with quantity makes it impossible for anyone to leave with an empty stomach.
Murgh Aap Ki Pasand ($15) makes an excellent entrée choice for any appetite craving a little bit of everything. Three different varieties of chicken, marinated in pure saffron, fresh mint and finely-chopped garlic, came sizzling on a hot plate. Barbequed in a charcoal oven — along with onions, tomatoes and green bell peppers — this main course is served with saffron–infused rice, which is then topped with peas. Homemade tamarind chutney and green coriander chutney serves as a dipping sauce for this delectable poultry variety. The taste of such an aromatic dish lingers on the palette, leaving a hint of satisfaction and a mental note of what to order upon my return.
The vegetarian dishes, light but filling, serve as an alternative option for patrons with a strict diet. Hyderabadi Aloo Do Peezah ($10), potatoes sautéed with fresh onions, bell peppers and tempered with cumin seeds, provides an Indian twist on the everyday fried potatoes. The Kaali Makhini Daal ($9) offers a variation on the traditional lentil helping, simmering the beans in mild spices and cream.
The sweet and creamy Rice Pudding ($4) was a light ending to a hearty meal, an appropriate choice for any full tummy that still can't deny the best part — dessert.
To try a little of everything without committing to a dinner stop, the lunch buffet is recommended. With its great food at a reasonable price of $10.95 during the week and $12.95 on weekends and holidays, the buffet provides a selection of seven to eight dishes, guaranteed to have a dish suitable for any patron.
Haandi prides itself on fresh ingredients and attention to detail. Each chef makes sure that the spices blend together at their highest potential for flavor and punch. The accommodating staff made sure the meal met our expectations. An ideal location, Haandi is metro assessable by the orange line at the West Falls Church Station.
Haandi
1222 W. Broad Street
Falls Church, Va.
Lunch: Monday – Sunday, 11:30 a.m. – 2:30 p.m.
Dinner: Sunday – Thursday, 5 – 10 p.m.; Friday – Saturday 5 – 10:30 p.m.
703-533-3501
www.haandi.com