Mike's Deli set up shop around summer '08 in the same space as Lazy Sundae, where patrons from tots to seniors can enjoy some original, home-churned ice creams.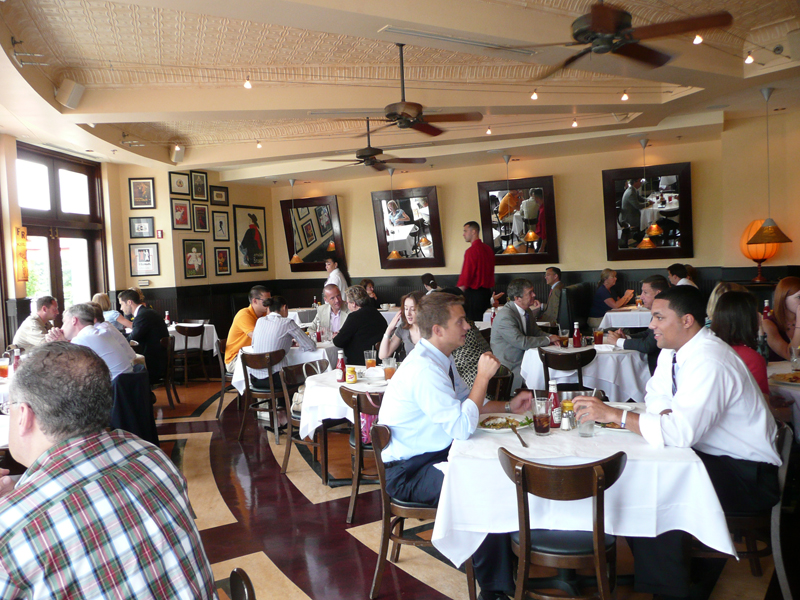 Before asking for dessert, however, Mike's Deli offers some tasty grub to suit some surprisingly wide-ranging tastes.
Mike's is another operation of sibling duo David and Rebecca Tax, the team behind the staple Falls Church beach shack, Clare and Don's, and a slew of other eateries located where they began in the Clarendon area. The deli might not share the wordplay of its sister establishment's name, but Mike's menu caters to the usual deli crowd you would imagine frequenting for their pastrami and swiss on rye, and, oh, to vegetarians.
Huzzah, another victory for the veggie scene!
Indeed, thanks to Rebecca's own personal diet and commitment to vegetarian cuisine, Mike's Deli furnishes a nice slate of choices for the vegetable-inclined and curious: imitation soy meats and soy cheese. Why, you might think that the vegan Reuben on rye with Russian dressing ($7) is a carnivore's sandwich. With such meaty tastes and sharp cheese, perhaps the sandwich could serve as a good introduction to break an inveterate carnivore into the veggie lifestyle. (We're not always at the tofu trough, you know.)
The options at Mike's – soy and otherwise – allow patrons to customize sandwiches and convert some meaty specialties to veggie-friendly. Try the Philly Cheesesteak – without the real cheese or the real steak – and voilà, you have a much more (well, relatively speaking) heart-healthy hoagie loaded with green peppers, onions and soy goodness for $7.
All sandwiches come with a side of chips and a pickle, which you can complement with a soda or iced tea. Maybe you'd like to finish off with some ice cream, and still, you can escape the joint with spending less than $15 on a complete meal. Of course, no visit to Mike's Deli could be complete without a sample (or a bowl, ahem) of the establishment's finest homespun soups ($2.75/bowl). Again, the Deli's cooks conjure up broths and stews for meat eaters and usually for their veggie brethren, too.
If one considers ice cream a summer sport, pick up a small bag of Mike's vegan molasses cookies ($2 for three cookies). These soft and sweet morsels round off a quick veggie lunch perfectly.
The staff at Mike's Deli are an affable, loyal bunch, with familiar faces Marco manning the counter and Christina at the kitchen stoves. Strike up a conversation while you wait, peruse the lengthy list of ice cream flavors or read a section of The Post (or the News-Press, of course, if you see a copy).
For the habitual breakfast eater who takes eggs and bacon at tea time, you're in luck with Mike's all-day breakfast menu. What's more, Mike's delivers orders in the Falls Church area with a minimum of $10, between the hours of 11 a.m. – 2 p.m. Monday – Friday. Mike's Deli also caters, with options ranging from box lunches, deli platters to Continental breakfasts and fruit, bagel and lox platters. It's a deli keen to please both the Oscar Meyer and PETA sides of the aisle, and for a moderate vegetarian such as me, I'm thankful Falls Church is so blessed.
Mike's Deli
112 N. West. St.
Falls Church, Va.
Open seven days: weekday hours, 8 a.m. – 9 p.m., weekend/holidays, 9 a.m. – 9 p.m.
703-532-5299