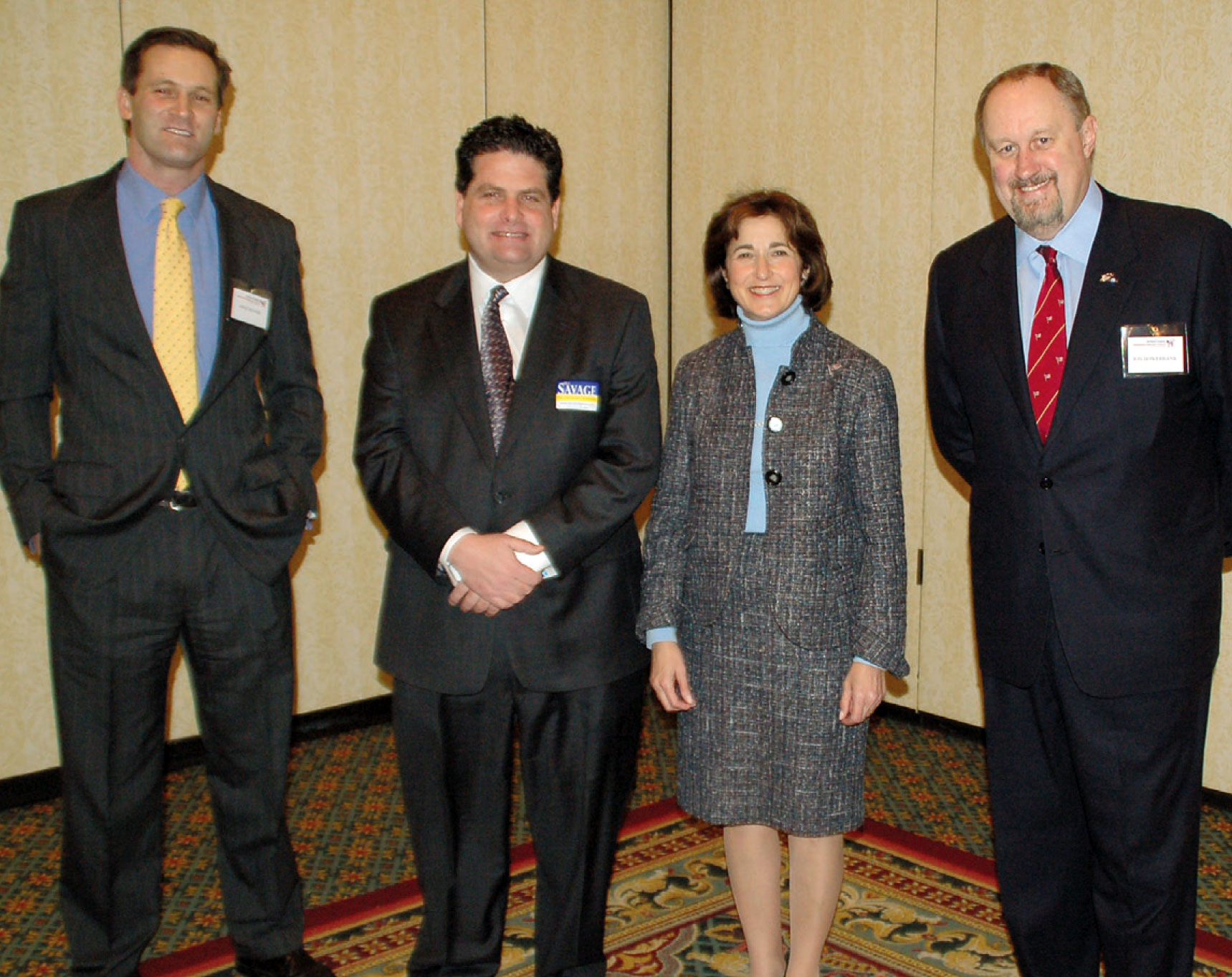 RICHMOND – Former U.S. President Bill Clinton was the keynote speaker at the Virginia Democratic Party's annual Jefferson-Jackson Dinner here Saturday night, but his presence was eclipsed by a slugfest involving three candidates seeking their party's nomination to run for governor later this year.
State Del. Brian Moran, State Sen. Creigh Deeds and former Democratic National Committee chair Terry McAuliffe were tenaciously vying for the loyalties of the 1,500 attendees at the gala dinner, and also at a pre-dinner VIP reception that attracted the party's top drawer cadres of high-rollers.
Having officially announced his candidacy just last month, McAuliffe dipped into his sizeable personal war chest to make a big impact at the event, reportedly buying over 350 dinner tickets at $175 each that he handed out to supporters.
He preceded the gala by organizing a rally and loud march to the banquet site aimed at attracting the media, as well as the party's top organizers.
Asked by this reporter where his march was, Moran quipped sarcastically, "I left my circus at home."
Moran, younger brother of Rep. Jim Moran who has been putting together his gubernatorial campaign for over a year, pulled no punches contrasting himself to McAuliffe during his dinner speech.
McAuliffe, despite his high national profile and well-known personal ties to Bill and Hillary Clinton (he ran Hillary Clinton's presidential campaign last year), has been criticized for entering the gubernatorial race without benefit of any prior track record of involvement in Virginia politics, despite living in McLean for 20 years.
Both Moran and Deeds, by contrast, bring years of fighting uphill battles for the Democratic agenda in Richmond. Moran has been head of the House Democratic Caucus in Richmond since 2001, and Deeds involvement includes his role as the party's unsuccessful candidate for attorney general in 2006, losing by only 323 votes. Each brings a long list of endorsements from fellow, seasoned Virginia Democratic officials, with respected Democratic National Committee member Mame Reiley backing Moran, and State Sen. Mary Margaret Whipple backing Deeds, for example.
But McAuliffe's energy and personal deep financial pockets (he's already begun airing TV ads) make him a credible threat to win the hearts of the Democratic rank-and-file when they go to the polls in the Democratic primary of June 9.
Until McAuliffe crashed the party last month, the Virginia Democratic gubernatorial primary had shaped up as a classic clash between the Alexandria-based Moran, from the north, and the Bath County-based Deeds, from the south. Deeds, more moderate than Moran, voted in support of the anti-gay marriage amendment on the state ballot in 2007 and has a strong rating from the National Rifle Association.
This November, the Dem nominee will most likely face GOP Attorney General Bob McDonnell in the general election.
Five Democratic candidates vying for the party's lieutenant governor nomination in June are having a hard time wedging their way into the public eye with such a raucous gubernatorial race underway.
But all were at the Jefferson-Jackson banquet Saturday, and four were at the monthly breakfast of the Northern Virginia Democratic Business Council at Falls Church's Fairview Marriot last Friday morning. They're vying for the opportunity to run against current Virginia Lieutenant Governor Bob Bolling, who will run again as the GOP candidate, in November.
Jody Wagner, state treasurer under Gov. Mark Warner and secretary of finance under Gov. Tim Kaine, appears the favorite among the five Democratic contenders of most party regulars, but will face vigorous opposition from Richmond's Rich Savage, Southern Virginia businessman Jon Bowerbank, and Arlington attorney Mike Signer. Bowerbank claims the endorsement of former Virginia U.S. Rep. Leslie Byrne.
Wagner launched with her husband a successful small business from her Virginia Beach home, "Jody's Popcorn." Her main piece of campaign material is a small plastic bag with samples of her popcorn inside. But the main source of her pride, the said at the Business Council breakfast, was maintaining Virginia's AAA bond rating as part of "the best management team in the U.S." Virginia has been ranked as one of the three best managed states in the U.S.
Bowerbank sports a slight British accent, having been born in England and moving to the U.S. at age 11. He's the CEO of an infrastructure development company with 200 employees based in Russell County where he serves on the Board of Supervisors.
Signer, a graduate of Washington and Lee in Arlington who's used his legal expertise to spearhead election protection efforts at polling places throughout Virginia, beginning in 2004, said he sees the role of lieutenant governor as having "a bully pulpit" to put the spotlight on key, unresolved social and other issues much as, he noted, Falls Church's Don Beyer did when he was lieutenant governor for eight years in the 1990s.
"We need an activist in this position," he said.
Savage is a small businessman and political consultant based in Richmond, who summoned his experience working with at-risk teens to call for a 10-point education reform plan. He cited the need to find better solutions than "send-them-home" suspensions from school, noting that in Richmond, a higher percentage of students are suspended from high school than graduate.
"Maybe they should be put into the library instead of suspended," he said. "They'd hate it, but maybe they'd learn something."
All were milling in and around at the pre-banquet VIP Reception Saturday night in Richmond, vying for the attention of party loyalists, hundreds jammed into the noisy room with all three gubernatorial candidates, U.S. Senators Jim Webb and Mark Warner, and Governor Tim Kaine.
In comments to this writer, Deeds focused on all the time he's spent in Northern Virginia wooing votes from this region, including at the Presidential inaugural ball held at Falls Church's State Theatre, and the State Democratic Inaugural Ball in Arlington.
McAuliffe talked about his tireless campaign efforts, moving throughout the state with rallies and special events.
Moran appeared the most laid back, chatting softly with everyone who approached and, as with all the candidates and elected officials, posing for photographs.
But Moran was anything but laid back in his fiery speech at the dinner later that night. A member of the state legislature since 1996, he became head of the House Democratic Caucus in 2001, with his party making gains in that body in every election since.
His comments appeared to be directed almost solely against McAuliffe. "Will our party be built from the bottom up, or from the top down…about public service, or about personal gain…dominated by big money and those who raise it, or the party of the people," he intoned.
"No amount of money can stop (the Republican) attacks unless we nominate someone who has been fighting for Virginians each and every day…This race will be about who stood with Mark Warner and Tim Kaine, not who sat on the sidelines…It took us a generation to build this party…Mark (Warner) and Tim (Kaine) didn't just show up when it was easy and the battles had already been won. They were here when it was hard to be a Virginia Democrat," he stated.
At a breakfast the following morning concluding the weekend of State Democratic Central Committee events, when introduced, Moran was greeted with a standing ovation.
But McAuliffe, who officially announced his candidacy last month after forming an exploratory committee in November, brings a high profile of Democratic activism, starting when, at age 22, he became the national finance director in the re-election campaign of Jimmy Carter. His famous energy and fundraising abilities included, as the DNC Chair from 2001 to 2005, funneling $5 million in party funds to the election campaign of Gov. Kaine, the largest non-presidential DNC disbursement in history, part of his effort to turn the South Democratic.
Despite his personal ties to McAuliffe, Bill Clinton, the dinner's keynote speaker, did not pick sides in his remarks. He said the campaign will be a "vigorous, hard-fought one, as it should be." But he stressed the importance of coming together behind the winner, much as Hillary Clinton came behind Barack Obama after the Democratic primaries last year.
Clinton hailed the Obama victory, saying, "We have won a great cultural war." He described in detail how, since 1968, when a previous balance between the parties tilted in favor of the Republicans for cultural reasons, the struggle of the Democratic Party and his entire adult political life had been dedicated to restoring the balance, which was achieved with the November election.
"Now, our challenge," he told the assembled Democrats, "is to prove to the American people that they made the right decision."
"Now the hard work begins," he said. "Obama was the candidate of the future. Now we have to bring that future about by focusing on concrete solutions that get things done."