McLean H.S. Co-ed Crew Team Wins Gold
The McLean High School co-ed crew team captured five gold, five silver and three bronze awards, to go along with 29 top-eight finishes, at the 2009 MidAtlantic Erg Sprints, held last Friday, Jan. 31 at T.C. Williams High School in Alexandria.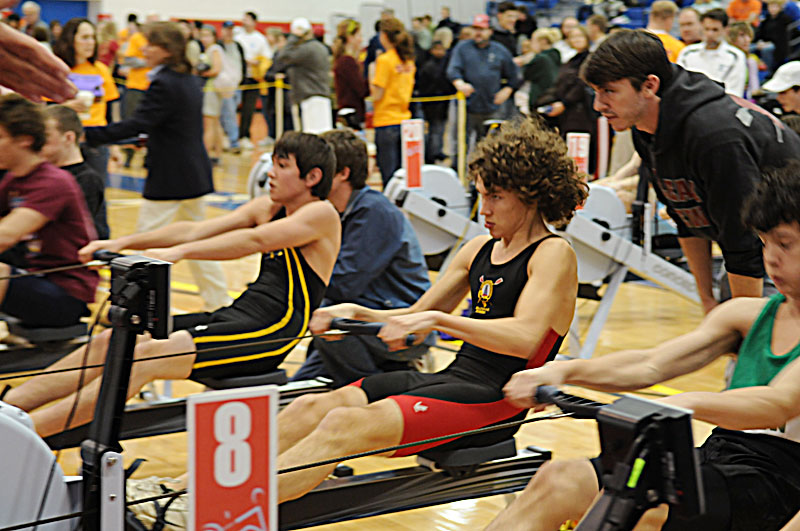 With over a thousand competitors from as far north as New York to as far south as North Carolina they all came to participate in over 25 events based on age and associated distances.
In those events, taking the gold was Dan Russell, Aaron Lesher, Zach Johnson, Colleen Devlin, Bridget Smith, Colleen Warren and Liz Gholimasgarha. Silver was won by Samarth Mohan, Nick Tobat, Joe Smith, Russell, Johnson, Warren, Kelly Hall, Larry Peterson, Katya Wentzel and Victoria Geithman.
Johnson, Melissa Frazee, Warren, Meghan Wheeler, Brooke Bush and Cammie Meade represented the Highlanders for bronze.
The team won the Top High School trophy for seven of the last eight years.
"Without formal acknowledgment, I am relatively confident they have succeeded again," said Coach Chris Gordon in an e-mail to the News-Press.
Nominations Sought for Mustangs' Athletic Hall of Fame
The Nominating Committee for the George Mason High School (G.M.H.S.) Athletic Hall of Fame will hold an induction ceremony in the fall of 2009. The Committee requests that interested individuals nominate athletes, coaches, teams or other persons whom they believe qualify for consideration. Athletes and teams must have graduated or completed play no later than 2003 in order to be eligible for consideration. For more information on the Hall of Fame, visit the school's Web site at www.fccps.k12.va.us/gm/, click on "Activities," then "Athletics" and then "Boosters" and scroll to the bottom of the Boosters page where you can click for information on the G.M.H.S. Hall of Fame.
Individuals interested in submitting nominations should do so by no later than March 1. Nominations, along with relevant statistics and reasons why that the person or team qualifies for the Hall of Fame, should be sent to: Joel Hamme, 902 Lanier Place, Falls Church, VA, 22046.
Mason H.S. Wrestlers Wrap up Season
The George Mason High School varsity wrestling team wrapped up its regular season last Saturday at the Mason's Pit with two rare dual meet wins and some impressive individual efforts to send the team into this weekend's Bull Run District (BRD) tournament with optimism for a good outcome as they take the first steps toward the season's culmination at the state tournament in Salem on Feb. 20 – 21. David Ray, Jake Schwind and Tim Hillegass continued to dominate their competition, as each won three matches Saturday to lead the Mustangs, who lost to Warren County 42-36, but defeated Potomac School 39-33 and Region A's Essex High School 39-30.
In addition to the success of Mason's extremely reliable trio, Teddy Rueckert also emerged 3-0 and Manuel Veiga-Diaz, Danny Seidita, Jackson Thomas, and Sam Dittmar each finished 2-1 for the day. The Mustangs' next competition is the District tournament this Saturday, Feb. 7 at Manassas Park. A wrestler must place in the top four of his weight class in order to advance to the Region B tournament, but according to Coach Bryan Harris, this is no easy feat.
"It may sound easy to finish in the top four, but we have four of the best teams in the state in our district so it is a dog fight just to advance to regions. It is not unusual for someone who would win another district to not even make it out of the Bull Run. Nonetheless, we have realistic expectations that we can do well this weekend," said Coach Harris.
In a bittersweet moment prior to Saturday's final dual meet the crowd got to say farewell and thank you to Ray, Schwind and Hillegass as they wound down their careers in the Mason black and red. Each came to center mat for a last time before a home crowd to accept the appreciative applause of the Mason faithful.
It will be this trio on which Mason pins much of its postseason hopes. Ray, who finished the regular season a perfect 30-0, leads the way with Schwind at 29-5 and Hillegass 23-6. All have high hopes for a successful finish at the State tournament. In addition, Veiga-Diaz, Rueckert, and Natan Lailari are in good position to advance to the Regional tournament.
"David, Jake and Tim have done this before and know what to expect at these tournaments but Manuel, Teddy and Natan will be doing this for the first time, and in very tough weight classes too. If they can overcome the rookie jitters and wrestle to their potential we will advance to the next round in pretty good shape team wise," said Coach Harris.
The BRD tournament is at Manassas Park High School Saturday, Feb. 7. Wrestling starts at 10 a.m.
New Boys Varsity Soccer Coach to Lead Jaguars
Falls Church High School recently introduced its new boys varsity soccer coach, Richard Tacaraya. Last spring's team was coached by Randall Bolanos and Lee Bailey. The Jaguars will kick off scrimmages for the 2009 season on Wednesday, March 4 at 7 p.m. against Westfield High School at home.
T.J. Swim & Dive Teams Complete Regular Season
Thomas Jefferson High School for Science and Technology's (T.J.) boys and girls swim and dive teams narrowly lost their dual meets against Liberty District opponent, W.T. Woodson High School. The boys lost 159-156 while the girls lost 161-154. Both teams finished the regular season with 4-3 records. The Liberty District Championship will be held Friday, Feb. 6 and Saturday, Feb. 7.
Jefferson's Anna Lan of McLean, Lauren Laffosse of Burke, Brianna Kim of Fairfax and Jae Sim of Reston won the medley relay. Individual event winners for the T.J. girls were Brenna Ferris of Herndon in the 200 freestyle, Katie Bennett of Arlington in the individual medley and backstroke, and Laffosse in the 500 freestyle. Other top-three finishers were Laffosse and Kim in the individual medley, Christina Wallin of Fairfax in diving, Ferris and Kim in the butterfly, Sim in the 100 freestyle, Kelsey Rainey of McLean in the 500 freestyle, Lan in the backstroke, and Aedan Collins of McLean in the breaststroke.
The T.J. boys captured all three relays. Wade Gong of Herndon, Alex Dona of Alexandria, Matt Callahan of Vienna, Sam Speers of McLean and Stephen Seliskar, also of McLean, were each on two winning relays. Zachary Batts of Reston and Joey Bouchard of Annandale were also on winning relays. Individual event winners for the boys were Seliskar in the 200 and 500 freestyles, Gong in the individual medley and the
backstroke, and Bouchard in the 50 freestyle. Other top-three finishers included Peter Ballen of Arlington in the 200 and 500 freestyles, Andrew Hong of Fairfax Station in the individual medley, Callahan in the 50 freestyle and the breaststroke, Dona in the butterfly, and Bouchard in the 100 freestyle.
Stuart Sinks F.C.H.S. Boys Swim & Dive
The Falls Church High School boys swim and dive team lost yet another close meet. This time, they fell to J.E.B. Stuart High, 160-155. Suffering from illness and injury, the Jaguars stepped up to perform their best, but lacked the first and second-place finishes to win the meet.
First-place winners included Alex Howe (200 Free Relay, 500 FR), Alek Anderson (200 Individual Medley, 100 Backstroke), and the following students for the 400 FR A Relay: Scott Silvester, Howe, Andrew Frank and Anderson.
Second-place finishers were 200 Medley-A Relay (David Blincoe, Paul Cossack, Frank and Howe), Blincoe (50 FR, 100 FR), Eric Kuldell (dive), 200 FR-B Relay (Michael Clingaman, Silvester, Blincoe and Anderson) and Cossack (100 BR).
Third-place finishers were 200 Medley-B Relay (Daniel Healy, Clingaman, Kuldell and Andy Fernandez), Cossack (200 IM), Frank (50 FR, 100 FL), Silvester (100 FR), Clingaman (100 BR) and 400 FR B Relay (Pieter van Wijngaarden, Will Rogers, Andy Fernandez and Nick Engquist).
In addition to some stellar performances, the boys said farewell to nine senior boys. Swimming and/or diving in their last duel meet were Anderson, Cossack, Engquist, Fernandez, Frank, Healy, Austin Morgan, Silvester, and van Wijngaarden.
"All of the boys will be greatly missed," said Head Swim Coach Christina Kwon.
Up next for the boys is the National District Championships at Providence. Diving is on Thursday, Feb.5 at 5:30 p.m., with swimming preliminaries on Friday, Feb. 6 at 5:30 p.m. Finals are on Saturday, Feb. 7, also at 5:30 p.m.
Championship Run Halted for Mason H.S. Academic Team
In a 215-175 contest, the George Mason High School Mustangs were defeated by Rappahannock County High School at this year's Scholastic Bowl Competition, Region B Tournament. On Saturday, Jan. 31, Mason's four-year championship run came to an end, though finishing runners-up will advance them to the state tourney for the eighth-consecutive year, to be held at the College of William & Mary on Saturday, Feb. 28.
The young Mason team, which starts only one senior, captain Amelia Nemitz, along with junior Katie Buenneke, and sophomores Anuraag Sensharma and Asher Morse, proved the only team capable of competing with senior AJ Collins who once again carried his Rappahannock County teammates as they took their first region title.
Lady Jags Hold Their Own Against Raiders in Swim & Dive
The Falls Church High School girls swim and dive team said goodbye to nine senior girls during their last duel meet of the season on Friday, Jan. 30. The senior girls are Bethany Boveri, Sarah Kane, Audrey May, Jenny Moore, Ana Moschopoulos, Faithe Ofilas, April Stegemiller, Ashley Stegemiller and Shema Teymourian. The night was also a victorious one, as the girls won in a decisive meet over J.E.B. Stuart High School Raiders.
First-place winners were the 200 Medley A Relay (Clara Dombroski, Jenny Moore, Emily Sturges, and Maggie Cullather), Moore (200 IM, 100 BR), Cullather (dive), Sturges (100 FL), Dombroski (100 FR), Kristina Clingaman (100 BK), and the 400 FR A Relay (Cullather, Moore, Kane and Clingaman).
Second-place finishers were Dombroski (200 FR), Clingaman (50 FR), the 200 FR A Relay (Sturges, Clingaman, Kane and Cullather), and Kane (100 BK).
Third-place finishers were the 200 Medley B Relay (Chnar Sindi, Allison Parker, Moschopoulos and Boveri), Ofilas (50 FR), Hannah Wilkerson (dive), Kane (100 FR), Cullather (500 FR), 200 FR B Relay (Shelley Kendall, Ofilas, Ashley Stegemiller and Mary Earnhart), Sindi (100 BK), Shelley Kendall (100 BR), and the 400 FR B Relay (Sindi, Carol Gomez, Boveri and Kendall).
Next up for the girls is the National District meet at Providence Rec Center. Diving is on Thursday, Feb. 5 and swimming preliminaries start on Friday, Feb. 6 at 5:30 p.m., with finals on Saturday.