In days when music is becoming increasingly effect-driven, over-produced and entire acts can be recreated by a complex series of synthesizers, it's refreshing to hear Akron-based blues rock duo The Black Keys and be reminded that simplicity can still yield a superlative sound.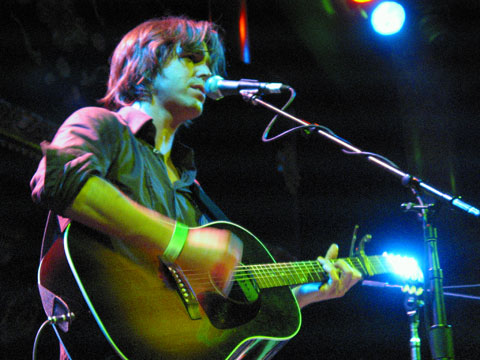 I was first introduced to The Black Keys a few years back during the first scene of "Black Snake Moan" when their song "When the Lights Go Out" accompanied a steamy love scene between Christina Ricci and Justin Timberlake. While I suspect people would discover far more bands if all new songs were accompanied by video of Ricci and Timberlake getting it on, it was when the sexiness of the song outsmoldered the Hollywood stars that I took notice.
It's emotion, more than anything else, that sold me on The Black Keys. Sure, it's mind-boggling how two guys — guitarist/vocalist Dan Auerbach and drummer Patrick Carney — can generate a tsunami of sound between just the two of them. However, it's the emotion that focuses that raw power and gives their songs an edge that can send a packed three-tiered venue like New York City's Terminal Five into a frenzy.
Jimi Hendrix once said, "Blues is easy to play, but hard to feel." That's how you can tell there's a musical maturity about The Black Keys. Musically, none of their songs is overly complex. Most deal with straight-ahead, simple blues progressions, but that's precisely what makes their compositions so effective. There's nothing particularly complex about swinging a pick axe in a mine shaft all day, but that job in the mines still drains you, makes your bones ache, saps your muscles and sets your mind spinning about all the places you'd rather be and all the mistakes you made that put you in that hole in the first place. I felt all of those things in the three minutes and twenty-four seconds of "When the Lights Go Out." A few minutes after that, I owned the rest of the Keys' catalog.
That blue-collar edge is present on The Black Keys' first four albums and emerges again, albeit a touch more refined, on their latest effort, Attack and Release. The 2008 album was the band's first recorded in an actual studio — the previous ones were recorded in an empty basement and an abandoned rubber factory. But true to the prior releases, their latest album — recorded with the help of acclaimed producer Brian "Danger Mouse" Burton — the grit and sweat stains are as abundant as ever. The sound may come across a smidge smoother, but the weight and fire that first made me take notice are abundantly present as songs alternate from swagger ("I Got Mine") to slow burn ("Lies").
With or without the accompaniment of Ricci and Timberlake gettin' freaky, you would do well to introduce yourself to The Black Keys.
• For more on The Black Keys, visit www.theblackkeys.com.