"I'm not going to lie, I want to win," said Ashley Wagner of Alexandria regarding her goals for the 2009 U.S. Figure Skating Championships, which begin this Sunday, Jan. 18, in Cleveland, Ohio.
At the 2008 U.S. Championships, Wagner finished a strong third and headed to the World Championships in Sweden as the highest ranked U.S. women's skater because the gold and silver medalists were too young to compete (they went to Junior Worlds instead). Unfortunately, Wagner didn't have the kinds of performances she wanted, and finished a disappointing 16th.
Last June, she decided to change coaches, leaving her coach of six years, Shirley Hughes, and relocating to Wilmington, Delaware to train with Priscilla Hill, former coach of three-time U.S. Men's Champion Johnny Weir.
"Going to Worlds last year was a huge deal," Wagner, 17, said. "It was one of the first major steps for me in really being able to see myself on the right track to going to the Olympics. It was extremely important that I go. Of course, I was not satisfied with my programs at all. I believe it was a complete disaster.
"Even though it wasn't the best, I got a lot out of it," she added. "I learned a lot. It helped show me that I don't always have my nerves under control. I learned ways to make sure they're always in check now. Also, it led me to Priscilla in the end, which has been a great thing for me and my skating."
Wagner jokes that Hill works her "like a horse." They continue to work on Wagner's jumps, which have always been powerful, but a big part of their training has focused on improving her artistry and presentation. "To work on my stroking and programs," Wagner said. "To be more expressive. I feel I've made a huge improvement in that area."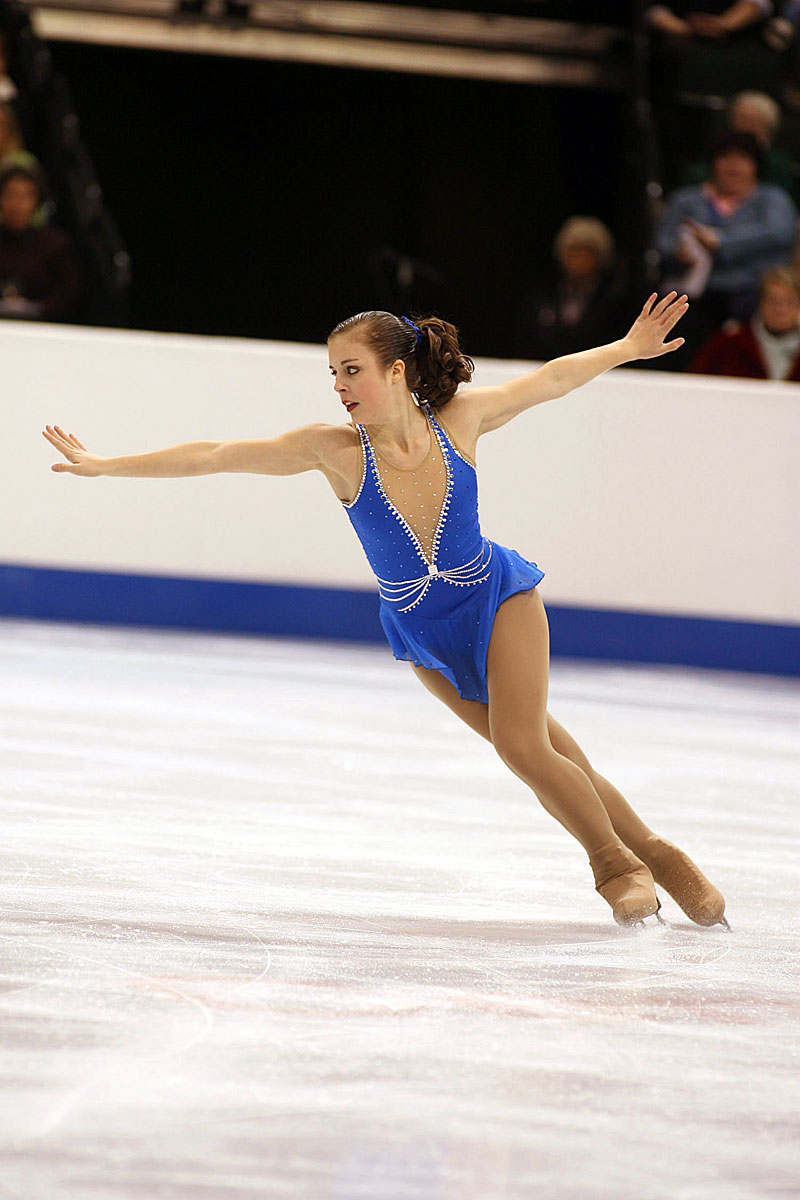 One of the things Wagner has sacrificed by moving to Delaware is attending a regular high school. She had long been one of the few skaters who refused to do online schooling, preferring instead to go to public school and have another life outside of skating.
"It was terribly unfortunate for me, I have to miss my senior year. I'm taking all of my classes online through my school in Washington, D.C., West Potomac High School," she said. Hopefully, she will get to walk at graduation.
"It wasn't an easy decision," she added. "The Olympics being so close (Feb. 2010 in Vancouver), I knew I needed to focus on skating. There was no logical way for me to be able to go back and forth. I decided to hang up my book bag and do everything online. So far, it's going fine. Although I miss all the friendly faces and actually having someone teach me in person. You don't realize how much you really enjoy it."
After graduating from high school, Wagner will take the 2009-10 season off from school entirely and then she hopes to attend Georgetown. "My dad says if I place top three at the Olympics he'll pay for Georgetown. I've got some work to do," she noted with a smile.
Wagner placed fourth at both her Grand Prix events last autumn, the Cup of China and NHK Trophy. She and Hill learned how they each deal best with competition situations. Now it's onto to Cleveland. If she doesn't win gold, Wagner hopes to at least score second, as only two U.S. women will go to Worlds in Los Angeles in March. "I would like to redeem myself from last year's Worlds skates," she said.
The U.S. Championships will have competitions in women's, men's, pairs and ice dance at the novice, junior and senior levels. There will be several skaters with ties to Northern Virginia, including former World Junior Ice Dance Champion Morgan Matthews, who previously trained in Ashland, and veteran senior men's competitor Parker Pennington, who trained in Fairfax but moved back to Cleveland last year.
The least wide-open senior event appears to be pairs, where defending champions Keauna McLaughlin & Rockne Brubaker are the heavy favorites. Former two-time champions Rena Inoue & John Baldwin, 2006 Olympians, could pull an upset, but it is unlikely. There is a large field, and some young teams are expected to make good impressions but not seriously challenge for the podium.
The men's field will be intense with defending two-time men's champion Evan Lysacek looking to return to the form that earned him World bronze medals in 2005 and '06. Although Lysacek retained his U.S. title last year, he missed the World Championships due to injury. His programs this season, created by renowned choreographer Tatiana Tarasova, received enthusiastic audience response but less than optimal results on the Grand Prix circuit, where he finished third at both Skate America and Skate Canada, failing to qualify for the Grand Prix Final.
Weir earned his first World medal, a bronze, in 2008 and finished second at Skate America, second at NHK Trophy and third at the Grand Prix Final. He may have a slight upper hand in his rivalry with Lysacek, but both of them should look out for Jeremy Abbott, who in December became the first U.S. man to win the Grand Prix Final. An appealing and musical skater, Abbott could skate away with the men's title.
The ice dance competition got a major shake-up last week when five-time champions Tanith Belbin & Benjamin Agosto withdrew due to a back injury he suffered at the Grand Prix Final. The title will likely go to Meryl Davis and Charlie White, who finished third at the Grand Prix Final and have twice placed top 10 at Worlds. Several teams will fight it out for silver and bronze: Kim Navarro and Brent Bommentre, Emily Samuelson and Evan Bates and Matthews and her new partner, Leif Gislason.
In the senior women's division, the edge probably goes to last year's silver medalist, Rachael Flatt, who has demonstrated consistency. A title defense is unlikely for Mirai Nagasu, who has been dealing with a growth spurt and injury, which hampered her training last summer. Wagner has an excellent shot at silver, as does Caroline Zhang. Sadly, former U.S. and World Champion Kimberly Meissner may well finish off the podium again.