George Mason High School recognized toil, sweat and dedication of its Fall semester athletes on Monday evening with its annual Sports Boosters Banquet. Mason athletes sat with their respective teams, alongside tables of their families, friends and coaches.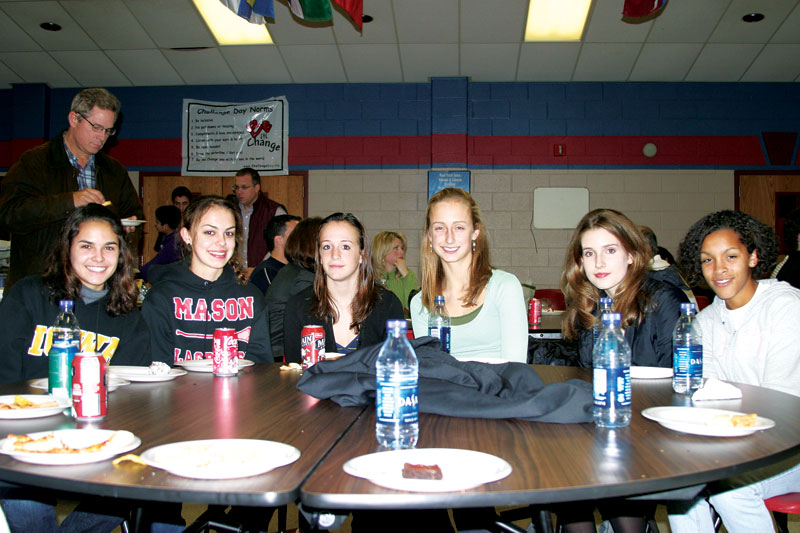 Athletic Director Tom Horn and the Fall sports coaches began the evening with a presentation of awards to athletes who maintained a solid academic performance throughout the semester (at least a 3.5 GPA). Forty-seven students, out of a total of 86 eligible, received the academic distinction. Thirty-one seniors were also recognized for their contributions to the recent semester as well as for over the years.
The evening highlighted the impressive performance by the Girls Varsity Cross Country team this year, which beat out competition at the district and regional levels, to take second place at the Bull Run District tournament and first place at the Regional level, their first-ever Regional title. The girls' gold and silver cups were on prominent display during the evening.
Honors also went to individual team members, who were awarded by their respective coaches.
Cheer
Hannah Gann (Spirit Award)
Kaelin Seitz (Rookie of the Year)
Cross Country – Boys
Daniel Benn (Perseverance Award)
Jeff Ralph (Coaches Award)
Jordan Robarge (Most Outstanding)
Cross Country – Girls
Mollie Breen (Coaches Award)
Taylor Moot (Dedication Award)
Natalie Young (Most Outstanding)
Football
Misael Benitez (Most Outstanding – Defense)
Taylor Harvey (Coaches Award)
Charlie Mann (Most Outstanding – Offense)
John Mann (Mustang Award)
Golf
Drew Davies (Leadership Award)
Tim Hillegass (Coaches Award)
Evans Mandes (Most Outstanding)
Volleyball
Katie Breen (Coaches Award)
Rachel Hassan (Most Valuable Player)
Bria Platenburg (Most Improved)
{gallery}840/awards{/gallery}