Creative Cauldron Stirs Up Imagination
On Saturday, Dec. 6 from 7:30 – 9:30 p.m., teaching artist Oran Sandel invites those of all ages to enjoy his musical improv skills, along with some light refreshments at Creative Cauldron (111 Park Ave., Falls Church).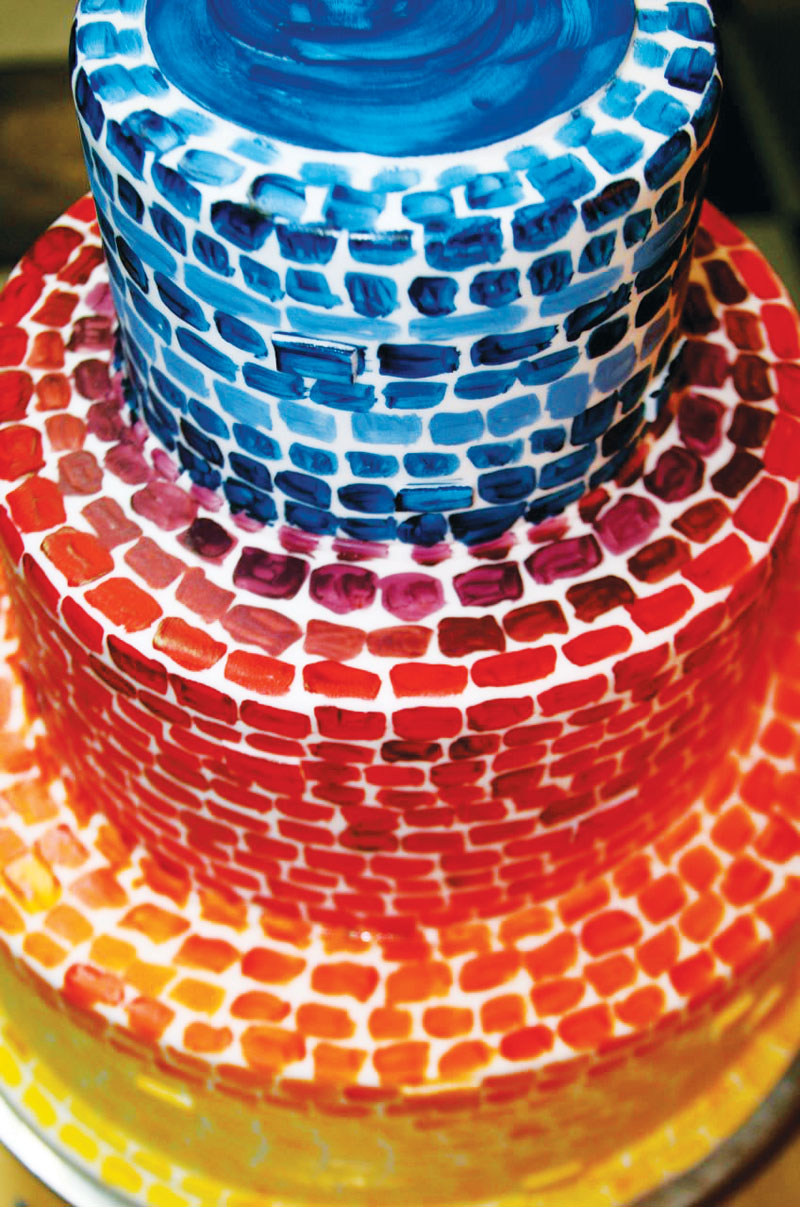 The event itself is free, with a suggested donation of $10 or a bag of non-perishable canned goods for the local homeless shelter. For more information, call 571-239-5288 or register online at www. creativecauldron.org.
Youngsters Bring Nativity Story to Life at Dulin
The youth over at Dulin United Methodist Church (513 E. Broad St., Falls Church) bring the Nativity story to life when they perform a "Living Nativity" on Dec. 5. There will be two performances on the front lawn of the church at 7 p.m. and another at 8:15 p.m. This event will also include musical performances from some of the youth. For more information, call 703-532-8060.
Local Dress Barn Collects 'Toys for Tots'
The local Dress Barn (6308 Arlington Blvd., Falls Church) is partnering with Toys for Tots this Christmas season from Dec. 8 – 12. During this time, the store will encourage residents to donate new, unwrapped toys for disadvantaged children. To show their
heartfelt thanks, each participating Dress Barn store will give customers who make a donation a coupon for 15 percent off a regularly-priced item. For more information on the store's Toys for Tots drive, call 703-533-0972.
McLean Craft Show a 'Cut' Above the Rest
Craft show shoppers are invited to the McLean Community Center (1234 Ingleside Ave., McLean) starting Friday, Dec. 5 from 10 a.m. – 7 p.m. for the McLean Holiday Crafts Show. The show will continue through the weekend from 10 a.m. – 7 p.m. on Saturday, Dec. 6 and 11 a.m. – 4 p.m. on Sunday, Dec. 7. Tickets to get into the show will cost adults $2, with children ages 13 and under admitted for $1. Tickets are good for the entirety of the three-day event once they are purchased. Crafters participating in this year's show are Middleburg Creamery, Furnace Mountain Alpacas, Potter Sonny Fletcher, Frannie & Sam Paper Co., La Provencale Cellars, Works of Rayhart and Penny's Custom Cakes and Chocolate, among others.
Crafts may be the eye candy for shoppers, but the music to their ears will be provided by Kent Gardens Elementary School String Ensemble, McLean High School Youth Orchestra Flute Ensemble and Chantilly High School Choir – all of whom are scheduled to perform holiday music throughout the weekend. And if that's not enough, a variety of cold and hot entrees, soups, salads, snacks and desserts will be for sale courtesy of La Madeleine French Bakery & Restaurant. Discount admission coupons are available by visiting the community center's Web site at www.mcleancenter.org/special-events. Questions can be directed to the center by calling 703-790-0123.
Falls Church Arts Rings in the Holidays
Falls Church Arts is kicking off this holiday season with an opening reception of their 2008 Holiday Gallery, an art show and sale featuring works by D.C.-area artists. The reception will be held on Friday, Dec. 5 from 6 – 8 p.m. at the Falls Church Arts Gallery (111 Park Ave., Falls Church). The show itself continues through Dec. 23, Monday through Saturday, 10 a.m. – 6 p.m.
More than 20 local artists will be exhibiting and selling their work in all media: paintings, ceramics, photography, jewelry, note cards and more. Artists are members of Falls Church Arts and this will be the organization's third annual holiday gallery showcasing the work of its members.
Falls Church Arts is a nonprofit, community-based organization founded in 2003. Its purpose is to ensure that visual art and the performing arts are an essential part of the cultural environment of the city of Falls Church and the surrounding area. Falls Church Arts is funded in part by the Virginia Commission for the Arts, the National Endowment for the Arts and the City of Falls Church. For more information about this year's holiday gallery, call 703-534-4202.
Advanced Tickets Go on Sale for 'Classic Brass'
Choralis is urging locals to buy their tickets early for its performance of "A Classic Brass Christmas," featuring seasonal music – including Rutter's "Gloria" – a candlelight processional, and audience carol sing, with guests The Classical Brass Quintet and youth choirs. Though the actual performances aren't until Saturday, Dec. 13 and Sunday, 14 Dec. at 7 p.m., tickets for Choralis events are known to sell out. General tickets range from $25-35. Tickets for students ages 13-11 are $5 with proof of identification and children 12 and under are free. The Saturday concert will be held at Centreville United Methodist Church (6400 Old Centreville Rd., Centreville), with Sunday's being held at Falls Church Presbyterian Church (225 E. Broad St., Falls Church). For more information, call 703-237-2499.
Bethany House Collects Gifts for Abused Women
The people behind Bethany House of Northern Virginia, Inc. are asking for gift donations for women who've suffered from violence and domestic abuse and their children to give to the victims on Christmas. Those interested can purchase previously-selected gifts from registries at Target and Wal-Mart by searching for Bethany (first name) and House (last name). Donated presents can be delivered between 8:30 a.m. – 5 p.m., Monday – Friday, through Dec. 24 to the administrative office of Bethany House (6121 Lincolnia Rd. Ste. 303, Alexandria).
"There are so many ways to give back, and we can use all of them including household items, personal care products, cleaning supplies, donations of money – no matter how small," said Executive Director Cathy Hassinger.
Bethany House is a private, faith-based organization providing shelter and services to victims of abuse. For more information about the gift drive, call 703-658-9500.
F.C. Businesses to Celebrate Last FIRSTfriday
It's that time of the month again in the City of Falls Church and Dec. 5 is the last FIRSTfriday of 2008.
Cathy Summers will be the featured artist over at Art and Frame (111 Park Ave., Falls Church), as she displays her works of art amid raffle drawings, catered cheeses and more. As always, Clay Cafe Studios (101 N. Maple Ave., Falls Church) is calling on all karaoke lovers to come over and belt out those high notes and paint pottery. For wine lovers, Red, White & Bleu Wine and Gourmet (127 S. Washington St., Falls Church) will be hosting a free wine tasting from 5 – 8 p.m. For more information on these events and many more, visit www.firstfridayoffallschurch.com.
Arlington Cinema & Drafthouse Hosts 'Hook'
"Live From the Hook," a film about the tight-knit music scene in Charlottesville, Va., will premiere on Sunday, Dec. 7 at Arlington Cinema & Drafthouse (2903 Columbia Pike, Arlington). Doors open at 4:30 p.m. and the film begins rolling at 4:45 p.m. In addition, The Skip Castro Band will perform live following the showing, wrapping up their set at 9 p.m. General admission tickets are $25. For more information or to purchase tickets online, visit their Web site at www.livefromthehook.com.
Shopping Spree Gives Homeless Kids Hope
Thanks to donations from about a dozen local businesses and individuals, the Falls Church-based homeless shelter, Homestretch, is organizing a children's holiday shopping spree on Saturday, Dec. 6 from 8 – 10 a.m. at Kmart (4251 John Marr Dr., Annandale).
When the shopping is done, the children, parents and volunteers will go to the Annandale United Methodist Church (6935 Columbia Pike, Annandale) where a holiday party featuring gift wrapping, Christmas caroling, snacks and storytelling will begin around 10 a.m. and will conclude around noon. Any groups or individuals seeking to make donations to Homestretch are asked call Nicole Oostdyk at 703-237-2035, ext. 127.
Former F.C. Resident Passes NY Bar Exam
Daniel T. Stabile passed the July 2008 New York Bar Examination. The results were announced on Friday, Nov. 14. Stabile is employed by Dewey & LeBoeuf LLP, New York, New York. He graduated from Bishop O'Connell High School in 2001, University of Virginia in 2005 with a BA in Philosophy, and finished his studies at George Washington University Law School in 2008 as Doctor of Jurisprudence.
He completed a one-year intern program in Intellectual Property at the U.S. Department of Justice in 2006. Stabile studied abroad in Switzerland and traveled extensively in Europe, South America, therMiddle East, Japan and China. He attended elementary and middle school in the City of Falls Church. Stabile is the son Dr. Daniel Stabile and Monica Ellen Stabile, who currently reside on Great Falls Street in Falls Church.
McLean Community Center to Hold Meeting
The Governing Board of the McLean Community Center will meet at 7:30 p.m. on Wednesday, Dec. 10, at the center (1234 Ingleside Ave., McLean) for a combined November-December meeting. Members of the public who wish to speak during the "Citizen Comment" portion of the meeting are asked to call 703-790-0123.